Pretty Little Liars Season 7 Episode 7 Review: Original G'A'ngsters
Paul Dailly at . Updated at .
Whenever a DiLaurentis stops by, you're guaranteed drama. 
That was the case on Pretty Little Liars Season 7 Episode 7 when Jason returned to Rosewood, and brought a whole lot of angst with him. 
He wasted no time in trying to get rid of Mary Drake. Someone has to be blamed for all of the drama in town, and she's an easy person to shift the target to. 
There's a high chance she knows more than she's letting on. Are we meant to believe she apparently doesn't remember this other child of hers?
Yes, Charlotte has a sibling, but could the sibling really be the person orchestrating this reign of terror against the girls? It just seems so damn stupid to have another hidden member of Alison's family. 
All of the stuff with the storm cellar was intriguing, but I refuse to believe Mrs. D was the one who had all the files on the girls. There was a time when I would have believed it, but everyone has an ulterior motive in Rosewood. 
There's been several incarnations of A. Could this storm cellar have been used by someone who was playing the game before? That theory is more likely than it being Mrs. D. 
Some of the pictures on the wall were blatantly Freeform press pictures. There's no way whoever the heck took the pictures got close enough to get them so right. 
We now know Noel Kahn is totally shady, but I have a feeling he's just another red herring. This show really throws red herrings left, right and center, so it should hardly be surprising. 
A.D was obviously the one who blew the the shelter to smithereens, but why? Is it because it got them closer to uncovering who their tormentor is, once and for all?
It does seem a little odd all of the drama went into first gear when Jason arrived back in town. Could he be Charlotte's brother?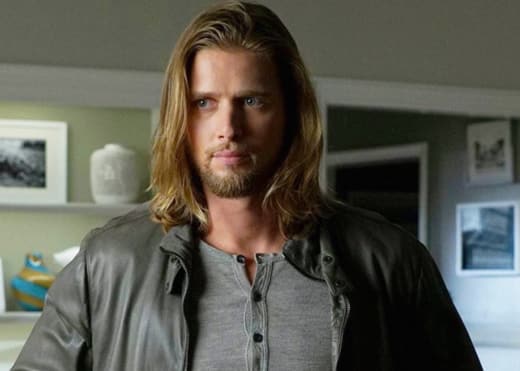 So many questions and so little answers. You'd think Pretty Little Liars was renewed for another four seasons with the amount of questions that pop up. 
I don't know what Alison is thinking by putting so much trust in Mary. Sure, there's a chance she could be telling the truth, but is it worth putting all her trust in her?
Not really. 
Jason had some key reasons for hating on Mary and I don't blame him in the slightest. She's been hiding in the shadows for so long, so it's difficult to imagine anything good coming from her arrival. 
Jason taking Aria to the dinner was just plain awkward. Did Aria seem to forget she's totally engaged to Ezra, or something?
It's pretty obvious Jason is in to Aria, but I can't be bothered with any more back and forth in the relationship department for Ezria. If Jason, or this drama with Nicole, somehow manages to split them up again, it will be time to stick a fork in the ship. 
There's only so many times the back and forth can happen, before it gets too much and we're getting to that stage. 
It was difficult to feel bad for Spencer. She and Toby moved on, so why wouldn't he pursue a life with Yvonne away from drama? Spencer's tears were sad to watch, but her ship with Toby sailed long ago. 
"Original G'A'ngsters" was another solid episode of this Freeform drama. It's time to start giving us all of the answers now. 
Other tidbits from the episode:
The scene with Caleb and Hanna gave me a glimmer of hope that I could get on board with them being back together. 
It was way too obvious Nicole was going to somehow be alive. 
Is it just me, or are Aria and Ezra rushing into wedding plans a little quickly?
Pam made me laugh so much tonight. The mothers are seriously under used on this show. 
Remember you can watch Pretty Little Liars online right here on TV Fanatic. Get caught up now!
What did you think of the episode?
Hit the comments below!
Here's your first look at the next episode:
Paul Dailly is the Associate Editor for TV Fanatic. Follow him on Twitter.