Teresa's future self told her that time wouldn't be on her side for much longer on Queen of the South Season 1 Episode 7. 
Is it really on her side now? 
Watching the flashbacks at the beginning of the episode, I found myself wondering how much easier Teresa's life might have been if she had just shot Epifanio after that car crash when she'd had the chance.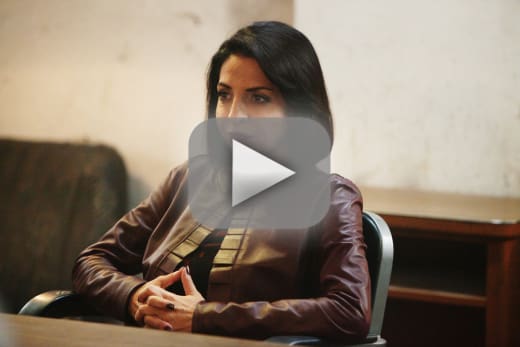 But that's not Teresa's path; however, with each passing installment I grow less curious about Teresa's journey instead of more. 
I must admit, this show isn't going in the direction I'd expected. I thought this was supposed to be Teresa's story, but more and more it feels like Camila is the main character of this show.
That wouldn't be a problem if Camila wasn't floundering…
It's easier to ask for forgiveness than for permission.

Camila
If that's the case then why did she ask Epifanio for permission to kill Birdman? She had to suspect he would tell her no. 
Camila came on so strong at the start of the series. She was ready to go to war in order to sever ties with her husband. Now she spends most of her time on the phone with him begging him for shipments. 
Camila is a smart woman. Shouldn't she suspect that Cesar turned on her and Epifanio is playing her? 
On the upside, I loved that she kept millions of dollars in a hollowed out headstone in a cemetery because as James said, "Dead bankers are the only bankers she trusts." 
I'll never look at an elaborate gravestone the same way again.
It was also nice to get another conversation between Camila and her daughter. Despite their issues, they definitely have a special relationship as seen in this Queen of the South quote…
Isabella: Sometimes I think you hate Daddy more than you love me.
Camila: That's not true. I love you much more than I hate him.

I liked the way they both laughed after that. 
Even Epifanio's remembrance of better days was touching, but these two characters are far more in love with power than each other. 
As for Teresa, her day was spent running errands, talking to the priest and being James' wingman…which has become her role in most episodes. For the main character of the show, it often feels like she's on the periphery. 
Elsewhere, Brenda continued to try and expand her business, but cocaine isn't enough for her. Now she wants to figure out how to make crystal meth. 
Maybe Teresa should take off and Brenda could go to work for Camila. 
It all had me wondering which of these women will survive by the end of the series.
Check back in next week for my review of Queen of the South season 1 Episode 8 and if you want more, you can watch Queen of the South online here at TV Fanatic. 
C. Orlando is a TV Fanatic Staff Writer. Follow her on Twitter.