Queen of the South Season 1 Episode 9 Review: Cogo Todo Lo Que Puede Llevar

Christine Orlando at . Updated at .
Claws came out and teeth were pulled on Queen of the South Season 1 Episode 9 as Teresa made some hard choices and Camila's comeback didn't go quite as planned.
It was an awesome plan. 
James set things in motion by having Reggie and John supposedly threatened by the Jimenez cartel, thus making it easier to blame the rival cartel for their murders.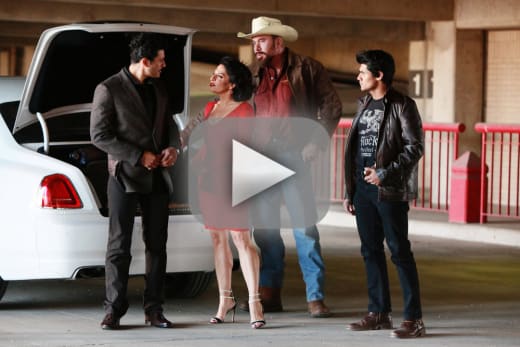 And when Leon wouldn't leave Dallas quietly, Camila took her shot. It was very, very clever. Unfortunately, it didn't work and I'm horribly disappointed. 
Half the fun of Queen of the South is hoping to see some of these arrogant men in power get taken out by a smart, powerful woman they believe they can keep under their thumb. 
One of the more fun moments of this episode was watching Camila taking her business back from a completely shocked Birdman…
Look at your little bird brain, doing its little bird brain calculations.

Camila
Regrettably, her strategy to take him out permanently didn't quite go according to plan.
As Birdman told Camila in this Queen of the South quote…
If you're going to send a dog to do your dirty work, it needs bigger teeth.


Birdman
Leon thought he was tough, but he wasn't cartel tough and once again, Birdman appears to have the upper hand. 
I certainly hope that Camila comes up with another way of taking this guy out because I can't wait to see it happen. 
Everyone seems to enjoy trying to keep Camila down. I suppose no man wants to give up his power position and certainly not to a woman. Hopefully they won't voluntarily give up anything because I want to see Camila take it. 
All my life men have underestimated me. I've grown used to it. See, most men are very basic creatures. They can't seem to see beyond my legs. Sometimes I use that to my advantage and others, I just depend upon it.


Camila
Then there's Teresa who was caught between two worlds. She's got one foot in Camila's organization and one still planted in some sense of humanity. Despite being torn in two, her main goal is still survival. 
It's a good thing that Teresa never let James or Camila know about Brenda or else not only would they have been able to track her down, but I have no doubt they would have used Brenda and Tony as leverage to get ahold of Maria. 
James likes Teresa but he is a pro at compartmentalizing. I don't think he'd hesitate to kill her if Camila ordered him to.
Teresa's decision to head to Mexico and find the journal is really the only play she has left. At this point, both Epifanio and Camila may very well want her dead. But whether the journal simply buys her survival or a whole lot more remains to be seen.
Check back next week for my review of Queen of the South season 1 episode 10, and if you want to relive all the drama you can watch Queen of the South online here at TV Fanatic.
C. Orlando is a TV Fanatic Staff Writer. Follow her on Twitter.