Rizzoli & Isles Season 7 Episode 12 Review: Yesterday, Today, Tomorrow

Jack Ori at . Updated at .
With one episode left to go, Rizzoli & Isles Season 7 Episode 12 moved fully into wrap-up territory.
Most of the hour was dedicated to an old case and an old flame of Vince's, allowing him to – predictably, yet emotionally – find the peace he needed to finally retire.
Meanwhile, Jane got ready for her move and began a new romance, while Frankie and Nina forged ahead with their determination to get married.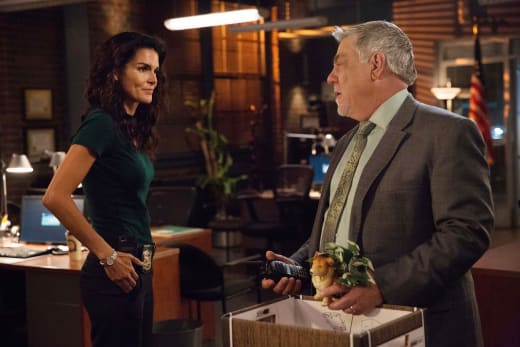 I'm not sure how I feel about this neat wrap-up that the series seems to be headed for.
By the end of the hour, Jane was solidly in a relationship with her new boss, Maura was going to France, Frankie and Nina were about to be married, Angela was babysitting her grandson and Vince retired.
That's a lot to take in, and it's all too convenient.
However, easing viewers into the end by easing them into Jane's move is brilliant. Every episode deals with another facet of the move, making it more and more real to viewers right along with Jane and Maura.
I want to eat it, not settle down and have kids with it.

Jane
Did anyone else find Maura's micro-management of Jane's new life irritating? Maura was picking out apartments for her and telling her what else to do to get ready. Jane needs to approach the move in her own way.
Of course, neither Jane nor Maura really wants her to move, so Jane is avoiding it, and Maura is living vicariously by doing everything. But it's still annoying.
Nothing was the same after Wendy died. It was like we didn't know how to be a family without her.

Mary
Vince's cold case was emotional for him and for the victims.
It was hard not to feel sorry for Mary. Her entire family fell apart after her sister's death! Mary's parents divorced, and her father became an alcoholic. Although she didn't say so, she probably blamed the end of her relationship with Vince on the murder, too.
I was glad that Kiki and Mary were supportive of Vince's relationship with each other rather than going down the predictable route of anyone getting jealous.
Vince's retirement, however, wasn't a surprise to anybody. As soon as he said this was what got him into police work, it was obvious that as soon as he solved the case, he could and would walk away from his job.
Agent Davies: Do you have time for dinner?
Jane: A professional colleagues' dinner?
Also unsurprisingly, Jane's new boss wants to date her. In an apparent competition with Frankie for who can move faster, Jane went from not sure she had time for a relationship to having a sleepover with Agent Davies.
I understand protecting your family. Since when does that include protecting murderers?

Jane
The most moving scene in the entire hour was Jane trying to interview elderly Oliver Davenport, who now suffers from dementia and thought she was someone special to him named Carol. Too bad the point was for her to steal some DNA via his tears.
It's still not really clear, unless I missed something, why Robbie killed Wendy and Walter. It had something to do with a locket he gave Wendy.
True to form, Robbie turned out to be the criminal of the hour rather than one of his two no-good brothers he was suspected of protecting. Upon being discovered, he promptly ran away and attempted to take off in a helicopter before the cops could catch him.
Frankie: You found grandma's earrings?
Angela: Yes I did, and I forgot what terrible taste your great-grandmother had.
Nina and Frankie's relationship may be cute, but it's also terribly rushed. Frankie using the ugly earrings to make a beautiful ring was predictable, and it's hard to invest in a couple that goes from first date to engaged in the space of less than three months' worth of air time.
What did you think of "Yesterday, Today, Tomorrow"? Are you ready for Rizzoli & Isles to end?
Weigh in below!
If you missed something or just want to reminisce about episodes past before the finale, don't forget you can watch Rizzoli & Isles online.
Jack Ori is a senior staff writer for TV Fanatic. His debut young adult novel, Reinventing Hannah, is available on Amazon. Follow him on Twitter.