Rizzoli & Isles Season 7 Episode 9 Review: 65 Hours

Jack Ori at . Updated at .
That was certainly different.
Almost every episode of Rizzoli & Isles follows the same format, where Jane and Maura get called to the crime scene while in the middle of a personal conversation.
Rizzoli & Isles Season 7 Episode 9, however, broke ties with the formula. Instead, the detectives raced against the clock to try to find missing evidence and put a murderer away.
Meanwhile, the usual silly sidelines were in full force, with Frankie practicing magic tricks and Kent getting attached to a wounded duck.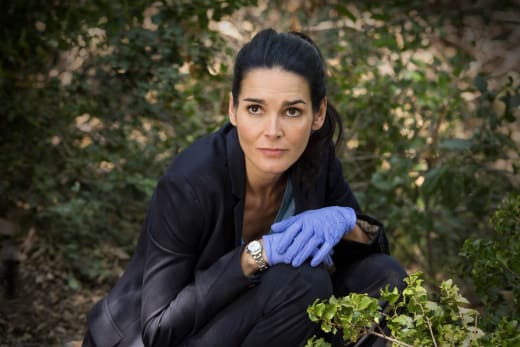 Stories where detectives need to race against the clock are nothing new, but this was certainly a departure from the usual hour of Rizzoli & Isles. For the most part, it worked.
The criminal of the hour was creepy-looking enough that I wanted him to get caught, and the race against time added a new element to the traditional formula.
Frankie: We only have 41 hours left.
Vince: Dig fast.
For the most part, though, "65 Hours" was a traditional hour of Rizzoli & Isles.
Maura still worked in the lab while Jane, Vince and Frankie threw theories around and eventually caught the bad guys. There was even an extra chase sequence – both Donna and the crook's accomplice tried to run from the cops.
Vince: The court date's tomorrow.
Jane: Did you see her face? We can't leave til we find something that keeps that bastard in jail.
Jane's heart went out to a victim, and she found the smoking gun, in the form of a bloody skylight panel, just in the nick of time.
In the end, it all worked out, even though it looked like the perp was about to be set free.
Okay, this is the weirdest thing I've seen in the last couple of weeks.

Angela
The duck sideline was one of the more ridiculous things this show has done recently. Kent spent most of the hour attached to a duck whose name he kept changing. He even managed to get it on a leash like a dog. 
Wouldn't an ill bird be a liability in a lab like Maura's? At the very least, it should be a sanitation concern.
Kent's attempts to name the duck were the type of humor I could do without.
His depression after he finally sent the duck back to its natural habitat was over the top, too, though Maura thanking him for helping her when she needed it was a nice touch.
Frankie: Hey, will you text me her address?
Nina: It's already in your phone.
Frankie and Nina were the best part of this silly episode. I loved that Nina already texted Frankie the information he needed before he even asked. That shows how well they know each other, both professionally and personally.
Nina's little chat with Angela was also endearing. She was sensitive to Angela's fear that she was being replaced in Frankie's life, reassured her that she was the best cook, and bonded over a shared disinterest in their men's obsession with sports.
Too bad Frankie's end of the relationship wasn't nearly as significant. He spent most of the hour trying to learn magic tricks that Jane apparently learned as a child, or maybe as a high school student. Surely there's some better use for Frankie than this nonsense!
Frankie: It's work.
Angela: My kids always work!
Angela seems to be suffering from empty nest syndrome. She was annoyed that Frankie left to go to work, which quite frankly annoyed me. Perhaps she and Kent could bond over the fact that he literally is facing an empty nest now that that duck is gone.
What was more irritating to you: the duck sideline or Frankie's attempts to learn a magic trick? Did you like the slightly different format? What were your impressions of "65 Hours"?
Weigh in below, and don't forget you can watch Rizzoli & Isles online if you missed anything.
Jack Ori is a senior staff writer for TV Fanatic. His debut young adult novel, Reinventing Hannah, is available on Amazon. Follow him on Twitter.