From Dusk Till Dawn Season 3 Episode 4 Review: Fanglorious

Allison Nichols at .
It's probably for the best if you don't think about Amaru knew Seth had a soul after watching him react to Kate still being alive.
On From Dusk Till Dawn Season 3 Episode 4, Kate and Amaru brought the pain, and it was glorious. Between all the Fuller family emotions that got kicked up again and Seth learning that Kate was still alive after giving up on her, this was an emotional ordeal.
Let's start with Scott and Kate first, shall we?
First off, it probably wasn't the smartest thing for Kate to lead Amaru right to her brother, but I'm sure Brasa would have found him eventually. Kate probably really wanted to give her brother a hug after her last words to him and all she had been through since her death.
One thing I really loved about their reunion was that it prompted Scott to reflect on his relationship with his sister.
She tried to save me, but I couldn't be what she wanted me to be.

Scott
It was interesting that Scott thought Kate was back to punish him. I guess he's still a preacher's son at heart.
The fact that Scott believes that he deserves to be dragged to hell for what he did is heartbreaking. It also helps explain why he started to listen to what Kate said and change the way he lived.
Then, there's Seth.
Seth: You have really fucked up my life, you know that?
Amaru: What was it that you said to her? Stick with me and you'll make it through without any bumps and scrapes, right?
It was a little strange to learn that Seth had given up on Kate. On From Dusk Till Dawn Season 3 Episode 3, when Burt filled him and Richie on what was going on with Kate, he demanded to know how to get Kate back.
Perhaps Seth changed his tune because of what Burt said. After all, Burt was only dragged out of hiding because of his skills and familiarity with Xibalbans.
Another option is that Seth gave up partially to protect himself. He lost Kate once, and if he held onto hope that she was alive only to have Amaru laugh in his face as she proved him wrong, it could have destroyed him. 
Still, the fact that Seth had given up on Kate made their reunion even more heartbreakingly painful. Seth's face as he realized Kate was talking to him was bad enough, and there's the whole Kate asking him to kill her thing.
While this was a phenomenal hour, there were some moments that didn't really work.
The opening with Scott playing in his band was great. It was a fun way to see where Scott ended up, and it was hard not to get emotional when he quoted his dad.
Scott: I traded my swords for an axe. I'm about my music now.
Richie: Your music sucks.
Scott: Fuck you!
We didn't need to see a whole side storyline about his band though.
The feeding scene was fine because it let us know how Scott has been surviving. He only feeds on the sinners.
I just didn't care enough about the band to watch their weird little mutiny.
We didn't need to see them whenever they realized Scott was gone. Scott could have caught back up with them and sent them on their merry way before the jaguar warriors got there.
The mutiny was a little lame and poorly thought through. I mean come on, Tommy, at least have a plan.
Another storyline I could've done without was Richie at the bar. It did not fit with the rest of the hour at all.
It was jarring to go from all the intensity that the Kate/Amaru scenes brought to the scenes at the bar.
Sure, we got to see Richie work on his "craft," but the interrogation scene was confusing.
It wasn't until Freddie brought a prisoner for Scott to feed on that it dawned on me that maybe Freddie is giving Richie criminals to feed on of as well. This realization helped explain why Richie was even talking to that wife killer in the first place.
Then, there's Dr. Dakota Block.
It was nice to bring back that reminder of Earl McGraw, but Freddie and Brasa's conversation worked better. Now maybe Dakota will play a role later on in the season, but this was not the hour to introduce her.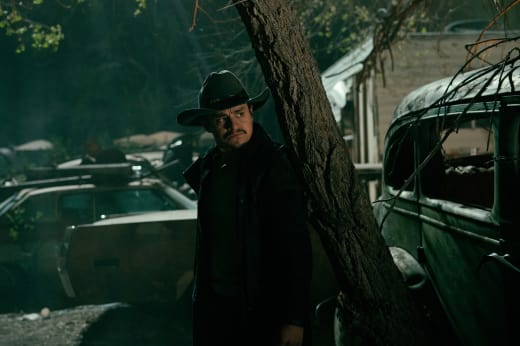 All the intrigue and excitement was on Kate and Amaru. The hour should've ended with everyone riding away from Amaru, but instead we were thrown back to Dakota and Richie.
Don't get me wrong, it was awesome to see her try to get her revenge, and Richie's reaction to everything was great. Do you think we'll see Dakota again?
What did you think of the episode? Is everyone okay? Leave your comments below.
Remember you can watch From Dusk Till Dawn online anytime via TV Fanatic.