Grey's Anatomy Season 13 Episode 2 Review: Catastrophe and the Cure

Amanda Steinmetz at . Updated at .
We all know the phrase "when it rains it pours." Well it looks like Alex's life is currently experiencing a torrential downpour. 
On Grey's Anatomy Season 13 Episode 2, Alex appeared in court to learn what charges he would face. Unfortunately, he was shocked to find out he would be charged with felony assault in the second degree. Needless to say his day didn't get any better after that.
Meanwhile, Meredith continued to lie to her sister, and Jackson tried to ease April's mind about Harriet.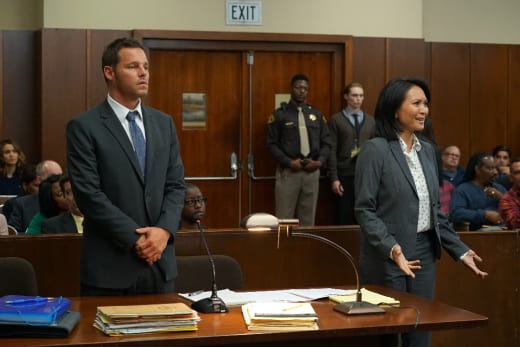 When you've watched someone grow as a person, it's hard to see them fall so hard and so fast. Alex's sudden fall from grace is brutal to watch. 
However, the situation is all the more complicated by the fact that Alex did do something incredibly stupid and wrong. It's easy enough for us as viewers to pick Alex's side. He's one of the original characters. We've been rooting for him for years. 
Andrew is a newer addition, so it's harder for him to earn our allegiance. For the record, I adore Alex. I just needed to make that clear. However, the felony charge he now faces shouldn't come as a surprise. 
Alex is guilty. Plain and simple. Does this make him a terrible person? No, but his actions are his own. 
I thought I was special because I went to med school. I guess you can't wash the stink off trash.

Alex
Bailey showed Alex an extreme amount of kindness by assigning him to the Denny Duquette clinic (shout out to Denny!). If he were at any other hospital, they would have fired him. 
Not only did we watch Alex lose his standing with the hospital, but we also saw what looks like the demise of his relationship with Jo. While I don't agree with some of the decisions she's made, I can't help but root for her. 
I was reading Twitter comments saying Jo was being hypocritical for dumping Alex and how she's the source of all his problems. Let's be clear, she didn't force Alex to beat up Andrew. He did that all on his own. 
Also, we have to remember that she ran away from an abusive husband. We still have no idea what that man put her through.
You lash out and you hurt people, and then you think you can just walk it back with I'm sorry.

Jo
I read Jo's statement about Alex lashing out and then apologizing as commentary on her history with her husband and her fears about the man Alex could turn out to be. If her husband physically harmed her, it must have been terrifying watching Alex lose himself to rage like that. 
Again, the lesson here is honesty. While it might be difficult to face her past, I'm hoping Jo will open up to Alex in the near future. Coming clean could help her finally begin to heal and it would give Alex the clarity he's been needing about the woman he loves.
While Alex was watching his world fall apart, Meredith continued to baffle me. Pulling the strings of Maggie's love life was both unfair and unkind. 
If Meredith didn't have feelings for Nathan, why would she keep their tryst a secret from her sister? This makes no sense.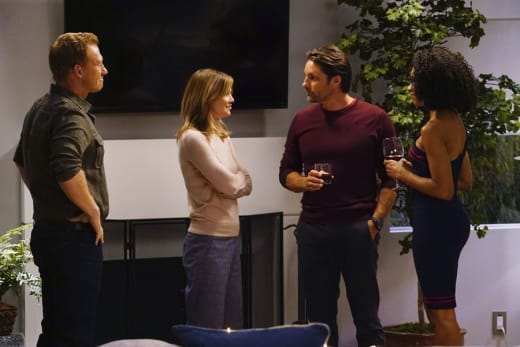 Instead of confiding in Nathan, she should have confided in Maggie. Meredith has never been good with her sisters, but this weird love triangle is taking things in a bad direction.
Frankly, Maggie is a character that deserves better than being lumped into this storyline. She's intelligent, warm, and funny. Watching her act like a school girl only makes her come off as foolish. 
Nathan isn't going to stop liking Meredith and it's only a matter of time before Meredith admits that she feels the same way. Better to rip the band aid off now than to let Maggie think she still has a chance with him down the line.
Elsewhere in the episode, April was back to her neurotic self, only this time she is a mother. April wears her heart on her sleeve. It was easy to see how much she struggled with needing and accepting help. 
April: She's supposed to be with me... bonding and attaching or whatever. Smelling me like birds and dogs.
Jackson: Birds and dogs?
April: Shut up. It's nature.
I'm glad Richard was there to push Jackson to keep trying. April won't ever ask for his help. They aren't married anymore and she wants to prove she can take care of her daughter on her own.
On the flip side, April needs to accept the fact that she isn't a single mother. Jackson will be there and he doesn't want April to feel as though she's alone.
The scene where April sang to Harriet over FaceTime was totally sweet and beautiful to watch. Motherhood looks good on April. 
Extra Thoughts and Questions
Owen needs to work a little harder with Nathan. Come on man! It's okay if you end up being friends.
Amelia may need to learn to back off a little, but her desire to bring Owen and Nathan together came from a good place.
Will Meredith eventually convince Andrew to drop the charges?
Stephanie is a great friend. I just thought that needed to be stated. 
So over to you! What did you think of the episode? Where does Alex go from here? Are you hoping Meredith's lie blows up in her face? What are your predictions for Grey's Anatomy Season 13 Episode 3? Get your first peek below.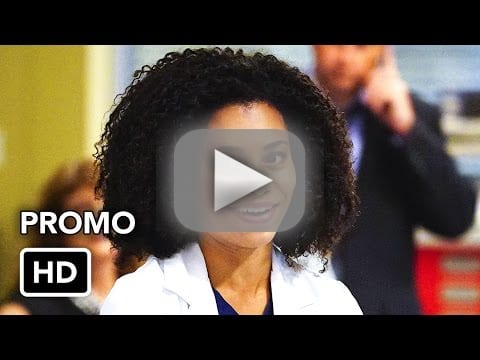 Sound off below, and don't forget you can catch up on any missed episodes when you watch Grey's Anatomy online via TV Fanatic!
Amanda Steinmetz was a staff writer for TV Fanatic. She went into retirement in June of 2027. Follow her on Twitter.