Grey's Anatomy Spoilers: Major Season 13 Storyline... Revealed!
Matt Richenthal at .
Earlier this week, ABC released the first official promo for Grey's Anatomy Season 13.
Check it out here: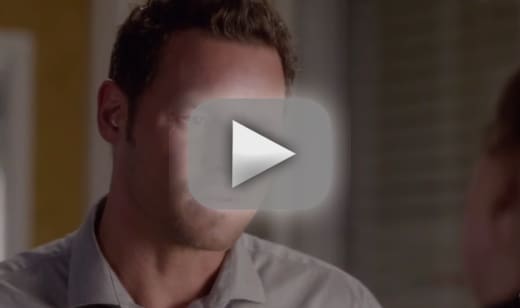 Now, courtesy of Entertainment Weekly, we have our first true scoop on upcoming episodes as well.
Following Jo's rejection of Alex's proposal on May's Season 12 finale, we learned that Jo actually had to say no because she's already married.
Prepare to find out plenty more about Jo's past this fall, as the ABC drama goes into detail about her history of domestic abuse.
"It felt like it was time to tell Jo's story, and it felt like it was time to tell Jo's story especially in the context of Alex, who he is and how he grew up," Shonda Rhimes tells EW, adding:
"Alex is so defined by who he used to be and who he is trying to become, and so is Jo."
The two have a lot in common, but these shared experiences may actually drive them apart, Justin Chambers teases.
"They bonded over their past," the actor says. "And to leave that part of her past out, that's a pretty big piece of her puzzle. So I think he's going to feel very betrayed."
Loyal fans can look forward to a focus on Season 13 on the core characters, with Meredith remaining the "nucleus," Chambers previews, but:
"To have the four originals still is pretty amazing."
After featuring Jo's ex-boyfriend, Jason Myers, in the hospital awhile back after he hit Jo, Rhimes says the time just feels right now to pursue this storyline.
"Jo's backstory has always been very intriguing to us, and this idea that she is now fully who she says she is, and that she is somebody who has reinvented herself," the creator explains.
Will we ever meet Jo's abusive ex-husband?
Rhimes would not say for certain either way.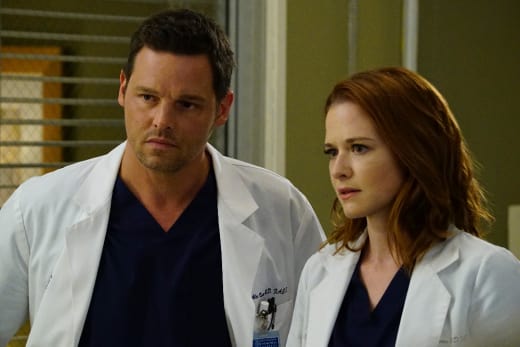 "I love her as being somebody who has reinvented herself," Rhimes says of the character.
"I also love her as being somebody who has overcome a lot of really, really bad things to make something of her life. She's a survivor.
"The idea that she's a survivor and that very act of being that person is threatening to that relationship is interesting.
"The fact that Alex is a guy who his response is to beat somebody up is a little problematic."
Are you looking forward to this focus on domestic violence?
What else do you hope to see this fall and winter on Grey's Anatomy?
It will begin when Grey's Anatomy Season 13 Episode 1 airs on Thursday, September 22 on ABC at 8/7c.
Matt Richenthal is the Editor in Chief of TV Fanatic. Follow him on Twitter and on Google+.