Halt and Catch Fire Season 3 Episode 6 Review: And She Was

Carissa Pavlica at .
Timing is everything.
Joe's entire arc just crashed and into Gordon's after a simple suggestion from Cameron. The way that all came together was brilliant. 
But the best Donna could do to fix things with Cameron on Halt and Catch Fire Season 3 Episode 6 was a fantasy conversation while on 'shrooms. God. I love this show.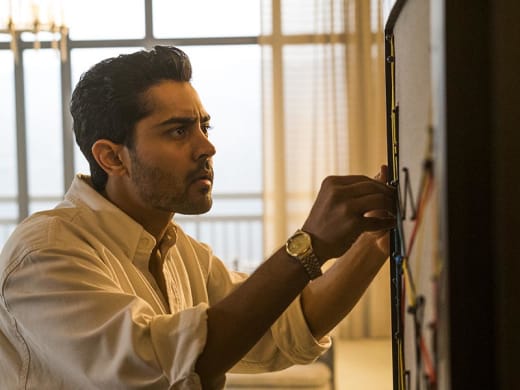 Cameron appeared to be at ease after marrying Tom, but using him like a security blanket probably wasn't the best idea. It's not something she really thought about until Joe pointed it out to her, but she wasn't happy. 
A happily married person would be shouting it to the world, not hiding away their ring in their jeans pocket. Like everything else in her life, she wanted it to be a secret, something she could keep private and pull out when she needed it.
But like Tom said, he'd be joining her soon. She'd have to tell someone at some point. 
Being married and having Tom in her pocket gave her the strength to stand up to Donna and fire Frick and Frack, but not the courage to go to Diane's house with her and really knock out their differences. Granted, Donna accepted without consulting Cam first, but they really should have gone away together.
Instead, Cam and Gordon bonded over their love for Nintendo, a love that set Gordon back a little bit. 
Cameron: I'm not buying it. The blood sugar excuse.
Gordon: It's neurological. I've been dealing with it for about a year. They found small areas of atrophy.
Cameron: Jesus Christ! So you're dying?
I'm very glad Cameron was let in on that already. Cam is like part of the family. Not only does (did) she live with Gordon, she works with him, too. Wouldn't it be good to have someone else in the know in case something happened? Something did happen. He pile dived right into the television. He could have killed himself.
Thankfully Cam doesn't scare easily, because that would have freaked me the hell out. With that out, though, they were on the road to sharing just about anything.
I know I'm really good at pushing the envelope into these stories and I'm about to do it again. Is Gordon getting even worse than we thought? Is there a possibility he was talking to nobody at some point when he thought he was talking to someone on the ham, but it was unplugged?
It's entirely possible that only came to me because of Donna's discussion with Cam while high, but I felt that they were filmed in that way because we were supposed to make that connection.
And Cam got a ham radio of her own not only to keep up her deeper connection with Gordon, but to keep an eye on him and ensure he always has someone he can talk to on the other end. What do you think? Nuts or onto something?
Regardless, this was a much needed week of atonement for Cam. She needed to come back to life, and spending time with Gordon helped. As did seeing Joe. 
Joe: Shall we celebrate?
Cameron: Why?
Joe: That's a wedding ring on your finger, isn't it?
Cameron: I came here to talk about Gordon.
Joe: Did you?
She didn't put on that ring and go over there to tell him to give Gordon credit, but it was well timed anyway. She did it to try on her marriage with the one person she knew it would affect the most and with whom she would have the most conflicting feelings about being married.
Whatever it was, she decided to remain married in the real world, even if she's not gleeful about it.
As for Joe, well, Joe has plans for the future, and his board isn't interested.
Network computing will be the next great public utility.


Joe
For five years they would have to work as a non-profit waiting for the FCC to open things up, and that's not interesting to them. Which is really hilarious knowing what we know, and what Joe foresaw. 
And Cameron really did see how much it hurt Gordon that he's left with nothing because of what Joe did. It's not fair (not anymore fair than her consistently saying "my company" in the presence of Donna, but baby steps) and she would like to see Gordon compensated so he can feel worthwhile again.
Did the casting department demand Matthew Lillard for the part of the board member in anticipation of this episode? He finally made sense. Only a comedic jackass would be stupid enough to walk into a deposition for the subject matter in question and deliver the news he did.
I stole it. I, Joe MacMillan, stole the code for the securities software from Gordon Clark. Everything this company is built on is his.

Joe
When Joe has an idea, he will use it. Gordon knows that. It looks like it's finally going to pay off for Gordon to have gone through all of this. What do you see happening next?
Joe wants to do the NFSNET deal. He has a four year non-compete. In theory, he just tanked his company. I don't think he'll care. The software can live on in the hands of Gordon. Joe and Gordon can create a new company if they want (should they ever manage to get along), dumping the board and all that goes with it.
Or Joe can just walk away from the company as it lays in tatters on the ground and start something new. I don't think he'll care, as long as he can do this new project. And he was just given his out without having to deal with a board or a non-compete. 
I want to see how it all plays out NOW. I don't want Gordon to hold a grudge. I want them both to see the bigger picture in all of this and work together again. Ohn wouldn't that be fantastic?? Can they both play in the same sandbox?
There's one final piece to discuss. Boz. What's up with him? Did he really treat Diane like a whore and then not even go over to her house afterward for a final drink? Yikes. Can't he tell she really likes him? 
They get along really well, and Boz's behavior just doesn't feel right.
Other than that quibble, this was just another amazing episode. Whatever. What else can we expect? It gets better all the time. 
Go to the comments now and converse!! Let's get to talking, you guys!
Oh, and you can watch Halt and Catch Fire online if you're still not part of this groovy club. It's elite. It's smart. You want to join.
Carissa Pavlica is the managing editor and a staff writer and critic for TV Fanatic. She's a member of the Critic's Choice Association, enjoys mentoring writers, conversing with cats, and passionately discussing the nuances of television and film with anyone who will listen. Follow her on Twitter and email her here at TV Fanatic.