Lethal Weapon Season 1 Episode 2 Review: Surf and Turf

Lisa Babick at .
You guys, is this show a blast or what?
Lethal Weapon Season 1 Episode 2 builds on the momentum from the premiere with more craziness, more feels, and more chemistry.
Avery probably thought he was keeping Riggs and Murtaugh away from trouble by sending them out to investigate a simple noise complaint, but as we know, nothing with Riggs and Murtaugh is ever simple. So, it was no surprise that they got pulled into something much more complicated.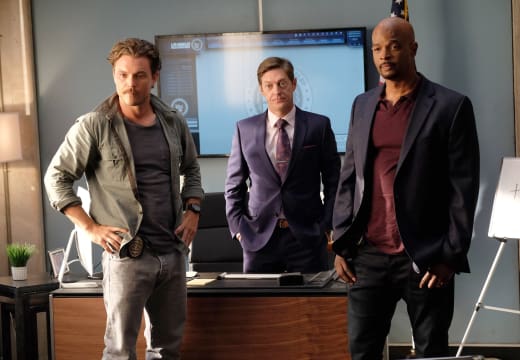 The hour wasn't really about the gun running scheme that kept Riggs and Murtaugh occupied, but rather it was about their relationship which grew by leaps and bounds in a relatively short amount of time.
There is no doubt that Riggs and Murtaugh belong together. I wonder how it is that they even existed apart because they complement each other so well. It's just like the duos they were comparing themselves to: peaches and cream, chips and salsa, Starsky and Hutch, Crockett and Tubbs, Tango and Cash. You can't have one without the other.
In Murtaugh's case, I don't think he realized what he was missing before Riggs came along. He lived a safe life. A boring life. And as careful as he was, he still almost lost his life. Riggs isn't about the humdrum and he never was. Murtaugh loves that. I even think Murtaugh might be worried that Riggs is getting bored with him.
So while he has to watch himself with the heart monitor, he doesn't want it to get in the way of the action and excitement being paired up with Riggs brings. That's why I think he took it off at the warehouse. Not just because it was making noise, but because it was holding him back.
It's just my past three decades as a cop haasn't been as interesting or action-packed as the last three days with Riggs.

Murtaugh
It's obvious that Murtaugh cares a lot about Riggs. When he goes through the trouble of making ribs and Riggs doesn't show up, Murtaugh is hurt and he goes on and on and on about it almost as if he was in a different kind of relationship with Riggs.
Murtaugh couldn't possibly have known why Riggs decided to blow him off. And the hurt that Riggs was feeling was much deeper than anything Murtaugh felt. There's a big difference between getting blown off for dinner and losing your wife and unborn child.
Having to sell the house cut Riggs to the bone, and it's no surprise that he decided to make his pain go away by drinking it up at a biker bar instead of hanging out with his new family. I don't think he had any intention of flirting with the girl next to him, but he saw it as an opportunity to bring his pain from an emotional level to a physical level. 
What better way to hide the emotional pain than by getting all bloodied up at the hands of some bikers?
And yet, Riggs is a complete contradiction. He wants to die, but he still wants to live. If he had such a death wish, he wouldn't be jumping off buildings to save someone else's life. (That scene by the way was a nice nod to the original film.)
He also wouldn't be so keen on spending time with the Murtaugh family. While they'll never take the place of Miranda, they still fill that empty hole within him. Or at least they're starting to.
Trish: Are you crazy, Riggs?
Riggs: Seems to be the consensus.
Trish: Not to me.
Trish is Riggs' biggest cheerleader. She's knows how dangerous Riggs is, yet she loves him almost like a brother. It's truly touching to watch her interact with Riggs. She has such a big heart and she believes in him. 
She knows there's more to him than just his crazy antics. She knows his number. And deep down it has to make Martin feel good. 
Besides all the deep stuff, there's also a lot of fun stuff between Martin and Riggs. I loved the banter between them and Avery when he was telling them how much they've cost the city so far. There's nothing better than some laughter between all the seriousness.
Avery: Do either of you have any idea what this number is?
Riggs: Uh, the number of words in the Book of Genesis?
Murtaugh: The number of cats in your apartment.

The chemistry between all the cast members is amazing. They really make the show worth watching. There is nothing I don't love about Lethal Weapon, and It has easily become one of my favorites of the fall season. 
What did you think about "Surf and Turf"? Does Lethal Weapon still have your heart? Share your thoughts in the comments below!
If you missed any of the action, you can watch Lethal Weapon online right here via TV Fanatic.
Lisa Babick is a staff writer for TV Fanatic. Follow her on Twitter.