It was an honest mistake.
I thought CBS's new MacGyver series was going to be a continuation of the 80s original, as in the new MacGyver would be the old MacGyver's son/nephew/other relation. But then I saw that dreaded word: reboot.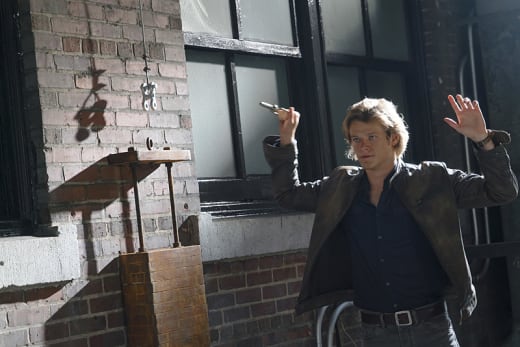 A reboot means the original deserves a reexamination, so I watched the 1985 pilot (series available on Netflix) to see how much things have changed in MacGvyer-land in 31 years.
The first time we see Angus MacGyver (played by Richard Dean Anderson) in the original, he's hanging off the side of a cliff "somewhere in Central Asia."
In the MacGyver Season 1 Episode 1 reboot, a much-younger MacGyver (Lucas Till) is in a tux in Lake Como, using his voice-over to describe sex with his girlfriend, who also happens to be the "analyst" in his ear on his latest mission.
Not exactly the way we are accustomed to using the word "MacGyver" as a verb, but it's still early in the episode.
In fact, the entire first sequence seemed like the start of a Mission Impossible or Bond film -- complete with the Bond girl being faux assassinated in front of our hero (I haven't seen a Bond film in a while, but it seems like that would happen.)
Back in L.A. following the initial mission, Vintage MacGyver relaxes with his "little brother" while looking through the telescopes at the Griffith Observatory, where he lives. Let me repeat that: Vintage MacGyver lived at the Griffith Observatory.
His little brother said it best:
This ain't a normal place to live. This is weird.

Little Bro
And it is weird, in the coolest way, which is why we loved the original series. Speaking of cool, the guy who lived at the top of sunny Los Angeles also loved hockey!
In 2016, our hero mourns the loss of his girlfriend in a mid-century sprawler he shares with his childhood friend (Justin Hires), who doesn't know what he really does for a living (a la Alias).
After a few months, Millennial MacGyver's boss (Sandrine Holt) just drops by his house unannounced, because:
It's time to get back to work.

Boss
In the original, a chopper descends on MacGyver's front lawn (again: the Griffith Observatory!?!) and he has to be convinced that he's the only man for the job -- a job that involves stopping an underground acid leak at a research lab.
He stops the leak using chocolate bars, saves the trapped lab workers and gains a potential love interest.
The stakes are a bit higher in 2016, as Millennial MacGyver, along with his tough-guy sidekick Jack Dalton (George Eads) and sassy hacker Riley Davis (Tristin Mays) try to stop a bunch of evil-doers (including Mac's former flame) from unleashing a prehistoric virus that would kill millions in San Francisco. [Spoiler alert: they save San Francisco]
In 1985, it may have been a novel concept to have your hero in constant communication with his team using the latest technology. Now, it seems like every show has a clever, snarky hacker character getting the hero out of trouble.
I think this show has a ton of potential, so I have high hopes that we'll get to see what Angus can do "somewhere in Central Asia" when he doesn't have anyone barking in his earpiece. Or what happens when he's stuck somewhere without his cell phone (everyone's greatest fear).
Maybe this Millennial MacGyver has a flip phone? Or a beeper? Something weird, please.
The producers should let Bond et al. tango with Clooney in Lake Como with the fate of the world at stake. Ask MacGyver to save the underground lab, let him clean up a Jack Dalton-made mess from time to time and keep his nerdy love of science (but not necessarily technology) at the heart of each episode.
Oh, and maybe the mayor of L.A. lets him live in the Griffith Observatory after he saves it from certain doom at the last possible second? Just a thought…
What did you think of the MacGyver reboot? Missed the pilot? Watch MacGyver online now!
Other Notes:
Both MacGyvers whip out a Swiss Army knife within the first few minutes. The original made such an icon out of MacGyver's ever-present tool that the the show is now sponsored in part by Victorinox.
MacGyver still doesn't use guns. Correction: He uses guns, but he doesn't fire them.
I was secretly glad the girlfriend turned heel, because she and Mac look like siblings (twins even), and it was freaking me out. Is she the new Murdoc?
I hope to see more of Vinnie Jones, who continues to be the best bad guy in the business. Is he the new Murdoc?
Why oh why did they mess with the original theme music? It was perfection.
Megan King is a staff writer for TV Fanatic.