New Girl Season 6 Episode 1 Review: House Hunt
JennTVQueen at . Updated at .
Three might be company but five (plus a marriage) is finally enough to make our friends move out of the loft.
On New Girl Season 6 Episode 1, we finally get to see that change. The roommates are growing up and moving on. But the friendships, of course, are never going away. 
I'm so happy to see Cece and Schmidt leaving the apartment. Not just moving down the hall but actually buying a home. I think that really brings some sense to a show that sometimes doesn't make any.
In this first episode, I think you really see the growth of all the characters. Each one has embarked on a new journey or relationship. 
Winston and Aly are going strong, and I like them as a couple. I hope they don't have her away at FBI training for long.
Our poor Jess is still pining over Nick Miller. Funny to see her going through different activities just to stop thinking about him. I especially loved seeing her find strength from working out.
Nick comes back and might I say he's looking fine. He lost some weight and is looking clean. Reagan thankfully is in Seattle on work, which I'm fine with. 
You know what they call Seattle in Portland? North Portland. Or Vancouver's shoe.

Jess
New Orleans seemed to agree with him. But of course, he can't stay with Reagan. We all know he is meant to be with Jess.
In this love story, I hope Nick comes to the decision he loves Jess. I don't want Reagan breaking his heart.
I really hope this isn't a season-long unrequited love story. But with this being season 6, I don't think it can go on forever. Does New Girl even have that long?
It was so sweet seeing Nick write a book. I swooned when I saw he dedicated the book to Jess. Further reason as to why they're soul mates.
Jess coming clean to Winston and Schmidt was necessary. Winston helping Jess talk to Nick was so touching. I'm sure one of them will spill the beans to Nick. 
DeeDee? That's not a name.

Nick
The bank scene was hilarious. I loved how through the house hunting scenes you could see the growth of Cece and Schmidt.
Instead of them taking out a loan for a dream home they can't afford, they decided to play it smart. By them buying the horrible fixer upper, I think it keeps them in the loft at least for half of the season.
On paper we're as ugly as Winston's belly button ring.

Schmidt
The roommates fixing up the house is sure to bring a lot of hilarious scenes. I just hope Winston doesn't start planning any pranks.
My favorite part of the episode is seeing Jess deal with her feelings for Nick. Its different from the first time she discovered having feelings for him. This time, she knows this is it, she loves him, and he is it for her. It feels so grown up.
"House Hunt" was a great way to kick off the season. Our favorite roommates all seem to be stable and in a good place. But I doubt that will last for long.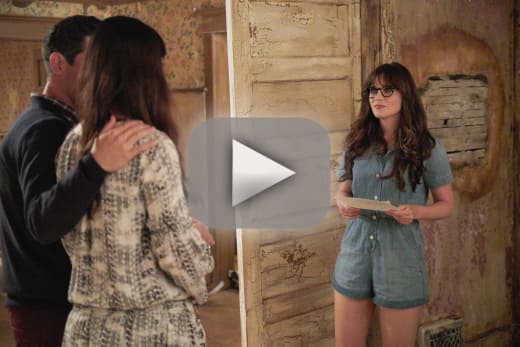 I do miss Coach, and I hope to see him making some appearances. 
What did you think of the premiere episode? How long do you think it will take for Nick and Jess to get together? How many things are going to go wrong with the fixer upper? Will Winston and Aly last? Hit the comments below to let us know!
Remember you can watch New Girl online right here on TV Fanatic.