Queen of the South Season 1 Episode 13 Review: Cicatriz

Christine Orlando at . Updated at .
If you haven't watched the season finale of Queen of the South yet, STOP READING NOW because there are massive spoilers ahead!
Things heated up on Queen of the South Season 1 Episode 13 as people died and one very important person turned up alive. 
I'd always wondered if Guero could still be alive. I've watched enough TV to know that whenever we don't see a body (and sometimes even when we do), the odds are good that the character isn't as dead as we've been lead to believe.
Still, seeing Guero in that final scene was a heck of a twist. 
But before we get to Guero's reappearance and what it means, let's review Teresa's adventures.
It was good to see her take out Gato. The guy was a bastard, even Pote agreed he got what he deserved, and his death highlighted how Teresa has changed since Gato tried to rape her in Queen of the South Season 1 Episode 1. 
Teresa didn't hesitate to shoot him this time, and it wasn't just in self defense. She shot to kill. 
Pote: Believe it or not, I'm not the worst person in the world.
Teresa: I know, I just killed the worst person in the world.
Teresa and Pote's newfound partnership was unexpected, yet gratifying. When Teresa shot the man who killed Brenda multiple times, you could see the respect on Pote's face, even if his expression changed ever so slightly. 
Speaking of Brenda…damn!
I didn't think much of her at the start of the Queen of the South season 1, but she was smart, resilient, feisty and fun. Begging for her son's life was her one stupid and fatal mistake. 
I'm really going to miss her. Her death made perfect sense, but I was hoping we'd see more of Brenda in season 2. 
Camila: What has he done?
James: He's lit our world on fire.
Camila thought she had Epifanio under control. She knew him better than anyone. She thought he wanted to be governor more than anything. 
Unfortunately, gaining that position allowed Epifanio the power to enact a scorched earth policy. If he couldn't keep the business, then no one else could have it and he was willing to destroy everything and everyone in his wake. 
Much like Camila, I never saw that coming. 
Will the journal allow Camila to get back on top? As Teresa told her in this Queen of the South quote, it's not going to be quite that simple…
You're not ordering me around anymore. I don't work for you. I'm not your hostage. These will be my terms.

Teresa
I loved that scene, not just because Teresa finally came into her own but because of Pote and James. Both men were smart enough to realize that these women were in control. The men were the hired guns and were willing to play their roles as decisions were made that would affect all of their futures.
As for Guero…
Was he always working for the DEA? Was he an undercover agent? Is that why he kept the journal? If so, why would he tell Teresa to return it to Epifanio? Did the DEA save his life and now he works for them to avoid prison? 
And how long will it be before Teresa finds out he's alive?
It all makes me crave Queen of the South Season 2. Unfortunately, we'll all have to wait until 2017 to find out what happens next.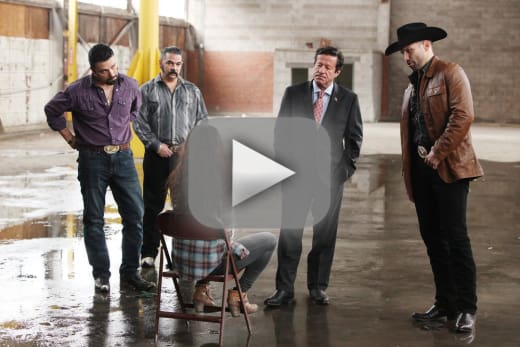 Did you enjoy Queen of the South? Will you be tuning in for more when the show returns?
If you can't get enough, you can watch Queen of the South online here at TV Fanatic.
C. Orlando is a TV Fanatic Staff Writer. Follow her on Twitter.