Is there hope that the Donovan family can make it out of Ray Donovan Season 4 unscathed?
That was thrown into question on Ray Donovan Season 4 Episode 11 when Abby realized there was a good chance her family was going to be targeted. 
This has been common knowledge for weeks, so the fact Ray hasn't forced his family out of town thus far is pretty mind boggling. Yes, he did approach Terry about laying low, but Abby and the kids should have been shipped off by now.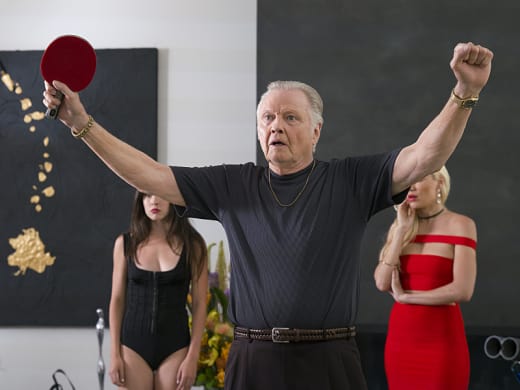 It's almost as if Ray does not understand the severity of the situation, and if he doesn't get it together soon, he can kiss his family goodbye. 
Frank Barnes in the mix was always going to complicate things. He just can't be trusted.
Nothing good would have happened if Ray became an informant. Heck, Dimitri's goons probably would have figured it out. 
Dimitri has got to be one of the worst villains to grace the silver screen. When he originally popped up, it seemed like he was going to put a plan in motion to go after everyone Ray loved, but he's been pretty tame.
You go to prison for life. I get five years.


Ray
Obviously, Ray used the art as leverage, but if Dimitri wanted Ray dead, he would have killed him and his family weeks ago. It makes me think that Dimitri wants Ray for something. It's certainly not his brains.  
It should be intriguing to see just how Dimitri reacts to the return of Sonja. There's absolutely no chance he won't find out about it. Dimitri blames Sonja for what went down with Belikov. Rightfully so. 
She may be family, but we already know Dimitri murdered her father, so there's a good chance that Miss. Honey will be leaving us pretty soon. 
Am I the only one shocked that Avi is still alive? The fact that we did not get any confirmation about his fate on Ray Donovan Season 4 Episode 10 had me thinking he had been murdered off screen. 
Bridget: To do what?
Conor: Help him.
Bridget: Grow up.
Conor: F*ck you.

Things are looking very murky for the Donovans as we head into the season finale. If Ray doesn't find a way to get Frank back on his side, he's pretty screwed. 
As expected, Hector struggled in the aftermath of murdering Marisol. There's pretty much no way that he's going to make it out of this season happy. 
His actions will continue to haunt him and he deserves it. Marisol was essentially a drug to him that he couldn't quit. He didn't need to kill her to get away from her. 
She'd already called him out on national television. It's not like there would have been many more tricks up her sleeve. All he had to do was up his security and cut her off.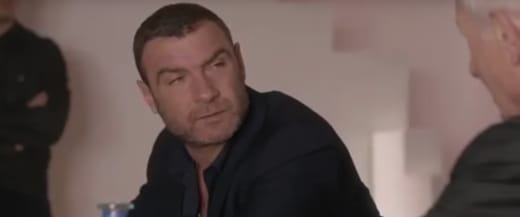 He does not like being a loser, so being told to throw the fight obviously didn't sit well with him, but he knew he would have to if he wanted to keep Ray on his side. 
"Chinese Algebra" was not the best hour of Ray Donovan. Hopefully Dimitri and Hector's storylines conclude next week so that we can wipe the slate clean for Ray Donovan Season 5. 
Other tidbits from the episode:
Bunchy and Teresa sticking to their plan was one of the better things to happen in tedious episode. I was so sure Ray, or Abby would try find a way to make them stay, but it was the best course of action.
Most of Mickey's scenes were hilarious, but the Instagram star was just so darn dull that it made me question if all Instagram stars act like that. Add in the nonsense that Mickey just happened to be sitting next to someone who could help him make money. 
Hector shutting Daryll out was uncalled for and I hope that the next time Hector asks him to do something, Daryll declines.
Terry had better be okay! He's one of the best characters on the show and I hope the scene with Daryll was not foreshadowing his death. 
Remember you can watch Ray Donovan online right here on TV Fanatic. Get caught up now!
What did you think of the episode?
Hit the comments below!
Paul Dailly is a staff writer for TV Fanatic. Follow him on Twitter.