This Is Us Season 1 Episode 1 Review: Welcome to the Family

Carissa Pavlica at . Updated at .
By now, America should be starving for shows like This Is Us.
As we find out on This Is Us Season 1 Episode 1, it's a drama about family. They have their issues and we're introduced to them one by one in such a way that even though we don't know the entirety of the family dynamic, we want to know more. At least I do.
The characters are interesting and well fleshed out in a very limited period of time. There are some exceptions, of course, but there is only so much you can do in 40 minutes. And that "hook" at the end? Well, don't read on if you haven't seen it yet, because we're talking about it here. You've been warned.
Unless it's a comedy, however, American audiences don't much care for emotion and light. We've somehow fallen into situation where dark is good, whether it's the material or the actual lighting.
My biggest concern with the success of This Is Us is that people may be afraid to admit they enjoy it. Allow yourselves some joy, world. Revel in the love and the support a family can bring to each other.
We're being treated to a tremendous cast here. Sterling K. Brown just won an Emmy for his performance in The People v OJ Simpson: American Crime Story, but he's also no stranger to emotional drama, having spent years on Lifetime's Army Wives.
Justin Hartley is a wonderful actor who just spent two years on The Young and the Restless blowing the socks off of the soap opera world. In a matter of days, he was the star of the show. What he does here as Kevin he was doing practically every day for two years on Y&R. Hard work.
The others have starred in countless movies and TV series over the years, and surely you'll agree that Gerald McRaney's performance as Doctor K. was so good we can only hope he really meant it when he said how much he liked Rebecca and Jack. Hopefully so much that they become fast friends.
Jack: So I'm gonna need everyone in this room to believe that only good things are going to happen today. Actually, I need you to know it. Do you know it, baby?
Rebecca: I love you baby. Yeah, I know it.
Jack: Do you know it, doc?
Dr. K.: I know I like you. Let's just start there. Get you what you want.
The story we were sold when we first heard about This Is Us was that it was an interconnecting tale of several people who shared the same birthday. That's correct. What we didn't know what they are all from the same family.
It's Jack's 36th birthday and on his birthday he's treated like a king by his loving wife Rebecca. Thanks to a special appearance by a Terrible Towel, we know they probably live in Pittsburgh. (Hey! Me too!)
Their boxes of photos show memories from the mid '70s, so we can also assume they've been together at least five years, and it shows. They're adorable together and probably still as in love as they were the day they were married. 
It's a natural relationship, and doesn't make me sick, so kudos to the writing team. I'm not good with romantic and loving portrayals on TV, but I can get into this one. They're friends as much as lovers, and that really matters. Milo Ventimiglia and Mandy Moore have an easy chemistry that makes them all the more believable.
When Rebecca's water breaks, Jack realizes he's about to become a father of three on his own birthday.
At the same time, we're also getting to know the others. 
Kevin is a TV star. He plays The Manny on a show of the same name. It's a pitiful series, and he knows it. Probably never more than he does on his birthday, which is always a time for introspection. 
Two scantily clad dancing girls do nothing for him. He's in the mood to think about when it all went downhill, that fateful day in 1986 when Christa Mcauliffe exploded into a million pieces with the space shuttle Challenger when she thought she was going to change the world. That left a mark on second-grader Kevin.
I'm sorry, you know. I'm trying to understand for my character. Are we suggesting that the Manny thinks a grown man can breast feed a baby? Are we suggesting that the Manny is brain damaged? Because I can do a voice...

Kevin
His day at work gets progressively worse as he realizes how ridiculous his character looks to everyone in the audience, and the end comes when he has a fantastic scene with Alan Thicke. He does what Justin Hartley does, which is really good, but the director wants cliche crap. And for him to be shirtless.
At 36 years old, Kevin becomes the biggest news in Hollywood thanks to social media, because he blew up well and good, quitting a good paying but terrible role.
His sister, Kate, is also struggling. Kate is morbidly obese. Kate likes to eat. In fact, her entire life seems to revolve around eating, which is probably my one gripe with the show. It would have been so refreshing to see someone who was struggling with their weight, but not obsessive about it.
It is, of course, only the first episode, and she met Toby, who is not obsessive, so maybe that's the point of their friendship. Yet he is another gripe. His behavior is just a little bit off, a bit too sexual too fast, and it made me feel like he was taking advantage of the fat girl to try to get some action.
It does make for a very personal reactive scene when Kate shares she doesn't get many opportunities for sexual encounters, and that almost makes it all worse. But in the end, Toby seems like a good guy, if just a bit too at ease for a first date. If he can get Kate to feel a little more comfortable in her skin, that would be great.
Kate and Kevin have a beautiful relationship and lean on each other for support. When she falls over in the kitchen injuring her ankle, Kevin refuses to fall into a trap with her by telling her to lose the weight. That's not how her struggle works.
When he torpedoes his career, it's to his sister's house he goes to hide out, which allows for a goofy scene with Toby, who wants a shirtless selfie with the star. Yep, Toby appears to have few filters.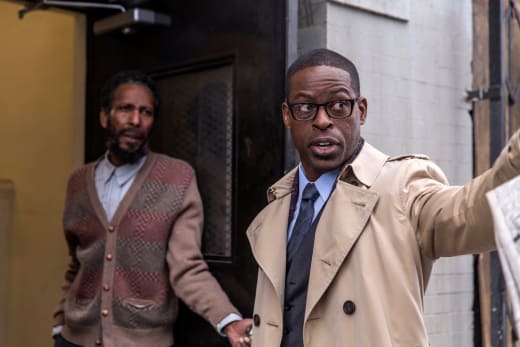 Randall has also been celebrating his 36th birthday. As he was adopted, he's shocked to discover the location of his birth father on his birthday. Although he doesn't want to meet him, he finds himself at his door. He doesn't want to talk, but finds himself walking inside.
As he later told his wife, Beth, it is like a bad sitcom, as everything he doesn't want to do, he's doing the opposite, right down to inviting the man over for dinner with his family. His father left him on the steps of a fire station on the day he was born, and Randall invited him over for dinner! 
Randall believes he was cracking up, laughing giddily, eyes wide. But he also learns his father was dying. The timing to meet him is probably kismet. We also learn that his birth father might no longer be with us when William picks up a photo of Randall with his family and Randall talks about him in the past tense.
Jack and Rebecca suffer a great loss. One of their three children dies during childbirth. Jack had said he was leaving the hospital with three healthy children and a healthy wife, but it doesn't turn out to be the same ending Jack imagined when he arrived.
Jack and Rebecca are revealed to be the parents of all three of the other characters. By keeping Kevin and Kate from sharing the day with Randall, the secret was intact until the end. But what a beautiful ending to a very distressing day. 
I loved the way it was filmed because it all played out so that there was very little time to feel sorrow over the loss of one child when you knew the happy ending Randall received as a result. 
Kate and Kevin also talked about Jack in the past tense, sharing the lemonade saying Jack told them while growing up that he heard from Dr. K. So I'm left to wonder...will we ever see Rebecca and Jack in the present with their children, or have they already passed by the time their kids reached their 36th birthdays? That is rather sad.
However, it's also interesting that the series will take place in both the 80s and present day. They did a good job of incorporating all of the characters and their emotional journeys into the pilot. That can't be easy, and it will be even more difficult if the many of the characters will never be in the same time/location. Correct me if I'm wrong, but it didn't look like Randall was an LA dweller.
I'm looking forward to seeing all three siblings interact. The closest we got was the autographed poster of The Manny on the wall when William was given his guest linens. Does anybody else wonder why there is a Kate, a Kevin and a Randall? Why isn't Randall a Ken? Something tells me we'll find out.
I don't know about you, but I need This Is Us. I've been craving family drama that doesn't circle around murder and rape, a sudden prison sentence or a bout of cancer. Everything doesn't have to be clouded over by darkness. 
Others may call this drama saccharine, schmaltzy, corny, etc., but if that's the case, then it just so happens I have a lot more of it in my life than all of the other, darker drama we run into on television. And I'm not embarrassed to be thankful about that.
So tell me, what did you think of This Is Us? Will you be watching?
Now that you've taken the poll, share your thoughts in the comments below. I'd love to hear what you have to say. Can we talk about it? Why did you choose your answer above? 
Carissa Pavlica is the managing editor and a staff writer and critic for TV Fanatic. She's a member of the Critic's Choice Association, enjoys mentoring writers, conversing with cats, and passionately discussing the nuances of television and film with anyone who will listen. Follow her on Twitter and email her here at TV Fanatic.