Arrow Season 5 Episode 3 Review: A Matter of Trust
Paul Dailly at . Updated at .
Will Diggle be able to move on from killing his brother?
That was one of the key questions on Arrow Season 5 Episode 3 as it became pretty apparent that Diggle was still battling with his emotions in the aftermath of what went down with Andy. 
Deep down, Diggle knows he made the right decision, but killing a family member is something that will stick with him for the rest of his life. It's scary to think what crazy things Andy could be getting up to now, so I'm glad he's no longer part of the show. 
He was part of the reason why Arrow Season 4 was mediocre, so there's that. 
The return of Flashpoint was certainly a shock, but there was something off about his scenes in the cell with Diggle. However, I did not think for one minute that the dude was a figment of Diggle's imagination. 
Diggle has a long way to go if he was any hope of moving on from what went down, but Lyla will never give up on him. It should be fun to see just how Oliver and Felicity react to their former team member being back on the scene.
Might someone from the revamped Team Arrow disappear and pave the way for Diggle to return to his old stomping grounds?
Quite possibly. 
Oliver continued to try his best to get the team on his side, but Rene continued to think he could do as he pleased and that almost resulted in he and Evelyn getting seriously injured. 
Sampson was pretty much a generic villain and his sole purpose was to piss off out favorite characters. Thanks to Rene, the dude became a superhuman. 
Wanting to make a band of superhumans to go against Tobias Church was a pretty great idea, but there was no way Oliver was going to let that come to fruition under his watch. 
The addition of Sampson forced Oliver to send his team out into the field to test out whether they could function as well as he hoped they would. Surprisingly, their mission was completed without a hitch and it earned them entry into the Arrow lair. 
The thing that's most exciting about the storyline with the recruits, is that it's moving along at lightning speed. I don't know about you guys, but I thought the whole process of getting these new people in and settled would take a good few weeks. 
Things flow a lot better on the show when they're moving at a decent pace. It's crazy just how much better the show has been throughout these first few episodes of Arrow Season 5. 
Felicity admitting her involvement in the destruction of Rory's hometown was surprising. Yes, we know it was going to happen, but just not this soon. 
There was a lot of emphasis on Rory throughout this installment. His scenes with every member of the team were pretty great and I can't wait to see just how he manages to forgive Felicity. 
It's obviously going to happen at one stage. 
Let's talk about Billy. Introducing himself to the Arrow was a random move that will probably yield more negatives than positives. Someone in the comments speculated recently that Billy could be Prometheus. 
That would be a great twist, but it would probably drive Oliver and Felicity back together. For the sake of the team, I think they need to stay apart romantically.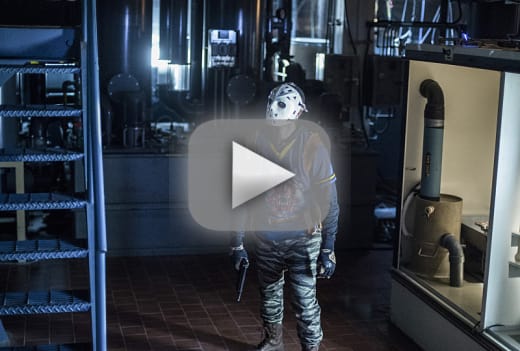 At least until the show is over. The new dynamic between the former lovers has been a breath of fresh air this time round. 
Elsewhere, Thea made a huge mistake by trusting Susan. Can we all just take a moment to thank the Arrow producers for actually utilizing Carly Pope? 
Her character on Suits was terrible, but it seems like she's going to have a meaty role on Arrow. Thea will no doubt make it her mission to take her down in the coming weeks and it should be interesting to watch it all play out. 
"A Matter of Trust" slowed down a bit from recent episodes, but it was still an interesting affair that kept me glued to the screen. It's just a shame that the ratings have started dipping for the show. 
Other tidbits from the episode:
For the first time this season, the flashbacks actually started to drag. 
Oliver welcoming Quentin into the fold, while simultaneously thanking his team was great. As much as Oliver was pissed with Thea, he took ownership of the whole mess. 
Curtis is starting to grown on me as a member of the recruits. 
Remember you can watch Arrow online right here on TV Fanatic. Get caught up now!
What did you think of the episode? Hit the comments below!
Paul Dailly is the Associate Editor for TV Fanatic. Follow him on Twitter.