Black Mirror Season 3 Review: Terror with a Hint of Optimism

Carissa Pavlica at . Updated at .
Black Mirror is back, with six new episodes coming to its new home, Netflix, tomorrow, October 21.
Creator Charlie Brooker once described the series like this, "If technology is a drug – and it does feel like a drug – then what, precisely, are the side effects? This area – between delight and discomfort – is where Black Mirror...is set."
Black Mirror, of course, refers to every reflective surface that stares back at us, smartphones, computers, televisions. Cold and without feeling. But there is a bit more optimism creeping into the series in its third season, and it appears in the best episodes.
Moving to Netflix from Channel 4 in the UK, this social commentary series about the effects of technology on our lives doubles up the number of episodes from the previous two seasons. The biggest surprise is the addition of hope. It's not six episodes of bleak messages and buyer beware, so you're in for a treat.
Things have come a long way since the first six installments that aired in 2011 and 2013 (a Christmas special with Jon Hamm aired in 2014), and as a result, two of the new episodes, "Play Test" and "Men Against Fire," deal with virtual reality.
There also seems to be a concerted effort to make the series a bit more American, if only by adding British actors using American accents...and MacKenzie Davis, a Canadian, to the lineup. I'm not sure it's necessary.
Part of the original allure of Black Mirror, from a girl sitting on this side of the pond, was that it was British and not a remake, not made especially for us. Of course, that could just be me. I'm also not sure how I feel that one of the main American segments is "Men Against Fire," which has a military theme. Americans and military? That's getting old.
The episode in question, "Men Against Fire," also has a theme that is easy to guess, especially if you read young adult literature or watch the movies. I know there is a lot of information on these episodes out there, but less is good. The more you know, the less you will enjoy it. The acting by Malachi Kirby, in particular, is quite convincing.
"Nosedive" stars Bryce Dallas Howard and points out our relentless desire to be liked by people we don't even know; the importance we place on virtual strangers rating the photo we take of our morning coffee and the quip that goes with it. Your star rating then permeates everything else in your daily life. 
If you're astute and watched Community, then you've seen some form of this, if on a smaller scale. The problem I have with it there is more to the fleshing out of the idea than the execution. The more interesting part of "Nosedive" might have come in the next 20 minutes after the camera stopped rolling.
"Play Test" is horrifying in both the concept and the delivery, even if it's not exactly a new idea. This one reminds me of eXistenZ to a large degree, but the movie is so old and unseen at this point, most of you won't know the reference.
Wyatt Russell stars as a traveler who just wants to make a little money to fly home to see his mother after a family tragedy and gets in way over his head. This one truly plays out like a horror movie, but the biggest horror of all is a bit of a surprise. This one will stay with you for a while after watching.
There is a lost opportunity with "Shut Up and Dance," which begins with 19-year-old Kenny (Alex Lawther) innocently downloading a malware cleaner to fix a mess his sister made on his computer, which turns into his worst nightmare.
Because so many of us do that, it could be the start of any number of stories. Instead, it feels like a run-of-the-mill teen horror and is easily the least engaging of the six episodes to be released.
When Black Mirror is done best, there's a message behind it that you can't shake or startling emotions forcing you to remember as bad as technology sometimes seems overall, it really can be used for the greater good or just to bring two people closer together. The installments also stick with you a long time after watching. The following two fit the bill.
As with anything, all of this is subjective, but my favorites of the six are "San Junipero" and "Hated in the Nation."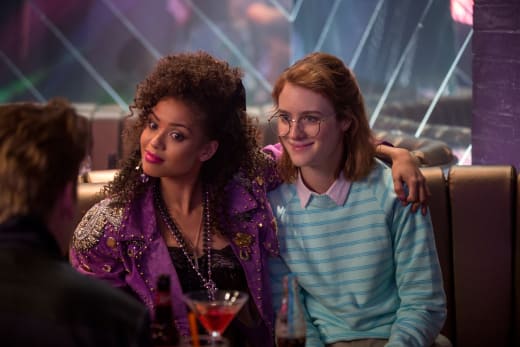 "San Junipero" starts out with MacKenzie Davis (Halt and Catch Fire) walking the streets of 1987, and that alone is reason enough to wonder what is happening. Surprisingly, it is the hour that is the least forthcoming. Two girls fall in love, it's a slow and awkward process, but they're always focused on midnight.
It's not until well into the hour that we start to understand technology does have a role here and it's a bit further before we see how that takes shape. As a result, it is the most optimistic and beautiful of all the Black Mirror episodes released to date. Quite a feat.
"Hated in the Nation" is an interesting concept that is easy to figure out for the most part, but there is a final, unexpected twist with a welcome message. This one goes above and beyond to really dig into the psyche of all involved, and given that it's a statement on Twitter, that's difficult to do. Despite the length, the one-two punches delivered at the end make it worth the extra time for the surprising ending to play out. 
Overall, the season is solid. It's reminding us to be wary of technology, but not afraid. Think before you leap. Use your common sense and beautiful things may come your way. Or, you know, you might die. It might only be of embarrassment, but it will be a death, just the same.
My biggest disappointment in the move to Netflix may not be indicative of the move, but of the times we're in now. The ideas don't feel as fresh as the earlier seasons. Since first debuting in 2011, entertainment has jumped on the bandwagon. Many others have attempted their own Black Mirror-type morality tales.
It's going to be more difficult for Charlie Brooker and friends to stand apart from the crowd. But they've done it before, so I have faith they can do it again.
Definitely watch, not just these six, but all 13 available episodes, at your earliest convenience. You won't regret it.
Here's my episode ranking, in order:
San Junipero
Hated in the Nation
Play Test
Men Against Fire
Nosedive
Shut Up and Dance
Carissa Pavlica is the managing editor and a staff writer and critic for TV Fanatic. She's a member of the Critic's Choice Association, enjoys mentoring writers, conversing with cats, and passionately discussing the nuances of television and film with anyone who will listen. Follow her on Twitter and email her here at TV Fanatic.