How many members of the Irish Mob does it take to kill one former mob leader? And how many times can Kurt Weller's ex-girlfriend turned mother of his child be a pain in the behind? Those are the two primary issues at the heart of Blindspot Season 2 Episode 5.
"Condone Untidiest Thefts" feels like an effort to get Allison Knight back into the action. It's very convenient that she happens to be friends with the sister of the team's prime suspect Patrick O'Malley and that he'll only talk to her.
Plus, when she tells Weller beforehand that it will be fine, that's TV's universal sign that things will not be fine.
Allison wasn't a likeable character before and she isn't now, constantly arguing with Weller on both the professional and personal fronts. Even if you set aside the plausibility of her being able to be involved in the case given her personal connections she adds nothing but more headaches for Weller.
Do we care that she's dating some guy from high school? Did she really think Weller was going to take the handcuffs off a known criminal in custody because she said so?
And did she just tell him he's taking time off when their kid is born?
He absolutely should because it's the right thing, but Allison really shouldn't be telling him to do anything given that their whole disagreement at the start of the episode was about her not wanting him to tell her what to do.
All that involving Allison contributes to the show is clouding Weller's judgment so that Nas has to yank his head back into the game, and telling Jane about the baby so that Jane can possibly move on with Oliver the Museum Guy. Jeller shippers are probably not happy right now.
Allison: You're telling me that State Senator Quinn Donahue is the head of the Irish Mob?
Patrick O'Malley: Just wait till he's Governor.
There are some strong points to this episode. The biggest is the guest performance from Lee Tergesen as prime suspect turned key witness Patrick O'Malley. He actually makes you care about the guy and winds up redeeming himself at the end.
Of course his appearance comes with a little dose of amusement for those of us who still remember Tergesen played U.S. Marshals veteran Eddie Drake on TNT's 2005 crime drama Wanted. He was fantastic in the role and Eddie might've actually sympathized with Patrick.
Plus, the episode makes some (but not enough) use of Tergesen's ability to deliver sarcastic wit.
Allison: Patrick, this is Kurt. My Kurt.
Patrick O'Malley: I knew there was a reason I didn't like him.
The real meat of the episode comes in Edgar Reade's subplot. Given how we saw him lurking on Blindspot Season 2 Episode 4 it was only a matter of time until he confronted Coach Jones. And given that he killed him, we probably have our answer as to whether or not Reade was abused.
Rob Brown has been great as Blindspot has decided to flesh out the abuse storyline. More screen time for him is always welcomed. But what does this do to Reade's future?
He also dug too far into Tom Carter's disappearance in Season 1 (albeit with Mayfair's knowledge). Now he's got blood on his hands. Even if the show gets him off the hook - like saying it was an accidental death or self-defense - he's starting to get a reputation for going off-book and getting into trouble.
And is Weller going to wonder why both Reade and Zapata took a personal day on the same day, or is that something else that'll slip his mind?
You'll get yours, I promise you.

Reade
We also get a key to the ongoing mythology of the show when Patterson decodes Mayfair's "black hole" image and leads to the idea that Mayfair was collaborating with the NSA insider. Even though she's been gone Mayfair feels like she's still very much a part of Blindspot. It kind of makes one miss Marianne Jean-Baptiste.
We'll have to see just how many more secrets the show pulls out of Mayfair's USB drive. On one hand it's nice that she's still playing a part in the story. On the other hand you don't want to make it into another random source of clues like Nas's magic NSA computers. At a certain point you just have to let Mayfair go.
Speaking of being gone, a few characters are hardly in this episode. Borden appears for one scene just to be cute with Patterson, which doesn't help the prevailing suspicion that he's the mole.
And Roman only shows up near the end to reveal to the audience that Shepherd was lying to Jane, while Shepherd herself is only in two scenes.
But their absence shows that the Sandstorm stuff isn't always needed for a good episode. Shepherd in particular is just not a very engaging character. She gets a lot of talking - and admonishing - but not much doing.
Less Sandstorm may make for a stronger Blindspot, at least until it's time to see them really throw down with the FBI. By contrast Nas is actually serving a weekly function in the story and being a real counterpoint to Weller.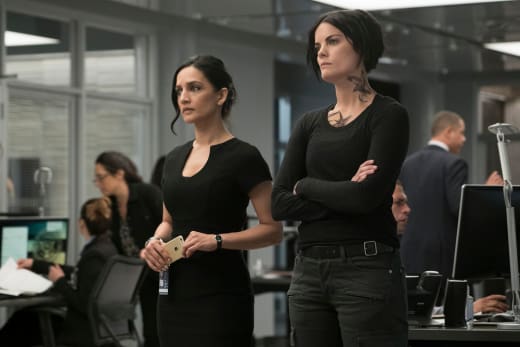 "Condone Untidiest Thefts" was an entertaining episode that featured a lengthy and interesting firefight, if only so fans could wonder how many mob thugs it takes to storm a law firm and why our heroes seemed to go through so many bullets. The strong turn by Tergesen also helped to elevate the story of the week.
But the presence of the Allison character - and how she completely distracted Weller as well as took focus away from other things that were more important - took it back a step. The episode would've been much stronger with more Reade, or Zapata, or even Nas making a few extra Molotov cocktails.
At least we can chew on that cliffhanger for another week, because that was serious stuff.
If you want to re-watch "Condone Untidiest Thefts" or catch up on Season 2 of Blindspot, you can watch Blindspot online. The show returns next week with Blindspot Season 2 Episode 5, which is called "Her Spy's Mind."
That airs next Wednesday, Oct. 19 at 8/7 on NBC and we'll be back here afterward to break it down.
Until then, leave your opinions on this episode below. How much trouble is Reade in? Is Jane really going to meet Oliver for drinks or maybe just try to get information out of him? Can Weller ever get his focus back?
Give us all your thoughts and speculations in the comments.
Brittany Frederick is a staff writer for TV Fanatic. Follow her on Twitter.