Money buys privilege. That was the overwhelming theme of Blue Bloods Season 7 Episode 3. 
Sy Goodman had obviously done a lot of good for the NYPD but should that buy him the right to flaunt the law? Apparently part of the Reagan family believed it should.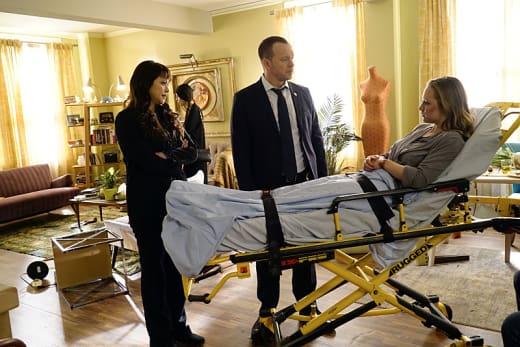 Frank: I appreciate your generosity, you know that.
Sy: Then show me the respect.
Frank: By disrespecting the law?
I think that's what bothered me about Sy…his level of entitlement. He was right when he said that the $5 million was his money; he worked for it and could do with it what he pleased. Deciding to donate it to help police officers who have been injured on the job and their families was a noble endeavor.
But those good intentions wore pretty thin when he acted like he'd paid for the privilege to break the law.
Nicky: So just because he supports the NYPD he can break the law whenever he feels like it?
Frank: No.
Nicky: It certainly sounds like it.
For as much as Henry, Jamie, and Danny made allowances, that's exactly what it sounded like to me too. Sy not only wanted, but expected a free pass for going 95 miles per hour in an illegal police cruiser with lights and sirens and brandishing a 357 Magnum without a carry permit.
I understand that a large part of Frank's job is politics , but Sy Goodman was a bad accident waiting to happen and he needed to be reined in. That said, I was more or less okay with how Frank handled it in the end.
I'm hoping that Sy got the speeding ticket he deserved, although that wasn't made clear. He also needed to be told to keep that gun at home. Getting rid of the unsanctioned police vehicle was the one thing that made me happy. 
What bothered me was that half the Reagan family was so willing to give the guy a complete pass on his actions. Apparently the law can be bought and paid for. 
Then there was Brandon Mitchell who not only beat and raped his current girlfriend but had done it before on at least three other occasions. But Brandon's money (or his father's) allowed him to intimidate the women into believing they'd get torn apart on the stand. 
I got my hopes up with this Blue Bloods quote as Erin told the defense attorney…
Your client has never stood trial, counselor. By the time I'm done with him the jury is going to see him for exactly who he is, a smug, spoiled, sociopath.

Erin
If only it had gone to trial. I wish at least one of those women was willing to come forward. I was hoping that Erin would have gotten her chance to rattle this guy on the stand. 
What I didn't understand was the sting they set up afterwards. Having the victim allow him back to her place seemed like a weak way to try and trap him to make their case. And as much as I was happy that Erin called Danny out on his attitude, having him confront Brandon at the end didn't hold much weight. 
Jamie and Eddie had the fluff story of the night and I didn't much care until they got to the part where Jamie called out the police consultant. He'd never been on the job with NYPD but with the Cranford police for 8 months and then worked security at the Willowbrook mall. 
As someone from Jersey who knows both the the town and the mall, that made me literally laugh out loud. I love it when Blue Bloods reminds me that it is actually filmed in New York City and gets it's local geography correct. 
What did you think about Sy Goodman? Did Frank do the right thing? Did you side with Henry, Danny, and Jamie or did you see things from Nicky and Erin's point of view?
Check back next week for my review of Blue Bloods Season 7 Episode 3, and if you can't wait for more of the Reagan family, you can watch Blue Bloods online here at TV Fanatic.
C. Orlando is a TV Fanatic Staff Writer. Follow her on Twitter.