Chicago PD Season 4 Episode 3 Review: All Cylinders Firing

Brittany Frederick at . Updated at .
Why was Chicago PD Season 4 Episode 3 the best episode of a still-young Season 4?
Because it focused on the show's biggest asset: its very talented actors, specifically two-time Tony Award nominee Amy Morton as everyone's favorite gruff desk sergeant Trudy Platt takes center stage.
"All Cylinders Firing" handles the "one of our own is the victim" plotline that inevitably makes its way into every cop show, and a lot of medical shows, lawyer shows, and other series besides.
But Chicago PD finds a way to make the familiar story fresh by resting it almost completely on Morton's shoulders.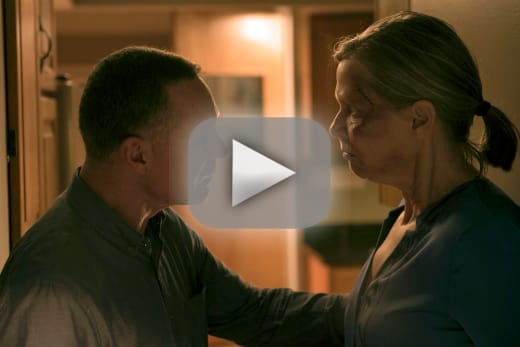 After Platt is attacked and her father is subsequently found murdered it's easy to point the finger at Dad's much younger girlfriend and even easier to make her a con artist with an equally criminal boyfriend.
Chicago PD could have easily stopped there and given us a straight-up story much like it's done with the first two episodes of Season 4.
I like Robert, but I think we're looking at the wrong Platt.

Voight
But instead the show makes a slight right and has the culprit being someone else. Wade McGregor still has ties to Robert Platt and is still a terrible person, but he's not the obvious suspect and it's tremendous fun watching the other cops watch Trudy as she puts the pieces together without letting on to any of them.
This is really Morton's episode from start to finish and everyone else is just there to help out. There's the obvious cameo from Christian Stolte, reprising his Chicago Fire role as Platt's husband Mouch (it'd be weird if he didn't show up), while Colin Donnell and Marlyne Barrett represent the Chicago Med contingent.
Donnell in particular is always a welcome presence; he could show up to hold a clipboard and he'd make it interesting, but Chicago PD winds up giving him the best line of the night.
She's up, she's alert, kind of rude - all cylinders firing.

Rhodes
Laughs aside though it's fun to see that while Trudy is down she's never out, not even when she's in the recovery bed.
She's still snarky and still working on solving the case. When she escapes from the hospital it's like Amy Morton becomes the Linda Hamilton of Chicago PD. All she needs is a shotgun, but we'll settle for the ornamental shovel.
(And on that note, the only beat that really strains credulity in this episode is Platt's detail completely failing at their jobs. Hopefully those absent cops got a stern talking-to at the very least.)
Morton is spot on throughout the episode. It would have been even better if time had allowed for more of those final big scenes as she confronted McGregor and then was confronted by Voight.
Those two moments really have Morton's extensive experience shining through and she and Jason Beghe absolutely nail their tearful interaction.
This episode isn't really about if the squad is going to get Platt's attacker; it quickly becomes about if Voight is going to be able to get to Platt - and get through to her.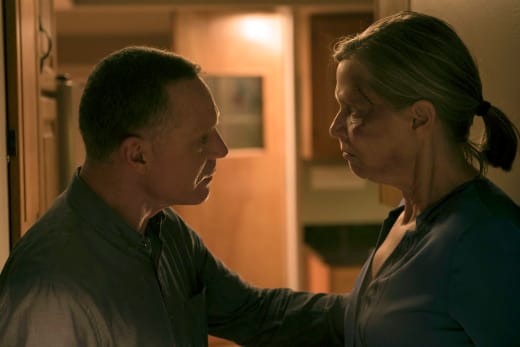 There are some cases where it doesn't matter if the plot is not novel because the acting is just so good, and this episode is one of those cases. Morton may have given her best performance of the entire series here and Beghe is right there when it comes time for the critical scene between the two.
When we see these kinds of plots on a show it's that kind of emotion that matters. The reason shows make the main characters into the victim of the week is that they want to heighten the feeling for the audience by doing so. But they don't always succeed because you have to have actors that can bring that much emotion to the script.
The Chicago PD squad is able to bring that this week. Even though logical thought leads us to believe that Platt really wouldn't kill McGregor, we don't entirely know because Morton plays her off the rails.
Even though the other characters don't have as much to do, when we do see them they convey the whole team's worry not just for Platt, but about what she might do.
It'd be even more interesting if we see some fallout from this in the next few episodes but given the fact that we're talking about a procedural that would seem unlikely. Still, how much more would Morton get to do if Platt didn't quite come back from this right away?
Someone wanted them both to suffer.

Voight
If you want to re-watch "All Cylinders Firing" or get caught up on Season 4 so far, you can watch Chicago PD online now.
The series returns next week with Season 4, Episode 4 called "Big Friends, Big Enemies" which also has a family connection for another member of the unit. That episode airs next Wednesday at 10/9c on NBC.
What did you think of this week's Chicago PD? Did you enjoy Amy Morton's performance as much as we did? Wonder if Platt is ever actually going to get back to those mixed nuts?
Let us know your opinions of "All Cylinders Firing" in the comments.
Brittany Frederick is a staff writer for TV Fanatic. Follow her on Twitter.