It's always the quiet ones.
This very special episode, Criminal Minds Season 12 Episode 2, focuses on the criminally neglected Jennifer Jareau. it examines how the cruelty of the BAU cases affect JJ, the parent of two young boys.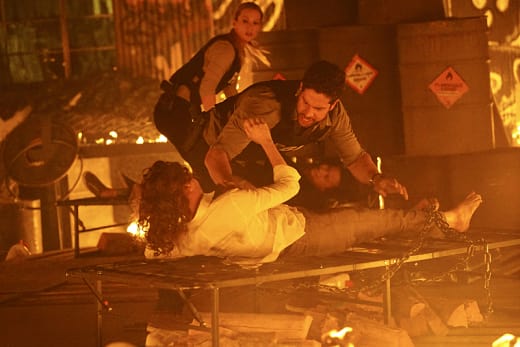 After all, JJ is perhaps the character that has evolved the most on Criminal Minds (unless you count Reid going from weird to just eccentric to be progress). She's gone from being essentially a callow spokesmodel in the early days to the parental figure for the entire BAU.
But the most recent case, involving child abductions in Los Angeles, has hit JJ especially hard. That's even apparent to newbie Luke.
JJ: Really, I'm fine.
Luke: You don't look fine. I've seen you look fine and that's not it. I know I'm the new guy and everything, but I'm here if you need me.
JJ drags home in the middle of the night, and is surprised to find her husband Will still awake. Younger son Micah has come down with the croup, which has kept Will up. When she snaps at him, her cop husband encourages her to talk about the case.
You cannot go to sleep with this in your head. It's not healthy. You gotta get it out. You have to.

Will
JJ details how frustratingly slowly that the case comes together, as they attempt to figure out what makes the freak of the week flambe sets of children. (I don't know about other parents out there, but I'm finding these episodes with children being victimized harder and harder to stomach.)
Her heart especially goes out to the mother of the kidnapped girl Francesca.
JJ: She was a working mom, just trying to do her best. Just like anybody.
Will: Just like anybody, or just like you?
JJ: I just kept wondering how she' doing it all alone. I don't know what I'd do without you.
After a series of deductive leaps, the squad figures out that the unsub is a younger brother with an older sister, who works in a fire-related business. I believe the technical term was "sadistic pyromaniac.'
They throw a few criteria at Garcia, and voila, she narrows the candidate pool down to one likely looking suspect. (Could she have had a similar result with "blond, good sense of humor, likes long walks on the beach?" But I digress.)  And the hunt is on.
Somehow only JJ and Luke reach the burning warehouse in time. You would think they would have lined up more rental cars. In any event, JJ sends Luke after the psycho, and she, especially with a burned hand, is unable to rescue all three abductees from the fire. And, for some reason, she blames herself, not the nutjob who set the fire, for this.
Will gently straightens her out.
You made a choice and two people are alive because of it. You are a hero, Jennifer Jareau. You're my hero, and your boys, and your team and all those other people that you saved. And don't you ever forget that.

Will
Sleep well, JJ. You earned it with this emotional roller coaster.
It's also reassuring to see the one, currently functional relationship in the BAU. The scoreboard for the rest: divorced, divorced, widowed, single, lost track on Garcia, dunno yet about Luke.
What were the rest of the BAU up to this episode? They were largely part of the scenery, with very little chewing going on. But then, the case isn't always front and center. Sometimes, the featured characters outstrip the action, and that's the case here.
How about Hotch in Thomas Gibson's last episode? A barked order here, a tensely drawn observation there, but for the most part, eh. But then, his meltdown and resulting firing didn't really allow for a proper sendoff Too bad, because Hotch certainly had his moments over the dozen years.
As an aside, none of the fugitive serial killer were bagged this week, at least that I noticed. I'm sure the BAU will be back on that chase soon.
Prentiss returns next week in Criminal Minds Season 12 Episode 3, after some misleading network promos hinted she would be back this week. Anyone want to bet she's taking over? Or is your money on Rossi? They are the only two with the gravitas to pull off the chief's role.
Catch up on the BAU's' rogues by watching past episodes of Criminal Minds online.
So who's your pick for BAU boss? Are you going to miss Thomas Gibson? If  so, what's your favorite Hotch moment? Are you glad to see Prentiss return? Comment below.
Dale McGarrigle is a staff writer for TV Fanatic. Follow him on Twitter.