Gotham Season 3 Episode 5 Review: Anything For You

Lisa Babick at . Updated at .
Bravo, Gotham. Bravo.
Without a doubt Gotham Season 3 Episode 5 was the best hour of Gotham to date. Dare I say even better than the Jerome episodes? Yes. Yes, it was.
Was anyone really surprised that Butch was behind the Red Hood Gang's revival? Okay, I admit I was a little shocked, but can you blame Butch? It's been him and Penguin for such a long time, of course he's going to be a little jealous about Nygma taking over that special spot in Oswald's heart.
I just can't believe that Butch would go so far as to destroy the statue of Gertrud. He really stuck it to Penguin with that one. But, I guess that was the point.
It's just too bad that he had to go this route to get Penguin's attention. After everything they've been through together, it's hard to believe it's over between them.
Butch may not have the brains, but he's got Tabitha and that could spell trouble for Penguin and friends. Penguin still has muscle with Zsasz (!!!), but Tabitha is a badass. Who knows how far she'll go to exact revenge on Nygma doing what he did to Butch.
For a moment I almost believed Nygma had turned on Penguin, but I'm glad it didn't happen. Still, there's always the possibility in the future. 
Best party ever!

Barbara
There is no love lost between Penguin and Tabitha, but Penguin did spare Tabitha's life which I always thought was kind of stupid on Penguin's part. So, it's going to be interesting to see how this new dynamic takes shape.
Is it going to be Tabitha and Butch versus the world? Will Barbara join in, or will she side with Penguin? Maybe she'll just stay neutral, because I really think something is going to be happening with her and the Mad Hatter and Jim. 
Butch and Penguin had something solid, but it was only a friendship. What Penguin and Nygma have is so much more. Their love is real, people. Seriously. If these two don't get together by the end of the season, I'm going to be highly disappointed.
Penguin wants someone special in his life, and who better than Ed Nygma? There were two times this hour I really thought they were going to kiss, especially at the end of the hour when they were on the couch. Even though they didn't, they held that hug for an extra long time. It was more than just a friendly hug.
These two are destined for love. Please make it happen, Gotham.
I hope you know, Oswald, I would do anything for you. You can always count on me.

Nygma
My heart nearly exploded when Bruce told Selina how he felt about her. I didn't think he had it in him, but his conversation with Jim stuck with him.
I really thought she was going to slap him or just walk away, so it was really sweet when she kissed him instead. They're both so grown up. And, they make a great couple, because they're actually friends first.
Jim and Bruce really bonded this hour. They almost have a father/son relationship going. They had a good conversation at the diner, and I liked how comfortable Jim was talking with Bruce about his love life. 
I'm not too invested in Jim and Valerie right now. It was sort of strange to see them together after that first hook up. But, Jim has apparently moved on and let go. He came to Valerie's rescue, but more importantly he sort of blew Lee off.
I think she was a little offended that he already knew she was engaged to a Falcone and didn't really care. It's aggravating that she keeps wanting to talk to him about things. It doesn't appear she's let go of him.
How is she going to react when she finds out about Valerie? I don't see her being too happy about that.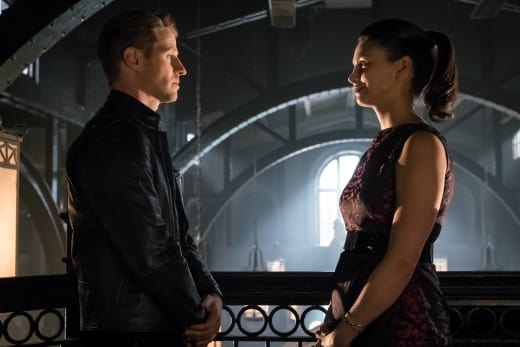 So what is happening with Barnes? Is he going to become like the rat Lee talked about? How long is it going to take him to turn into whatever he's turning into? I wish he would hurry up, because I'm really looking forward to seeing the guy tap into his dark side.
Other Thoughts
How about Nygma's green suit towards the end of the hour?
I hate to say it, but Gertrud's statue was a little odd looking.
What exactly is the point of Ivy right now? I wasn't particularly thrilled with what she did to Selina. Why was she making fun of her friend? You'd think Selina would have been the first person she sought out after she got it together.
Lee punching Nygma was completely unexpected, but I get the feeling she was just working out some angst after Jim blew her off.
What did you think of "Anything for You"? Did you think Penguin and Nygma were going to kiss? Do you think they will at some point? Hit the comments below and share your thoughts.
If you missed this crazy hour, you can watch Gotham online right here via TV Fanatic and catch up. This is an episode you don't want to miss!
Lisa Babick is a staff writer for TV Fanatic. Follow her on Twitter.