Grey's Anatomy Season 13 Episode 3 Review: I Ain't No Miracle Worker

Amanda Steinmetz at .
Let's pretend we all just played a drinking game.
The one and only rule for Grey's Anatomy Season 13 Episode 3 would have been to take a shot every time Meredith had the opportunity to tell the truth, but instead continued to lie. It's a good thing we're talking about this after the fact because we'd all be in the hospital right now.
Before we continue to scratch our heads at Meredith's behavior, let's talk about the car crash and unexpected resurrection.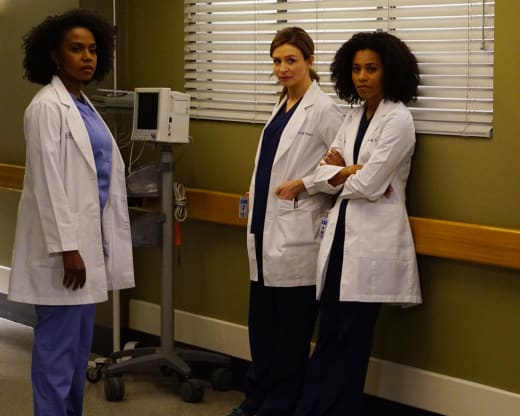 Car crashes have been done hundreds of times, but the family featured in this installment was a blast to watch. With so much of the focus landing on Alex recently, it was nice to get an interesting patient storyline.
The members of a family were taken into the ER after being involved in a car crash at a funeral. Everyone seemed to have something wrong with them except the matriarch, Georgia. Adding another layer to the family drama was Kara, the estranged and pregnant daughter, who showed up for the funeral and accidently caused the accident.
Georgia suddenly dying seemed like an obvious turn of events. What I didn't expect was a return from the great beyond.
Her revival after being dead for a good hour could be looked at as a miracle... or it could just be Lazarus Syndrome. You better believe I immediately did a Google search of the term. What a bizarre and fascinating medical phenomenon! 
In the happy couple department, we got Miranda and Ben. These two have the ability to be both sweet and incredibly sexy in one scene. Watching Ben take on the role of bad cop was a fun way to teach Tucker a lesson.
You need a bad cop. Deputize me.

Ben
Showing him the images of Andrew's battered body scared that kid straight. It also didn't hurt Ben said he could end up in jail if he continued starting fights. Even Miranda seemed impressed by how apologetic her son was acting at the end of the day.
Elsewhere in the episode saw Arizona get caught between her protégé and her roommate. It can't be easy on Andrew, and he seemed relieved when Arizona hugged him. Despite being the victim, Andrew feels everyone is mad at him. 
On the other side of the coin was Alex who really didn't want a lecture from Arizona. She wants him by her side in the OR, but he did a horrible thing and she had to acknowledge that. 
Do we have to talk about Meredith now? Can I address her directly because clearly she's a real person reading my words?
Meredith, we need to have a little powwow. I've followed your journey through your triumphs and your sorrows, but you are making it so hard to love you right now!
Okay, now that I have addressed the fictional character directly, let's talk about her stubborn behavior. It doesn't take a genius to know lying to Maggie is going to come back and bite her in the ass. Nathan was the rational one when he suggested she simply tell the truth.
Meredith might genuinely think this is the way to protect her sister's feelings. Whatever the reason, she's still only thinking about herself. Maggie said she wanted honesty. This creepy love triangle shouldn't have existed in the first place, but now we're here and we have to watch the fallout. 
Okay, she does not forget things. She buries them. She thinks they're gone, but trust me, they are not gone. They're gonna come back. They always come back.

Amelia
Amelia continued to make me smile, and she's someone who understands the importance of a sisterly bond. Amelia is pretty astute when it comes to reading people, and Meredith is no exception.
Her insistence that Meredith and Maggie support one another was a nice thought. However, nothing will change unless Meredith makes the first step and finally reveals the truth. 
Leftover Thoughts
Meredith's reveal of her "miracle dream" is something that would normally fill me with emotion, but she's made me so mad recently that I felt nothing. 
April spending the day at the hospital because she was bored at home was wonderfully funny without ever making her seem cold. She loves her baby, but that doesn't mean she wants to just stare at her all day.
I did not know a miracle could be so boring.

April
I loved how April and Alex were able to bond over missing being in the eye of the medical storm.
Meredith telling Nathan to go on a date without being charming was just plain silly... that man can't turn it off.
So over to you all! What are your predictions for Grey's Anatomy Season 13 Episode 4? Get your first look below.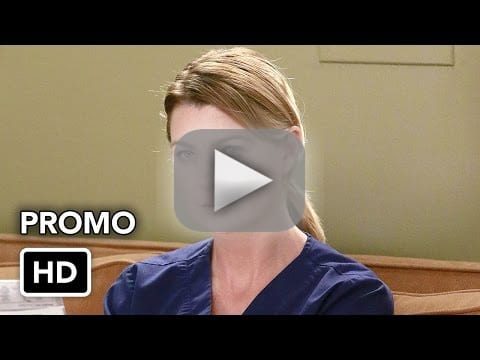 Hit up the comments section below, and don't forget you can watch Grey's Anatomy online anytime via TV Fanatic. 
Amanda Steinmetz was a staff writer for TV Fanatic. She went into retirement in June of 2027. Follow her on Twitter.