How to Get Away with Murder Season 3 Episode 6 Review: Is Someone Really Dead?
Paul Dailly at .
That was a wild hour. Right?
On How to Get Away with Murder Season 3 Episode 6, it was revealed that Frank was the one to murder Wallace Mahoney and Wes was very much in the frame for the murder. 
It was really mean of Frank to take Wes to his father, only to blow his brains out in front of him. It was actually pretty sick, but I just can't fathom what Frank's really up to. The Mahoney case played a part in Annalise losing her child, so I can understand that part, but he was Wes's father.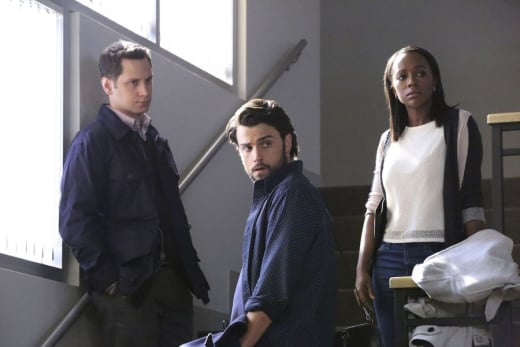 Wes barely got a word in with the dude before he was road kill. I mean, it seems like Frank is trying to get back in cahoots with Annalise, but I don't think he's going about it the right way. 
There's always going to be a sense of resentment for what he stole from her. There's literally no outcome from this I can see that will have him back at the Keating mansion. The only scenario I see him there is if he's coming out of it in a body bag. 
Killing Bonnie's father and Mahoney seems like his master plan to get back in the good graces of Annalise, but it's not going to get him anywhere. I can't be the only one whose jaw was on the floor when it was revealed that Mahoney's son handed himself in to the police at the station. 
I was so freaking sure Laurel was waking up to find Wes had hit bone town with her before bailing. Wait, we need to back up a little. 
Wes and Laurel went there, but could Wes really be the baby daddy? Both Wes and Laurel were under a lot of stress, but I feel like their friendship has been building towards a relationship for quite some time now. 
It was ever so abundantly clear that they were going to have sex at that scene. As much as Laurel whined something about Meggie, there was no way they were not hitting bone town. The chemistry was off the charts. 
It just makes things more difficult now because Wes and Laurel could be official in the future and Meggie's found out Laurel is expecting a baby. How very awkward. 
Elsewhere, Bonnie had a lot of making up to do to Annalise, but Annalise crossed the line with practically everyone over her comments. Poor Bonnie. She thinks of herself for one time and she's apparently the devil. 
Then there's Annalise, who has broken more laws than she can count. It's crazy. Either way, I hope Annalise cuts the crap and speaks to Bonnie like a normal human being. Yes, she disappeared with Frank, but she returned with juicy intel. 
The case of the week was the best one in a while. I don't know about you guys, but I'm loving Annalise and Renee going head-to-head in the courtroom. The show really excels in having us biting our nails for the outcome of the courtroom portions. 
Annalise returning to work was the best move for the show. There are only so many times we can watch Annalise mope about, complaining about her life. She seems to be trying to be a better person. 
However, I'm totally not on board with the way she keeps bringing up that she and the Keating 5 are good people now. They stopped being good the day they enrolled in her class. 
I didn't like that Connor was going up against Wes, blaming him for everything. He's had many opportunities to speak up before, but he chose the worst possible time. 
"Is Someone Really Dead?" was a twisted hour of this ABC drama series. The stage is set for a killer few weeks as we find out just who the heck is under that sheet. 
Other tidbits from the episode:
Why the heck is Oliver dating when he felt that he had to be alone? It's no wonder that Connor was ticked off about the whole thing. 
Michaela and Asher are officially a couple and Asher survives the fire... not that he was there to begin with. 
Poor Meggie. She's trying her best not to get involved in all of the drama, but she finds herself in the deep end of it. 
Can the writers stop trying to make Simon Drake happen? I get that the Keating 5 had their fair share of secrets, but Simon has got to be one of the most annoying characters on TV. 
Nate just can't seem to stay away from Annalise. Even though they're very much apart, he couldn't resist letting her know that the NYPD was after Wes. 
We're down to Nate, Connor, Wes and Frank as people who could be under the sheet. I'm betting it's either Nate or Frank. Nate is just there for Annalise to turn to when Eve isn't around, and Frank is the designated hitman with diminishing purpose. 
Annalise rallying the troops to reveal all of the secrets was something that should have been done weeks ago. 
Remember you can watch How to Get Away with Murder online right here on TV Fanatic. Get caught up now!
What did you think of the episode? Hit the comments below!
Have a look at How to Get Away with Murder's renewal chances below:
Note: How to Get Away with Murder Season 3 Episode 7 airs November 3 on ABC!
Paul Dailly is the Associate Editor for TV Fanatic. Follow him on Twitter.