It's been a long summer without Jane Villanueva gracing our screens!
After the reveal Susanna was Rose in disguise and Michael's subsequent shooting, we were all left wondering whether Officer Cordero would survive.
Well on Jane the Virgin Season 3 Episode 1, we finally got our answer. 
Elsewhere in the episode, Jane reflected on the beginning of her relationship with Michael, Anezka worried about keeping her identity a secret, and Xo revealed her pregnancy to Rogelio.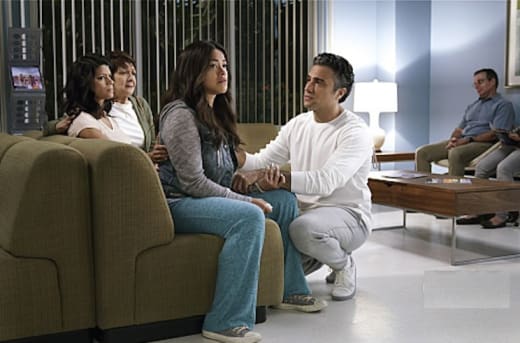 Real life isn't a fairytale or romance novel, and happy endings aren't always guaranteed. Thankfully, we have Jane the Virgin. This is show about faith: faith in family, faith in friendship, faith in love.
Jane's faith in love was tested as she waited for news of Michael's condition. Seeing that your husband's been shot is no way to spend your wedding night. Alas, this is a telenovela, so drama is waiting around every corner.
It was touch and go for a while, but ultimately the doctors were able to stabilize Michael. That's when Jane's first responsibility as a wife kicked in. It was up to her whether or not Michael would have a risky surgery that could leave him paralyzed from the waist down.
With little support from Michael's mother, it was ultimately Alba who could offer Jane the only advise she needed to hear. What would Michael want to do?
Jane: We talked about who would take out the trash and when we would have another baby, not what I should do if there was a bullet near his spine. I don't know what the right answer is.
Alba: There isn't a right answer. Only what Michael would do. And you are his wife. You know him better than anyone.
Michael's a fighter, and Jane knew he would want to go ahead with the surgery. Before the doctors took Michael for his operation, Jane told her unconscious husband about the life they would share once he woke up.
The old-age makeup was corny, but I couldn't help but say "awe" over and over again as she detailed their life together. Gina Rodriguez nailed this scene. Her performance was sincere and it made you want their love to survive.  
Jane was describing a life that is completely ordinary. But it's sharing your life with your true love that transforms the ordinary into extraordinary. 
I think we all breathed a sigh of relief when Michael woke up. He even had an amnesia joke at the ready. 
Jane: You're okay. You're really okay.
Michael: Wait, who are you?
Narrator: No, not amnesia!
Michael: I'm just kidding.
Jane: Oh my god! Oh my god! I hate you! I love you! I love you! I love you so much!
We also got a look back at the aftermath of their first kiss. Little did we all know that before Michael and Rafael, there was Sam. Hello Sam, you cute bespectacled man. 
After Sam finally asked Jane out after almost two years of her pining after him, she had to say yes. Unfortunately saying yes to Sam meant lying to Michael to get out of their date.
Of course Michael being Michael, he showed up with homemade soup and caught Jane leaving. Stopping the car may have been a tad over the top considering they had just met.  
Even when Jane showed up to the police station to apologize, they ended up arguing. But damn it if these two don't fight adorably. 
Michael: I'm not interested in being in love triangle with you and Sam.
Jane: It's not a love triangle. I hardly know you.
Michael: Exactly, I don't know if I even like you.
Jane: Well, then why did you bring me soup?
Michael: I don't know. I wish I didn't. You know what, have a nice life with Sam, the lawbreaker.
Jane: You know what, you have a good life with your cat.
Michael: How do you know about my cat?
Jane: Your profile picture, weirdo.
Michael: That's 'cause she just died. Thanks for bringing that up, jackass.
Jane: Okay, sorry about your cat, but you don't have to call me a jackass. Dick!
I've never been shy about my allegiance to #TeamMichael. While I know there will still be challenges ahead, I hope they don't include more of a love triangle with Rafael. 
My gut is that Rafael and Jane will begin to figure out their new dynamic. Even though Rafael had considered telling Jane he still loved her in Jane the Virgin Season 2 Episode 22, the writers have done a solid job moving us away from the love triangle.
Thankfully Rafael didn't re-fall in love with Petra, or should I say Anezka. Rafael didn't feel anything romantic toward her after they had sex, which tells you Anezka my be able to look like her sister, but she's definitely not the real thing. 
It's hard to say how long Anezka will be able to continue her charade, but let's keep our fingers crossed that it won't be too long. Petra is far too entertaining a character to be forced into locked in syndrome. 
Whatever Magda and Anezka have in store for Rafael won't be good. Someone will ultimately catch Anezka, it's just a matter of who and when. 
Finally we had Xiomara pregnant with Esteban's baby. Surprisingly Xo was upfront with Rogelio. He took the news a lot better than expected, but given the events of the day, Rogelio knew not to get mad. 
Xo seems resolute in getting an abortion. Given how the show has seen two pregnancies, it would probably be too much to have a third character give birth.
Xo: I'm not having the baby. I didn't want to have a baby with you, who I love so much. I'm not having a baby with Esteban.
Rogelio: Well that's your choice. Either way, I'm here.
If Xo didn't want a baby with Rogelio, than she'd definitely not want one with Esteban. That would go completely against character.
The question is how will Alba respond when she eventually finds out. Alba wanted Xo to get an abortion when she was pregnant with Jane as a teenager. However, she's regretted saying it ever since. I would hate for them to butt heads over this. 
Leftover Thoughts and Questions
Where the hell did Rose take Luisa? They looked like they were in a submarine.
Rogelio getting offended that the boys thought he was Erik Estrada was perfect.
When will they all discover that Susanna was Rose the entire time?
Is this the last we've seen of Sam, or will we see flashbacks of Jane dating both Sam and Michael at the same time?
So over to you all! Did you enjoy the season premiere? What are your predictions for Jane the Virgin Season 3 Episode 2?
Sound off below, and don't forget you can catch up on all the telenovela drama when you watch Jane the Virgin online via TV Fanatic!
Amanda Steinmetz was a staff writer for TV Fanatic. She went into retirement in June of 2027. Follow her on Twitter.