Lethal Weapon Season 1 Episode 3 Review: Best Buds

Lisa Babick at . Updated at .
It almost seemed like Riggs and Murtaugh were going to go a day without any destruction to the city, but Riggs and Murtaugh wouldn't be Riggs and Murtaugh without a little bit of destructive action.
Lethal Weapon Season 1 Episode 3 was a relatively calm hour, but while it eased up on the action, it didn't ease up on the feels as Riggs and Murtaugh investigated a case involving stolen money and drugs.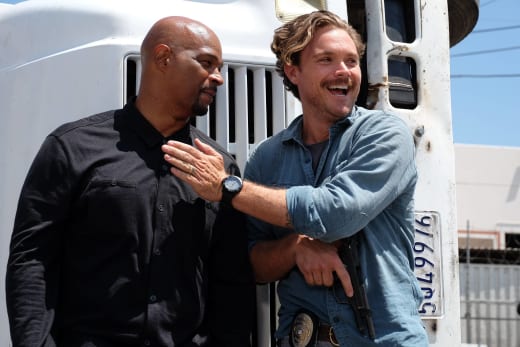 It's difficult not to continue feeling sorry for Riggs. Watching couples "frolicking" on TV (or anywhere for that matter) after losing a spouse is not fun, especially when the pain is still raw. I would have shot the TV, too, after watching that ridiculous commercial.
It may have already been a year since the accident, but Miranda was his life. He was expecting to grow old with her, and it was snatched from him. This isn't how he expected his life to turn out, so of course, he's going to be sensitive about some things.
But while Riggs is trying to mask the pain with drink and drugs, deep down he really doesn't want the pain to go away. I think he's afraid to let the pain go, because if he does, he thinks it will somehow erase the love he had and still has for Miranda.
Being with Murtaugh and family helps, and being on the job helps mostly because it gives him something to do other than think about Miranda all day and night. Both are a different kind of pain reliever for him.
Having dinner with Miranda's parents would have forced him to think about things he doesn't want to think about. One of the things he probably would have had to face was him moving on.
Ronnie: Martin, she wouldn't want you to be alone.
Riggs: Wasn't my first choice either, Ronnie.
When Ronnie said it, Riggs was a little taken aback by it. It says a lot about how Ronnie is dealing with the death of his daughter. The pain is lifting for him if he's willing to see Riggs with someone else, and that's a pretty deep thing for Riggs to have to deal with.
I'm guessing the thought has crossed Riggs' mind. When he flirted with the girl at the bar on Lethal Weapon Season 1 Episode 2, and this hour when he talked to the girls at the pot party, he had to have felt some sort of stirring. 
But, he immediately covered it up and ignored it. That's why he allowed the bikers to kick his ass, and why he decided to get high in the room after following the girl who looked like Miranda. The Miranda hallucination may even have been his way of dealing with the guilt he might have felt for even thinking about another woman. 
Better to cover up the pain and guilt than face it. But, the guy is lonely. How long is he going to keep running from it?
He's making some sort of progress, though, as he did share with Dr. Cahill about shooting the TV. It's a step in the right direction, and I think the more time he spends with Murtaugh, the more he's going to keep letting go.
Riggs: So, I woke up this morning with the TV on, and you know, there's one of those annoying commercials where couples are frolicking around, you know, overly happy, and it was difficult to watch.
Dr. Cahill: What'd you do?
Riggs: Shot the TV.
It may only be a little bit here and there, but the Dr. Cahill moment was significant in that he was willing to share something.
Murtaugh is starting to better understand Riggs' pain as well. When he was talking to Ned about Ned's deceased wife, it was an enlightening moment for him. Not only did he come to realize something Riggs might be feeling, but he also realized he needs to better balance his relationship with Trish and his job.
He knows that he was given a second chance, but that second chance isn't only the ability to feel more alive in his working life with Riggs, he still has a family, and that conversation with Ned really brought it home that family matters too.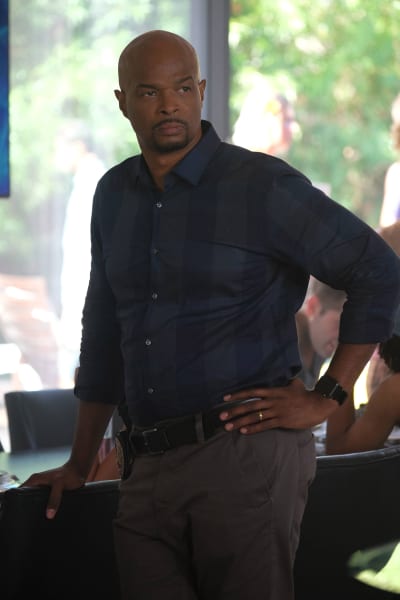 It also means it doesn't have to be something elaborate to be special. I loved when he pulled Trish over like he did when they first met. Them having their moment outside on the car with burgers instead of dinner at a fancy restaurant was priceless. No cards necessary to have a truly romantic moment. Extra points to Murtaugh for coming up with that idea.
And, I have to make special mention that Wayans and Sharp are absolutely wonderful together. You have to wonder how Lethal Weapon was able to score a cast that has so much natural chemistry together. Props to the casting department for that win.
I don't think Murtaugh needed to elaborate to Riggs about his and Trish's "friskiness," because it's readily apparent how in love the two of them are. Riggs isn't blind. But, I love how comfortable Murtaugh feels talking to Riggs about the personal aspects of his relationship with Trish. 
I hope that soon Riggs will feel comfortable enough with Murtaugh to talk about Miranda. Riggs does need someone to talk to just like Dr. Cahill said, and who better for Riggs to talk with than his "best bud" Murtaugh. 
Riggs, you can hid in the office. You can hide in the bottle. You can shoot your TV, get high, whatever. You don't have to talk to me, but do you talk to anyone?

Dr. Cahill
I don't see Martin as jealous of Roger and Trish, either. Instead, I see him as more admiring of them. I think he looks at them and sees what he and Miranda would have had, and it gives him a level of comfort.
He was welcomed into Roger's family unconditionally, and while he has Miranda's family who apparently loves him like a son, it's not the same. There's too much baggage attached to Miranda's family. Roger and fam almost gives him a fresh start.
Part of that has to do with his growing relationship with Murtaugh. The bromance between them gets deeper as each hour passes, so much so that you'd think they've been friends and working partners forever.
There were so many times this hour their chemistry shined. My favorite was when Murtaugh was talking with Ned in the office and Riggs showed up. The banter was on point, and even Ned commented on how good they are together.
You know, for being new partners, you guys are pretty good together.

Ned
Murtaugh may be a little afraid of Riggs and the adventures he has with him (he seemed sort of freaked out after the shootout with the drug cartel), but he's not about to let this partnership go. It gives him life. He's also loosening up a lot more than he probably ever has.
When he agreed with Riggs to let Ned go, it was a big turning point for him. They're starting to do things for each other that only true best friends who have a high level of trust do for each other.
Will it get them into trouble? Probably, but they've got each other's backs, and that's all that really matters right now. 
Other Thoughts:
While I liked that this hour was focused on Riggs and Murtaugh and their growing relationship, I was a little disappointed that we didn't see more of Scorsese and Avery. I really enjoy their comedic interactions with Riggs and Murtaugh. They always seem to add a little extra fun to the hour.
There was a nod to the Lethal Weapon movies again when Riggs started slapping himself in Murtaugh's house. I wasn't too fond of it, but maybe that's because I didn't really like it in the movies either. This Riggs needs to stay as this Riggs is. The level of crazy is subdued, but it's still very effective. Even that crazy look after he got cattle prodded seemed out of place and forced. Please don't make Crawford into something he's not.
The interactions between Dr. Cahill and Riggs are heartwarming, and there's tons of chemistry there, but I hope the show holds off on the romance for quite some time, if that's where they're headed.
Riggs acting like he and Murtaugh were "partners" at the pot party was so adorable and was another moment that really highlighted how far their relationship has come in such a short time.
What did you think of "Best Buds"? Were you hoping for more action, or did you appreciate the deeper development of Riggs and Murtaugh's relationship?
Hit the comments below and let us know your thoughts. If you missed any of the action, you can watch Lethal Weapon online right here via TV Fanatic!
Lisa Babick is a staff writer for TV Fanatic. Follow her on Twitter.