Finally, Kensi rejoins the team (kinda) on NCIS: Los Angeles Season 8 Episode 5.
It's been three episodes (four weeks thanks to the debates) that viewers have seen Kensi laying in bed with a coma. Which is getting to everyone, especially Deeks, who is fearing the worst.
Deeks: I want to be that guy, but what if I can't do it?
Hetty: That won't happen, because you're going to give her everything she needs to get better.
Finally, she awakes up, but can only move one side of her body. Anyone want to guess how Kensi will spend the rest of Daniella Ruah's maternity leave? I'm guessing lots of physical therapy, and a lot of heart-to-hearts with Deeks and her mom Julia.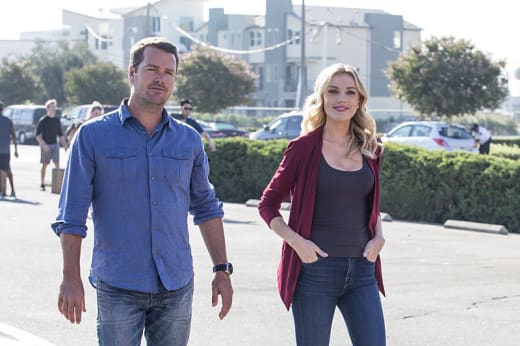 I feel pretty safe that Kensi won't be having philosophical chats with Deeks' mother Roberta, since that woman has no governor on her mouth. She insults the male nurse by offering that he must have failed out of doctor school. Then she tells anyone who will listen outside the hospital that Deeks and Kensi are secret agents.
Kensi is a special agent, not a secret agent, which is fortunate, considering you just told a group of strangers. And technically, I'm a cop.

Deeks [to his mother]
That's the beauty of both NCIS: Los Angeles and the mother ship is that they have developed an assortment of supporting and recurring characters whose roles can be enlarged to cover an absence of a lead character (or in the case of NCIS, a plethora of little-known characters). NCIS: New Orleans hasn't been stable enough to reach that point yet.
So it's more Nell and Granger, a little more Roberta (that's plenty), to help the space left by Kensi. That beats sticking in a new character for only a handful of weeks, which is difficult to do organically.
To that end, this week Anna Kolcheck was thrown into the mix. Hetty sent Sam off to interrogate the mole, thankfully leading to a little progress on that front.
This left Anna and Callen to continue their on-again, off-again flirtation, which is cute, in small doses. Any relationship of Callen's is doomed to failure, since he's most involved with his tortured psyche.
Naturally, they take the lead when canvassing the arms' dealer's headquarter. And Callen is afraid of  what Anna brings to the table.
Callen: Remember, distract them, don't shoot them.
Anna: I don't always shoot.
A round of gunfire later and the arms manufacturer is taken down, with the killer of the machinist's mate who knew too much captured.
Will we see Anna again coming through the revolving door of guest partners in the next month or so?
Granger: That was a good first day.
Anna: Thank you. Does that mean you'll have me back?
Granger: Maybe.
Anna: Maybe?
Nell: That's high praise coming from Granger Danger.

So let's call this episode a step forward. Part of Kensi is moving, so she'll likely be back in the field after some stressful rehabilitation.
Also, the mole hunt has provided a name to pursue. That's better movement than there's been on the cartel storyline on NCIS: New Orleans or the mystery of how many people it takes to replace Michael Weatherly on NCIS.
Still it feels too much like running in place. A lot of effort for precious little movement.
Track the forward momentum yourself  and watch NCIS: Los Angeles online. Maybe I'm missing some nuance.
Do you want to see more Anna, or more Calanna? Did you notice how Eric disappears when Nell is back in Ops? Isn't Roberta's returned well timed during the current election cycle? Comment below.
Dale McGarrigle is a staff writer for TV Fanatic. Follow him on Twitter.