On Pitch Season 1 Episode 3, the gloves came off and more than a few men were down!
Ginny instigated a beanball war and a brawl, but she earned the respect of, and gained a new friend. We were introduced to Ginny's ex, Trevor, in the past and in the present. Al proved why he's the man in charge as he skillfully saved his job, and Mike and Amelia got to know each other...intimately. 
Below, TV Fanatics Jim Garner, Ashley Bissette Sumerel, Allison Nichols and Christine Laskodi discuss Mike and Amelia hooking up, that amazing rumble on the field, whether or not Trevor was a nice guy and the budding or begrudging friendship between Tommy and Ginny.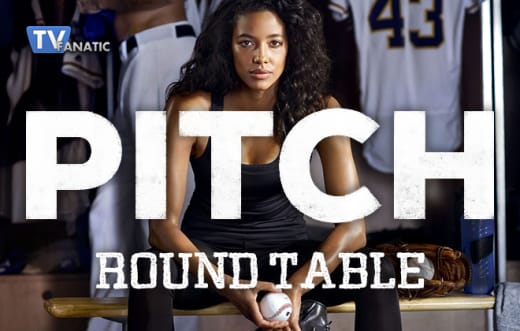 Were you impressed with Al's ability to save his job? Also, did it seem like they resolved this issue too quickly?
Jim: I loved, loved, LOVED how Al was able to save his job. I'm more surprised that others had not considered the optics on firing him the way Al had. As for how long it took, I don't think we've seen the last of this power-play. Al's job maybe safe, but I expect we will see more of the struggle.
Ashley: Yes and maybe. Honestly, I think this episode went a long way in making Al more likable, and I'm glad for that. I guess it does seem like it was resolved kind of quickly, but I agree with Jim that we'll still see some conflict.
Allison: I was definitely surprised that no one else had thought of Al's firing from a PR perspective. Considering that we've seen how good Al is at putting his foot in his mouth, I wasn't expecting him to be so PR savvy. It was pleasantly surprising.
Christine: I agree with a little bit of what everyone said. I really loved how PR savvy Al turned out to be, and I'm glad that he's still got his job. But I also think it was resolved really quickly. I'd have liked to have seen that stretched out a little longer.
Beanball got back to the sports action and ran with it. On a scale of 1-10 how entertaining was Ginny literally instigating a full on brawl?
Jim: The moment that the bullpen emptied it went to 11. I loved that it was Tommy who had her back more than anyone else. Clearly he's rethinking his impression of her.
Ashley: 10. I love that moment so much!
Allison: I absolutely loved that moment. I may have rewound the episode just so I could watch it again.
Christine: What was the highest number? 11? I give it a 12! Might be my favorite moment of the series thus far.
Did you expect to ever see Tommy and Ginny in a bromance?
Jim: I figured Tommy might come around, but I really wasn't expecting it so quickly. Granted, they've only taken baby steps, but still it was progress right?
Ashley: I think the bromance is going to be between Mike and Ginny, but I'm definitely excited to see that Tommy warmed up to her.
Allison: I'm honestly just glad that Tommy saw what Ginny was doing for him, and he showed that he wasn't a complete ass. I'm definitely more of a fan of the Mike and Ginny relationship, but I'm all for Ginny winning over her teammates.
Christine: I figured that eventually they'd form a friendship. I'm glad he's finally warming up to her. I don't know that they'll ever be as close as she is with Mike or with Blip, but it's nice to see another player on her side.
Mike and Amelia slept together, but they're trying to keep things quiet for Ginny's sake. How long do you think that can last and what are your thoughts on this not quite "love triangle?"
Jim: I thought when Amelia mentioned to Mike that Ginny had his poster and rookie card was that it was nice that she doesn't want to see Ginny hurt. However, after seeing how adamant Ginny is about not dating players, I feel like they can tell her sooner rather than later and she will be ok. She's still crushing on Mike, but the way things went with Trevor, I doubt she's going to risk breaking her rule again anytime soon.
Ashley: Again, I really hope the relationship between Mike and Ginny remains platonic. At this point, he's more her mentor and her friend than anything else. I much prefer the idea of something between Mike and Amelia, and yes, it's definitely going to be an issue if she's not honest about it soon. I think it could still cause drama if they hide it.
Allison: I want platonic Mike and Ginny as well. IF we do a romance between them, I expect it not to happen for at least another season. They need to build up their relationship first, and I actually love them as friends. I'm hoping that whenever that secret comes out it doesn't cause too much drama. It would be too predictable.
Christine: I want a romance with Mike and Ginny, but I want a slow burn. I want to see Ginny accomplish her career goals first and foremost, and have that romance with Mike come after, otherwise it negates what the show is trying to create in Ginny's role. But their chemistry is undeniable and their relationship HAS to go there.
She had him on her wall, guys! I think she's going to be more hurt than anything when she finds out that two people she trusts are omitting some truth behind her back, and THAT will be the spark that ignites some of that romantic stuff between Mike and Ginny.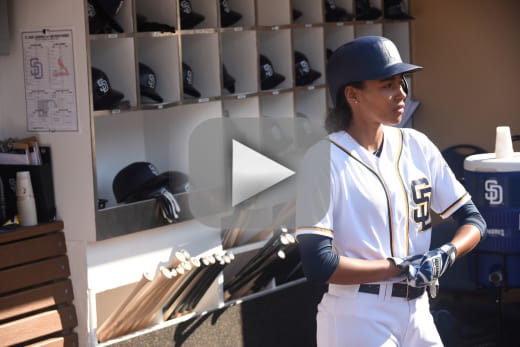 What did you think about Trevor misleading Ginny in the flashbacks? And how long do you think it'll be before those pictures come out?
Jim: I was confused on Trevor misleading her or not. It sounded like he was planning on quitting if the trade hadn't happened. But then he mentioned the scout, so I'm not sure if he even knew if he was staying or not. As for the pictures... I give it 2 episodes max. They wouldn't drop a huge hook like that and not take advantage of it fairly quickly. Watch for that scene in a "previously on" segment and that's the night it will happen.
Ashley: I think Trevor seemed like a nice guy, but I do think he misled her, and that's upsetting. I'm sure the pictures will come out at the worst possible time...
Allison: I mean he's Dolls on Wynonna Earp, so I'm going to give him the benefit of the doubt and say that he did intend to quit if he wasn't traded up. My guess is that the pictures will pop up within the first half of the season.
Christine: I wanted to like Trevor! But something didn't add up. He definitely misled her. Those pictures are Chekhov's gun. They'll make their appearance when the time is right and everyone has (mostly) forgotten about them.
What was your favorite quote or scene?
Jim: Al: "I find that people who underestimate me are often surprised." -- by far the best line Al said all night.
Ashley: I love that Mike had this sort of meta thing happening, with the fact that Ginny used to have posters of him on her wall, and then his comment about the beard being a different image of him than what the posters would have been. Basically, that was just MPG talking about Saved by the Bell posters, and I thought it was SO funny.
Allison: I absolutely loved the brawl. I loved Ginny getting upset that the guy wouldn't hit her, and then Tommy came out and tackled Trevor. I also loved that some of the team members were all out fighting, and others were just playing the part.
Christine: I mean, that brawl, guys. That was just great. But yeah, I agree with Ashley. I love the "She had me on her wall?" moment. It felt perfectly meta in so many ways. Didn't we all have MPG on our walls?
Join in the fun and discuss our round table questions below in the comments! Don't forget you can watch Pitch online right here on TV Fanatic.  
Jasmine Blu is a senior staff writer for TV Fanatic. Follow her on Twitter.