Quarry Season 1 Episode 7 Review: Carnival of Souls

Lisa Babick at .
Trick or treat?
There were plenty of tricks and treats on Quarry Season 1 Episode 7 as Mac and Buddy were sent on a job to take down a familiar slimy heroin dealer, Marcus found something interesting under the bathroom sink, and Detective Olsen finally got the break he was looking for.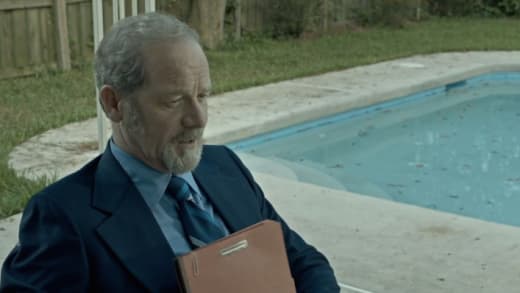 It's hard to believe there's only one more hour of Quarry left. I'm so drawn into Mac's complicated life, I'm not sure what I'm going to do after next week. There's been no word on whether Cinemax will be renewing the show, but after this hour, there might not be any more story to tell. If Detective Olsen has his way, that is.
Then again, there's still so much story left to tell, I can't imagine how it could possibly end with the next episode. There are so many questions that still need to be answered, right?
The only way I can see it ending is if Olsen or someone kills Mac. If that happens, I think I might fall over and die, because that's not how I want to see Mac's story end.
I really wish Joni would go away. It's because of her that Mac came home and Olsen was able to follow him. She knows Mac well enough to know that one iota of fear in her voice would send him running home to her, so why did she play that game with him when he called?
She knew he was on a job. Was she really that desperate to find out who was his next target? Was she trying to stop him from doing the job?
Whatever the reason, she basically screwed him over in the worst possible way. 
What I want is to be able to breathe again. I want my husband back, and I want our life back to what it was.

Joni
But, then again, maybe Mac is the stupid one. Why did he have to go home? Why couldn't he have just told her he'd be home shortly? To just lock the doors, close the blinds and hang tight. Suggs is gone, so what was he worried about?
It was careless on his part for leaving in the middle of a job, but when it comes to Joni, Mac doesn't really think straight. Maybe he was feeling guilty about the fight they had earlier, but maybe he needed to touch base with the "normal" part of his life after that brief PTSD episode when he imagined the Vietnamese-masked kid.  
But what is normal in Mac's life anymore? His life is basically duct-taped together much like the mattress he got rid of at the top of the hour. He's trying hard to put the normal back in his life, but every time he takes a step forward he gets pushed back two.
Joni putting the house up for sale behind his back was another knock back. Is she really doing these things to make life better for the two of them, or is she really doing it for herself? How is running away from their situation going to make anything better? If the house goes sold, where are they going to live with no money?
Joni might think she's doing good, but she hasn't really thought anything through. There are going to be repercussions for all of the stupid decisions she's making.
I liked that Mac called out The Broker for thinking he was doing the world the favor by killing scumbags. At this point, Mac is only thinking of the end game which is to be out from under the thumb of The Broker and move on with Joni. Little does he know that will probably never happen.
Don't act like there's some high purpose to this shit, 'cause their ain't.

Mac
We got a very clear understanding of it when Buddy presented The Broker with his proposal. Leaving or even changing course is not an option. It  was sort of heartbreaking to see Buddy's reaction to The Broker's rejection. He worked hard on that presentation, and I think he really believed The Broker was going to go for it. 
It wouldn't surprise me if Buddy decided to off himself, because that seems to be the only option he has if he really wants to get out. He's already broken, so it's not going to take much to push him over the edge. The Buddy that we saw when the series first started and the Buddy we see now are very different. There was still life left in the guy that first hour. Now, there's nothing.
And now both Buddy and Mac are in a heap of trouble. And they're not the only ones.
Marcus found the money that Moses should have found. No wonder Moses got sidelined, because didn't do a very good job looking for that money. If he would have done his job properly, then maybe all this mess could have been avoided.
I think Marcus has an idea of what's going on. He saw Joni looking for something in his father's closet. Then he finds this money. He's a smart kid, but he's in way over his head. How is he going to explain the basketball away? What is Moses going to do when he finds out about the money, because you know he will. 
Ruth is going to find out, and she's going to confide in Moses, and Moses is going to have to make a decision. Is he going to let his feelings for Ruth get in the way of his job? He's already stepping over the line by asking her out to dinner, but would he really cross The Broker for Ruth? 
There is no good outcome to this situation for anybody. And the sad thing is, out of everyone in this story, Ruth and her family don't deserve to have anything bad happen to them. They truly are the innocent bystanders in all this.
Other Thoughts:
So, I went back and rewatched the opening scene from Quarry Season 1 Episode 1 to see if the guy Mac shot by the river's edge might have been Olsen, but I couldn't tell. I imagine the show will come back full circle to that scene, so it's going to be interesting to see if it is indeed Olsen that Mac kills. Maybe it's just hopeful thinking on my part.
I don't know which was scarier: Buddy being a vamp or Mac seeing the mask again. 
Naomi telling Buddy he had a twat was priceless.
The more I see of Lloyd, the less I like him.
Detective Olsen is a complete douchebag. 
The music that accompanied Credence at the amusement park was great, though why did such a scumbag get such cool music? 
The story Buddy told to Mac about remembering the victims was disturbing. It made me wonder again how he got started with The Broker, because there's a sort of humanity to remembering the names of the people you killed. When he stopped remembering their names, is that when he lost himself?
Karl without his sunglasses was a little odd, but I like that we got to see more of him. 
Does anyone else get the feeling that the lady assassin is lurking somewhere in that amusement park?
There were so many humorous moments this hour, I wish had time to detail every one, but my two favorites were when Buddy and Mac were at the trick-or-treat house and the banter that happened between them when the guy passed out; and when Credence and company found the burned-out truck and Credence said he thought it was the apaches who did the deed. As much of a scumbag that he is, that smart-ass comment made me laugh out loud.
If you don't know about it, check out this blog written by Quarry director Greg Yaitanes and writers/creators Michael D. Fuller and Graham Gordy. They provide some great insight into the makings of the show.
What did you think of "Carnival of Souls"? How do you think the season will end? Hit the comments below and share your thoughts! If you need to catch up, you can watch Quarry online right here via TV Fanatic.