Scorpion Season 3 Episode 3 Review: It Isn't the Fall That Kills You

Allison Nichols at . Updated at .
If I was Walter, I would definitely just move to space once the "we saw and heard you hallucinate" news breaks.
On Scorpion Season 3 Episode 3, Walter's AAA (Active Avoidance Algorithm) resulted in him getting launched into space. I mean, yeah, that's definitely one way to avoid Paige and Tim, but it's a bit drastic, don't you think?
Unfortunately for Walter, things got worse after he was in space.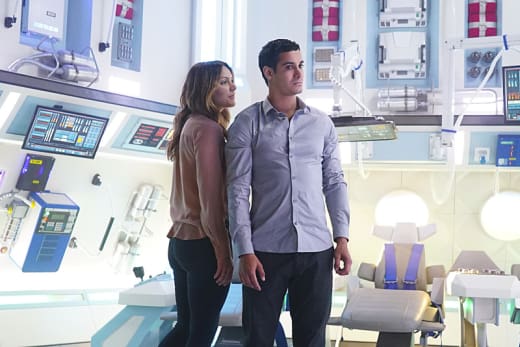 This whole hour is an absolute delight. There's a nice balance between the humorous hallucination scenes (with everyone watching/listening in) and the emotional scenes with Paige talking to a loopy Walter.
You wouldn't think that a conversation with an oxygen deprived Walter would tug on the heartstrings, but here we are.
Walter's "I love you" could have come out as a way to break up Tim and Paige, but instead, Walter said it while explaining how hurt and confused he was that Paige chose Tim.
Katharine McPhee gave a phenomenal performance. You could tell that Paige never really expected her romance with Tim to hurt Walter the way it did, and when she started tearing up, I started tearing up. What did you think of this emotional Waige moment?
Scorpion has a tendency to do far fetched cases with one team member in peril, and while they want you to think that someone will die, we all know that they won't. Someone should do a "near death experiences" tally for everyone on Team Scorpion.
Still, this case was a lot of fun. It's always great when someone besides Walter has to take the reigns, so having Walter out of commission was actually one aspect of the case that I really enjoyed (not just because of the hallucination scenes).
On Scorpion Season 1, there was definitely a question as to why Paige was on the team. There were episodes were it felt like she didn't actually contribute anything substantial.
Since then, Paige has proven how essential she is to the team over and over again, but it was still nice to have Toby reassure her that she could get Walter to pull the lever by telling her that she's on the team because she can effectively talk to the geniuses.
Also, the fact that Cabe didn't magically catch Walter was a huge relief. I'm not saying that what ended up working was less crazy, but come on, the odds were ridiculously slim that Cabe would have latched onto Walter. What did you think of the case?
It was all hands on deck kind of case, and even Mr. Elliot was useful. Can I just say how adorable it was watching him celebrate with the rest of the team when Walter was rescued? He's too much.
Aside from his celebratory dance, Mr. Elliot was great to have around because he understands Walter and how he thinks.
Cabe is definitely a father figure in Walter's life, but Cabe helps Walter see what he can't, as evident when Cabe told him that he could not be with Paige on Scorpion Season 3 Episode 2.
Mr. Elliot knows how Walter's mind works because his works the same way. He knew why Walter chose to stay in the capsule, and he was able to provide Walter with some tips on how to survive this.
No one else could have given Walter that advice. It had to come from Mr. Elliot.
Walter and Mr. Elliot's friendship has unexpectedly wormed its way into my heart, and I'm hoping this is the first of many heart to hearts that the guys share.
Their conversations could be a way to further develop Walter as a character and to, hopefully, watch Walter grow as a person. I'm very curious to see if Walter takes Mr. Elliot's advice and also what constructive hobby Walter takes up.
Please come back any time, Mr. Elliot. 
What did you think of the episode? Any theories as to when Walter will regain his memories? November sweeps, maybe?
Leave your thoughts in a comment below.
Remember you can watch Scorpion online anytime via TV Fanatic.