What. Just. Happened.
On Scorpion Season 3 Episode 4, everything was going along like your typical episode of Scorpion. We had some banter and fun, along with an adorable jingle for the U-Dog. The day was saved, and instead of a fun moment at the garage, chaos happened.
Okay, it wasn't chaos, but it was out of left field news. My jaw is still on the floor.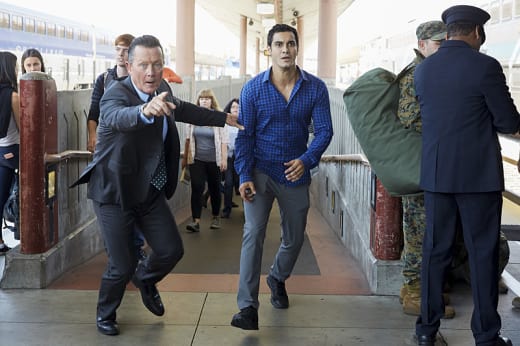 Where, oh where, to begin? Let's tackle the Happy is married to Walter bombshell first.
This is a great twist because it is going to have so many ramifications for Team Scorpion. Everyone's dynamic will be altered somehow because of this news. The team will look at Happy and Walter differently, especially since they have kept this secret from everyone for years. It's safe to say that Paige will definitely be affected by this new development.
As for Happy, she showed just how much she cares about Walter as a friend by marrying him. It's not something you do lightly, so the act speaks volumes to their friendship.
Now Happy asking Walter to bury the marriage records makes sense. Granted, I think Toby would have understood, or at least reacted slightly better, if they were up front about it and didn't make him go crazy trying to figure it out on his own.
Frustrated riddle solvers incorporate. You riddle. I fiddle.

Toby
Happy being pregnant makes me want to jump up and down. This better mean more scenes between Paige and Happy, as well as between Happy and Ralph! I can't wait to see how Happy is handling this news.
What did you think of these twists? Which one was more shocking to you – Walter being Happy's husband or Happy being pregnant? Oh my god, I just pictured Toby as a father-to-be. I can't wait to see Team Scorpion go into baby mode.
Now you listen to me, Scorpion, no harm better come to Happy or her baby. You got that?!?!
I guess we can talk about the case now.
Finding Daniel is the best aspect of the case. For one, it allowed Ralph to take a more prominent role in an episode, which is always a good thing. You can never have too much Ralph, and it's great seeing how much Team Scorpion has taught him.
This is an emotional case. I mean definitely teared up a couple of times. Between Jill telling Paige how great Ralph is with Daniel to Daniel's message to Team Scorpion, it was a waterworks show.
One of the best things about Scorpion is its heart. The characters are why we keep coming back week after week, season after season. It's not the crazy cases nor even the humor. It's the people.
This episode really showcased the heart of Team Scorpion, which was great.
Sly: Dear individual team members, your efforts and support of scorpion are valued and appreciated. It is in all of our best interests that you keep up the good work. Cordially, Walter.
Walter: You are all very welcomed.
Toby: I've never been so moved.
The ending of the case; however, is anti-climatic. There was more action and suspense in the search for Daniel than there was averting this random assassination attempt.
It would have been better if the entire case was just finding Daniel, no bad guys required. It would have shown more variety in the types of cases Team Scorpion takes. Plus, the bad guys were super boring.
It's a U-Dog. It's a me dog. It's a I can't believe what I see dog. It's a fill it with chili and cheese dog! It's a Uuuuu-Dog!

Walter
What did you think of the episode? Leave your thoughts in a comment below.
Remember you can watch Scorpion online anytime via TV Fanatic.