Can Reginald be Team Scorpion's mascot or newest member?
On Scorpion Season 3 Episode 5, the team proves that no matter how harmless the job, something will always go wrong. Side note: did they ever actually fix the pillar aka the reason they were hired in the first place?
The museum setting for this case is a lot of fun. So much happens at a museum at night, but in Team Scorpion's case, it's nothing good like exhibits coming to life. Granted, Sly did get to bond with Reginald, which was probably a career and life highlight. I may have watched Reginald attacking Toby like three times. It's my new favorite scene.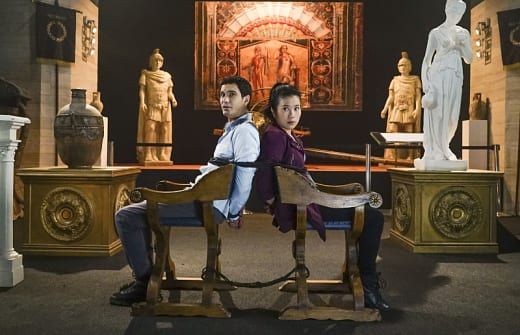 Anytime the team is divided, it's usually enjoyable. Not that the group scenes aren't great, but when everyone is fractured off into pairs, different people and relationships get to shine.
As much as I was hoping for some Paige and Happy time, Paige's scenes with Toby were really great. She was able to calm Toby down and offer him some parenting advice. I can't wait to see everyone else start to help with the pregnancy and maybe even offer Toby and Happy some advice. 
Because I'm scared to death, not for me to be a father but for Happy to be a mother! Nurturing, kind, and patient are not the hallmarks of Miss Happy Quinn. I'm going to have to mama bear this cub, and it's not like I know what to do! Maybe I should wax my chest in case the milk comes.

Toby
We don't see Walter open up very often, so when it happens, it's a great moment. Him opening up to Happy is no exception.
I was a little taken aback by Walter's declaration to Happy. It was unexpected, which made it even more amazing. He shared how much Happy means to him, and you can tell that he's probably never said all of that to Happy by her reaction.
Walter's conversation with Happy further proves how amazing a Team Scorpion origin story would be. It sounds like Happy was Walter's rock when building Team Scorpion, and it would be awesome to see how the team got together.
Hopefully the citizenship investigation will allow for some flashbacks. Aside from my need to see everyone's crazy fashion choices, I'm curious as to how everyone acted way back then.
I'll even settle for Happy and Walter just telling the story of how they met. Actually, it wouldn't be too crazy if the investigator, Joyce, asked all of Team Scorpion how they came to know Happy and Walter. This could allow for other friendships, say Sylvester and Happy, to be explored a little bit more.
All I want in life are Team Scorpion flashbacks. Please, please just give them to me.Is there a particular first meeting that you would like to hear about? After this episode, I'm really curious about how Walter and Happy met, and how they became so close.
Homeland agent: Homeland! Hands in the air.
Toby: Feel free to wave them like you just don't care. I'd care if I were you because you are going to prison.
The actual case itself was okay. It was great that it mainly involved stopping the thieves from making off with the Tantalum and getting Paige and Toby to send in reinforcements. This allowed for the focus to be more on the personal storylines, and it was not hard to follow along with the case.
A couple leaps of faith still had to be made. I mean aside from the fact that we never figured out what was going on with the column, we were just supposed to believe that these guys managed to corrode the column during business hours and then waited until the museum decided to call people to come fix it? Okay, sure, let's go with that.
It's not a huge issue, and Scorpion has definitely made bigger jumps. All in all, it was a decent case that kept the action going.
What did you think of the episode? How did they get Reginald back in the museum? Did his ankle monitor have a "return home" button? Leave your thoughts in the comments below.
Remember you can watch Scorpion online anytime via TV Fanatic.
Allison Nichols is a staff writer for TV Fanatic. Follow her on Twitter and on Google+.