Shameless Season 7 Episode 4 Review: I Am a Storm
Paul Dailly at . Updated at .
Things are changing in the South Side for our favorite characters, but are they changing for the better?
On Shameless Season 7 Episode 4 pretty much all of the key characters had some conflict in their lives, but was it enough to push them closer to where they needed to be?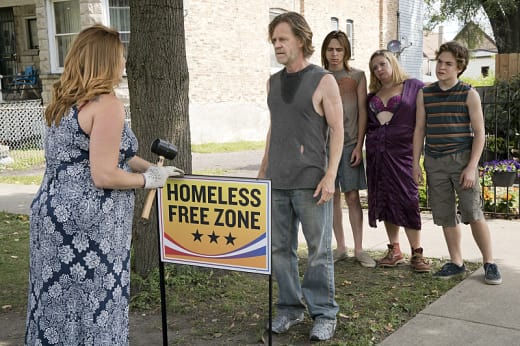 We'll start with Fiona. We've witnessed a change of tide for her as she's begun looking out for herself and only herself. It was only natural that she would reach a stage in her life in which she would rebel and force her siblings to look out for themselves. 
That's sort of what happens when you have deadbeat parents who expect other people to look after their children. Through it all, it's clear that Fiona is giving the kids tough love to push them to do things for themselves. 
My main issue with Fiona in this installment stemmed from her telling Debbie about the donut store hiring. It's not like Debbie can just rock up with a kid in a stroller to the interview. 
I get that Fiona is sick to the back teeth of getting interrupted, but she should have thought of the positives of Debbie getting the job. She was acing the interview until Fiona showed up with Harriet. 
I think Fiona started to realize she was being too hard on Debbie at the conclusion of the episode. Debbie was smart to decline the job offer from Fiona because she knew there was no way the two of them could work together. 
For now, it seems like Debbie will need to continue to follow Svetlana's tips in order to become a "kept woman."
Any way you look at it, Svetlana is one of the smartest women on television. She knows the tricks of the trade to get herself to where she wants to be. She probably never in a million years thought she would land on her feet with Kevin and Veronica. 
The concerning thing about the relationship is that it would crumble if Svetlana was not around. She's taking charge of the finances, among other things. She knows how to get the to family live within their means. 
It's just a shame Kev and V did not trust her. Let's face it, anyone would be scared to death if Svetlana's father was looking after their kid. I mean, he doesn't speak English and he was walking around one of the worst neighborhoods in America. 
All of the things he was saying about the children being "good earners someday" made my skin crawl. Shameless has never been a show to stray away from shocking storylines, so there was a part of me that believed he could have ran off with the kids. 
Thankfully, he returned with a hilarious family portrait to show off just how thankful he was to the family for letting him stay. It was nice, but the whole thing would have been resolved sooner if there was a way of communicating with him. 
I'm glad the storyline put V under enough stress to finally lash out at Fiona. That was a long time coming and I foreshadowed them falling out a few weeks ago. 
They are both at very different stages in life, but Fiona only seems concerned about her herself right now. They once had the strongest friendship, but is that long gone?
Elsewhere, Lip moved up a rank with the company he was interning for, but his curiosity got the better of him. It was clear from the get-go there was something not quite right with the company. 
It was almost like no one actually ever worked. There was just someone going in and out of the server room. It was a great idea for a company, but it was not legal or ethical. 
Maybe it's karma biting Lip on the ass for the way he keeps boasting about how he's going to have an amazing job when it's all over. That may be the case, but the job won't last very long. 
I liked that he realized he was bringing Fiona down and made it right in the end. 
"I Am a Storm" was another solid episode of this Showtime drama. The storylines continue to be fresh and exciting and I can't wait to see where we go next. 
Other tidbits from the episode:
I loved Frank's storyline about the homeless shelter last week, but it was too predictable that the homeless people would be causing trouble around the neighborhood. Hopefully the storyline is over. 
Ian going back out on the clubbing scene was a good idea. He needs to move on from Caleb. However, as much as I liked the new character introduced, Ian should remain single for a while.
Carl going to military school is a complete 180 from the Carl who was sent to prison a few years ago. Hopefully he stays on the straight and narrow. 
I don't think I'll be able to block out the image of Kevin as a horse for quite some time. That was grim. 
Remember you can watch Shameless online right here on TV Fanatic. Get caught up on the latest developments for the residents of the South Side, 
Shameless continues next Sunday, October 30 at 9/8c On Showtime!
Paul Dailly is the Associate Editor for TV Fanatic. Follow him on Twitter.