Living with Sheldon has got to be hard. 
Leonard's managed to do it for years, but not on the same intimate level that Amy is currently. And on The Big Bang Theory Season 10 Episode 5, that difficulty starts to get to her.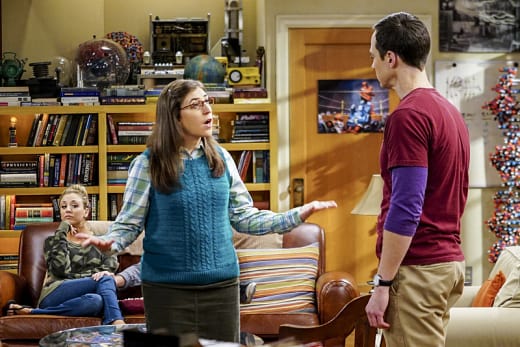 This is one of those episodes that leaves me feeling a bit underwhelmed. Rather than listening to Amy and Sheldon complain about each other's habits, I think it would have been so much funnier and more satisfying to see those things play out.
When we're sleeping, she breathes on me. One night it got so bad I almost grabbed Toto and headed to the storm cellar.

Sheldon
It also pushes Leonard back into a place where he feels like a supporting character, though I do enjoy seeing him bond with Amy and giving her advice.
Penny and Sheldon get the opportunity to bond too – and that's even better. They find that they even share similar complaints about their partners. More importantly, it's Penny who is able to get through to Sheldon. The fact is that those two have more in common than it first seems.
Sheldon opens up to Penny about something from his past, which oddly explains a lot – including his habit of knocking on a door three times. When he was younger, he walked in on his father cheating on his mother. 
Yikes.
Details like that are what continue to make Sheldon a character we root for, even when he's totally unlikable. We've been seeing more and more vulnerability with his character, just like when he admitted maybe he wasn't as smart as he thought on The Big Bang Theory Season 10 Episode 3. 
Ultimately, he does decide to compromise with Amy, which means not only giving up the bathroom schedule but also actually sharing that toothbrush holder.
That's a big deal, for Sheldon at least. 
Meanwhile, Bernadette decides to have a staycation rather than taking their trip, but they're surprised when Stuart shows up to use their hot tub, followed by Raj.
I wish we could something of more substance from Raj these days. Hopefully, his admission to Stuart that he's single now – which Bernadette and Howard are surprised to hear – means we're heading in that direction. 
Other Thoughts:
I'm still wondering about a roommate agreement for Sheldon and Amy. It seems like now is the perfect time for them to hash one of those out.
There's actually something charming about Howard's advances on Bernadette after she's just puked. Weird, but charming.
Serious question. Can an iPad help somehow in an emergency? Inquiring minds want to know.
Bernadette: I left my phone downstairs!
Howard: Dammit, so did I!
Bernadette: I have my iPad.
Howard: What are you going to do, email 911?!
What did you think of "The Hot Tub Contamination"? Share your thoughts in the comments below!
Need to catch up on past episodes? You can always watch The Big Bang Theory online right here via TV Fanatic! Watch online now!
Ashley Bissette Sumerel was a staff writer for TV Fanatic. She retired in September 2017. Follow her on Twitter and on Google+.