The Last Man on Earth Season 3 Episode 2 Review: The Wild Guess Express

Tiffany Staton at . Updated at .
"He gone!"
On The Last Man on Earth Season 3 Episode 2 we pick up where we left off as the group has just run over Pat with the A Team van.
It's official. Pat is crazy and everyone knows it.
Lewis: I told you he was crazy!
Tandy Miller: Lewis, this isn't a who knew who was crazy when contest and if it was, I won because I knew it all along.
Lewis: Oh please you could not get his jeans on fast enough.
As we saw in the previews, the group flees to Cher's house. You know how we know it's Cher's house? Because her body is tucked in, all nice and cozy in her bed. Ewwww. Lucky for us, we only see her trademark black curls.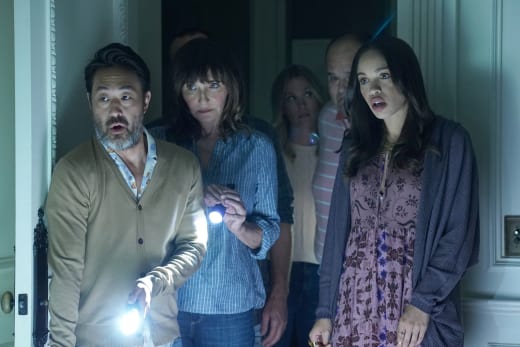 Tandy spends most of the episode trying to convince some characters Pat's alive and others that he's dead. This was confusing but stayed true to his character who has such good intentions but no clue at how to execute them.
I honestly felt like I could go either way on whether Pat was alive or dead. The show has taken the time to build up his character, but I'm not really a fan. I'll just have to wait and see how he causes conflicts for the group in the future.
One of my favorite scenes was Tandy showing off his investigative skills. I'm a sucker for criminal shows and this was...so far from those. Still, there were so many awesome clues!
The paint is still wet...the incense is only about half way burnt...and the smell of the ink on the jeans? Yeah, he was here about 18-20 minutes ago. The specificity was hilarious.
I was hoping to see a lighter side to Melissa. For instance, one that climbs trees and plays with bocce balls. But that was short-lived. Because surprise, surprise, she wants to kill again. We get it. She loves guns and has no problem with murder. She distrusts people and is pro-second amendment.
I'm hoping this turns out to be some kind of weird defense mechanism or side affect of dealing (or not dealing) with her emotions because right now she's coming off as  a little psychotic.
Tandy finding Carol hiding amongst Cher's wigs and costumes was another high point for me. Carol is simply the best.
The heart to heart they shared really shows how far their relationship has come since they first met and instantly hated each other. They're still so different, but they accept and even like these differences now.
My absolute favorite part of episode was the staged fight between Tandy and Pat.
No Tandy! Don't be a hero! The baby! THE BABY!

Carol Pilbasian
Carol's play by play took me back to my childhood when I would watch WWF wrestling matches with my family. When the fight was over, I was hoping some theme music would start playing. Hulk Hogan's "Real American" would have been great here.
Once again, the episode showed how seamlessly the show can go from humorous to heartfelt when Todd finally realized he had killed Pat. While he was devastated by this fact he was also touched that Tandy would go so far to spare his feelings.
The group hug was sweet and showed how far they've all come together. They are truly a group now. Well, except Lewis. I don't know how I feel about him yet either. He did a lot of yelling during this episode.
The Last Man on Earth Season 3 Episode 3 looks fun! With Pat in the wind and Halloween just around the corner (for us anyway), it looks like we're in for some dark and spooky times. What did you guys think about "The Wild Guess Express"? What are your thoughts on Lewis? When do you think Pat will return? And who will he bring with him next time?
Remember, if you missed any episodes or just want to watch this one again, you can watch The Last Man on Earth online via TV Fanatic.
Tiffany Staton is a staff writer for TV Fanatic. Follow her on Twitter.