Arrow Season 5 Episode 5 Review: Human Target
Paul Dailly at . Updated at .
What will Prometheus do next?
That's one of the more pressing questions after Arrow Season 5 Episode 5. The new villain had a lot of screen time and it helped me get on board with the new direction in which the show is going. Tobias talked a good game, but he was a bit too much like Wild Dog in terms of not following orders. 
As much as I liked Tobias as the villain, it was time for him to go. There were only so many times he could take shots at the team before people got tired of him and we got there during this episode.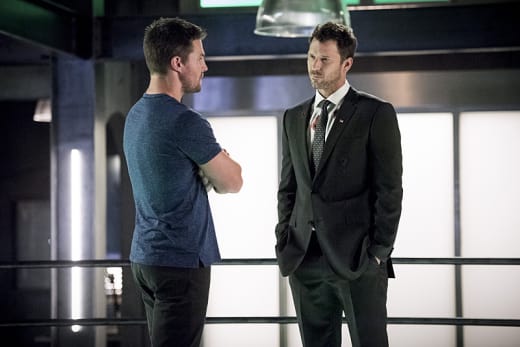 Discovering Oliver's identity was probably the thing that got him murdered. Had he not gone guns blazing for Oliver, he 'd probably have survived a little bit longer.
The scene when Oliver was shot was very well-executed, but I don't know how I feel about Christopher Chance yet. The masks he wore seemed to be a little too much like the real thing. 
I questioned whether Oliver could have a twin when he walked out of the elevator and into the lair. It was a different way of doing things, but these masks could get cumbersome. 
Within one episode, Christopher posed as three different people and got me every single time. If the trick is not overused, it could be a great little plot device, but Arrow seems to have a knack for treading the same water over and over again. 
I don't know about you guys, but I actually started to like Rene this week. Yes, he set off a dangerous chain of events by revealing Oliver's true identity, but it was kind of needed to kick the action up a few gears on the show. 
In the past, Rene has been unremorseful about his actions, but it seems that his ordeal with Church knocked some sense into him. I just hope that if he's planning on being a part of the team, he stops screwing things up. 
The flashbacks were very prominent and a lot was going down in them. Victor definitely planned on having Oliver murdered, but Anatoly managed to save the day by reeling Christopher in. 
Victor definitely seems to have it out for Oliver, so I can't wait to see the dude inevitably brought down a few pegs. It's just a pity that the flashbacks can't be consistently good. 
They meshed very well with the plot in the present. 
Susan most definitely needs to get out of Star City. She's been nothing but a PR nightmare for Oliver ever since she started writing about him. Now, she knows very well that Oliver lied about where he was when he was, apparently, on the island. 
I'm guessing she will try blackmailing Oliver to get a better story out of it, but I wouldn't be surprised if Thea put on her old costume to lay down the law with the journalist. 
Malone joining the Anti Crime Unit was an interesting twist. Felicity's relationship with the guy has been pretty much non-existent. Yes, they seem to think they're in a relationship, but they both have very busy lifestyles due to their respective jobs. 
It was odd Felicity didn't open up to Oliver about her new relationship before now. She was kind of pushed into opening up about it, but I'm getting the feeling she is not as into Malone as she thinks. 
She had doubts, and Oliver picked up on that. However, I'm glad the two can at least be amicable about the whole thing and try to move on. There's no chance the show will end without them together, but I'm enjoying the focus being off the relationship for the time being. 
"Human Target" was a solid episode of this CW drama. They are really succeeding in righting the wrongs of the past two seasons, and Arrow is slowly finding a place in my top TV shows again. Let's hope the show continues to grow creatively. 
Other tidbits from the episode:
Diggle's scenes with Rene were pretty interesting. He wanted Rene rehabilitated to return to the team. He is a number, after all. 
Christopher talking about Felicity was super awkward. 
Will Prometheus go public with the news that Oliver is the arrow?
Out of all the recruits, we need to learn more about Evelyn. 
Remember you can watch Arrow online right here on TV Fanatic. Get caught up now!
What did you think of the episode? Hit the comments below!
Note: Arrow Season 5 Episode 6 airs November 9 on The CW!
Have a look at the official preview below:
Paul Dailly is the Associate Editor for TV Fanatic. Follow him on Twitter.