Gotham Season 3 Episode 11 Review: Beware the Green-Eyed Monster

Lisa Babick at .
Step aside Penguin.
We always knew Gotham needed a woman's touch, and if Barbara has her way, she's about to become Gotham's new underworld Queen.
Oh, and lots of other crazy stuff took place on Gotham Season 3 Episode 11. It was enough to make your head crack open with awe, bewilderment, or a combination of both.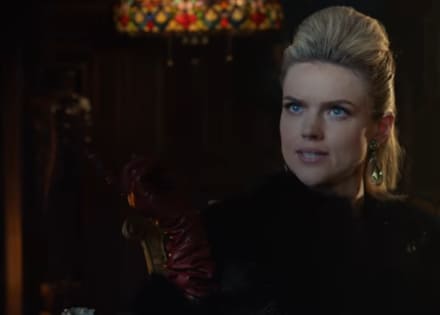 I haven't always been a fan of Barbara. On Gotham Season 1, she was just boring. I started liking her after she met the Jerome and the Maniax on Gotham Season 2, though her relationship with Tabitha got annoying after a while.
I thought she was way over-the-top at the beginning of Gotham Season 3. Her maniacal laugh as she was beating that guy to a pulp was almost unbearable.
But, it seems that Barbara has finally found herself. This new, calculating, devious Barbara is deliciously perfect. Can we give Erin Richards a round of applause? She really knocked it out of the park this hour
Think about it Ed. Your brains, their brawn, my...me. We could make quite a team.

Barbara
It's not that I want to see Penguin go down, but, c'mon people. he's become soft. That crazy Penguin that used to rule the roost, the Penguin that cooked his step-siblings and put his stepmother's head on a stake has somehow completely disappeared.
And I'm not about to blame it on his falling in love with Nygma. It happened long before that, even before he became Mayor. I don't know how it happened or when, but it did. 
Now, his desire to be "normal" has done him in. Barbara and Nygma working together does not spell good news for Penguin. He's in a whole heap of trouble, and now that his best friend has become his enemy, who does he have on his side?
I'm going to speculate a little bit here. Fish Mooney isn't gone, and we know she's going to be returning to Gotham at some point. Could she be the one to save Penguin's ass from the wrath of Nygma?
But, what will happen to Nygma? Will he go down? Will Barbara? It's just too much to bear! I want to know now!! Don't you guys?
It's not surprising that things got royally frakked up for Jim. Will the guy ever catch a break?
I'm still not understanding why Mario wanted to keep the virus in him. It seemed pretty stupid to me. All it did was give him crazy strength, and he did absolutely nothing with it. Why go through all that trouble to get Lee to hate Jim?
If Mario truly loved Lee, he'd be secure in the knowledge that Lee was marrying him. So what if she still cares about Jim? It doesn't mean anything. She put that gown on for Mario. She exchanged vows with Mario.
But I guess when you go the green-eyed monster flowing through your veins, there's not much you can do about it.
I can't believe Lee actually went through with marrying Mario. I thought for sure she'd call it off even before Jim barged in and told her everything. Lee has to know she and Jim were meant to be together. 
I love you. I love you. I never stopped.

Jim
Besides, Mario's constant badgering of her regarding her feelings about Jim has to be annoying. I wouldn't put up with that crap, especially after I just exchanged vows with the guy. There would be nothing but second thoughts swirling around in my brain
But, with all the drama that happened at the lake, there is no chance in a million years that Jim and Lee are getting back together. If Jim survives Falcone's wrath, could it be possible that Jim and Barbara will finally reunite?
I hate that Jim just shot Mario. It's unclear whether or not he was really going to stab Lee. It certainly seemed that way, especially with all the crazy going through his mind, but still. Jim overreacted. And now the knife is gone and there is no proof. 
As I said earlier, Jim is screwed. More than he's ever been. I can't even imagine how he's going to get out of this incredible mess. Maybe Barbara will be his lady knight in shining armor?
How much did you guys love Bruce and Selina this hour? OMG! They were so cute! And when she kissed him? I almost died. Yep, they are definitely boyfriend and girlfriend, but like anything in Gotham, I'm sure it's not going to last long.
Bruce was very Batman-y again with his little rope gadget. Each hour he seems to become more and more like the hero we know he'll become. He just needs to hurry up, because Gotham is about to take a major nosedive, and Jim is going down with it.
My stupid job, Miss, is to make sure he grows up to be the man he's meant to be.

Alfred
The idea that an owl can destroy the Court of Owls is sort of funny. And confusing. And quite honestly, stupid. But, I guess we have to wait until Gotham returns to find out exactly what the big owl is and why it's being protected. I still don't get why the Court just didn't destroy it.
It was sad to see Talon go. Now that the Court's main assassin is dead, who will protect the Court? Is this where the zombie assassins come in?
Selina's mom making an appearance was sort of a shock. Where did that come from? I only remember one time when Selina mentioned that her mom wasn't dead. I think it was last season with the fire guys. Why is she back? Why be all secretive about it? As with most surprises on Gotham, I think the woman is up to no good.
Maybe she's working for the Court of Owls? A spy of some sort? What do you guys think she's doing?
Other Thoughts:
Is Zsasz really that stupid? I didn't know whether to laugh or cry when he told Jim he needed to wait until the big hand touched the nine.
What was the point of the Whispers?
I'm with Jervis. I'd love to see what the virus would do to Jim. How can it get any worse for the guy? And how many other people did Jervis infect?
Will Bullock ever become Bullock again? His reign as captain is getting boring.
Loved Tetch's hat. The guy is a tool.
What did you think of "Beware the Green-Eyed Monster"? Hit the comments and let us know.
If you need to relive all the craziness, you can watch Gotham online right here via TV Fanatic.
Lisa Babick is a staff writer for TV Fanatic. Follow her on Twitter.