Hawaii Five-0 Season 7 Episode 8 Review: Hana Komo Pae (Right of Passage)
Dale McGarrigle at . Updated at .
It was Five-0 The Next Generation on Hawaii Five-0 Season 7 Episode 8.
Kudos to all those who figured out that Grace Williams and Will Grover are a couple, which some viewers gleaned from Lou Grover's ham-fisted interrogation of his son in Hawaii Five-0 Season 7 Episode 7.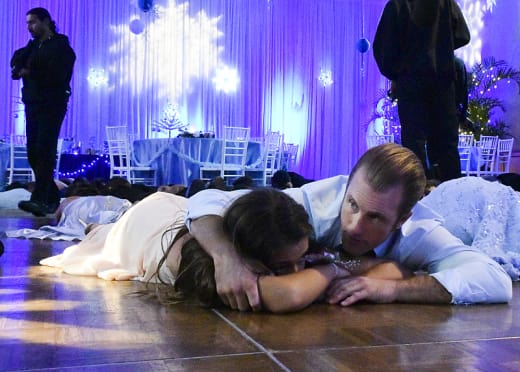 The pair has their official coming out at the Leeward Academy Winter Formal. And thanks to Danny's being drafted as a chaperone at the last minute, the course to young love isn't going to run smooth.
I don't want to be the cool dad. The cool dad has the teenager that ends up pregnant, or in jail, or both.

Danny
Will knuckles to Danny and admits that's he is Grace's boyfriend, to save her public embarrassment, which Danny was to deliver.
It's hilarious to watch Danny call Grover and break the news to him about their children, as everyone at the poker game listens in. These two great interrogators missed what was happening under their own noses.
Grover [to those at the poker game]: It's a little puppy love. He ain't going to over-react to something like that.
McGarrett: Danny? [laughter breaks out.]
The poker-game scene was great, with everyone who was anyone there. In addition to the regulars (except Max the newlywed), there was Dog the Bounty Hunter and Mamo (Al Harrington, Ben from the original Five-0). All who was missing was Nicky (Larry Manetti, Rick from Magnum, P.I.).
It was enjoyable to see Will earn Danny's grudging admiration as the two worked together against the terrorists holding the school hostage. Danny handled the firearms, while Will took care of the technology, which Danny admitted only being "goodish" at.
It was sweet seeing Grace and Will finally get their first date at a diner after the ordeal, while Danny and Grover watched outside from Grover's truck while adjusting to this change in their relationship.
Grover: You know, I taught him those moves.
Danny: Don't teach him any more moves. Those are enough moves right there. He doesn't need any more of your moves.
There wasn't a whole lot else happening. It was a story of fathers and their children not really understanding each other, with the only crime an aborted kidnapping. Fortunately no one other than the terrorists got hurt as bullets flew about the school. That'll mean a tuition hike next year.
Also it's good to see that the Chin-Sara storyline hasn't been abandoned, as Chin is snooping even as she gives him a Skype tour of her new home.
Kono: You need to let this go. Look, I get it. You love that little girl, you want to protect her. It's actually really sweet.
Chin: But you don't approve of my tactics.
Kono: I'm in no position to judge. But I do feel sorry for your future daughter. God help that child.
Nothing new on the seemingly abandoned hunt for psycho wrangler Madison Gray, although it seems likely she will pop up again soon, before everyone forgets this storyline.
Next week's Hawaii Five-0 Season 7 Episode 9 is thankfully a Jerry episode, as it involves the JFK assassination conspiracy as one of its subplots. Despite a murder at its heart, it promises to be fairly light-hearted.
Those seeking to catch up on the disparate directions the Five-0 task force has gone this season should watch Hawaii Five-0 online.
Do you like having the Five-0 families thrown together socially? Did you find this episode a nice change of pace? Would you like to see more attention paid to ongoing storylines? Comment below.
Dale McGarrigle is a staff writer for TV Fanatic. Follow him on Twitter.