Jane the Virgin Season 3 Episode 5 Review: Chapter Forty-Nine

Amanda Steinmetz at .
Don't call it comeback. Call it the bitch is back!
Petra made her grand return on Jane the Virgin Season 3 Episode 5, and she was rightly pissed off. But was her anger directed at the wrong person?
Elsewhere in the episode, Michael and Rafael tried to bond, and Jane finally connected with a member of her extended family.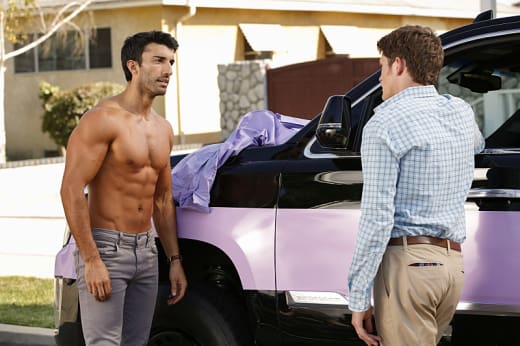 Even though we've been able to watch Anezka play out her version of Petra, she's never been able to compare. The real Petra finally got unleashed from her locked in syndrome when Rafael confronted Anzeka about not believing she was Petra, and she was unable to inject her sister.
What's shocking is that once Petra was able to find her voice, she pretended to be Anezka so her sister wouldn't get caught. I should have realized she didn't speak up out of kindness toward Anezka, but did it because she already had a scheme ready.
Petra: Now listen closely because you're going to jail unless you do exactly as I say.
Narrator: And friends, that's when Petra said the scariest thing Anezka ever heard.
Petra: First, I want you to break up with Scott.
Leave it to Petra to simmer in vengeance as she is forced to lay in a bed paralyzed. I can't say I blame her. She was forced to watch her sister with Vests, her babies become attached to her, and Rafael compliment Anezka on her newfound mothering skills. 
Anezka had already secured Rafael's shares of the hotel, and Petra intends to use them to take down Rafael. While I'm thrilled she is back in action, the people Petra should be angry with the most are Anezka and Magda.
However, Rafael is a man she loved and probably hoped if anyone could tell something wasn't right, that person would be him. Her reveal to Rafael at the end seemed to shake him, but I'm sure he'll figure out a way to get his shares back. Although, seeing Rafael actually lose his hotel would be an interesting storyline.
No one shocked me more than Vests. After proposing to Anezka as Petra, Petra took it upon herself to break up with him. His response was gracious and selfless. And I never thought I would use those words to describe him.
Scott: You are the most incredible woman I've ever been with.
Petra: Stop.
Scott: No, I mean it. You came from nowhere, and you've made yourself into this total badass. Anyway, I won't argue. I mean, if you're willing to walk away from this hotel, which is all your blood, sweat, and tears, well then you can walk away from anything... even me.
Also, Petra is easily the most conflicting character to watch. One moment we root for her, the next we want her schemes to stop. Hell, tattooing "Not Petra" on Anezka's forehead is hardcore. 
With Petra going after him, it's a good thing Rafael is slowly becoming friends with Michael. Everything about their male bonding was hysterical. Michael looked so dorky trying to get to know Rafael while at the gym.
These two men are different. There's no getting around that. However, both of them will be in each other's lives for a very long time. They will also both be fathers to Mateo.
Speaking of Mateo, he nearly gave those two a heart attack when he disappeared for less than a minute. If there's anything that will bring Rafael and Michael together, it's keeping this little scare a secret from Jane.
Rafael: And yeah you're right. You were engaged. I didn't think about it, and I'm sorry.
Michael: And I'm sorry for getting insecure about your muscles.
Narrator: Hey, we all did.
Rafael and Michael fought over Jane, and that's something that doesn't heal overnight. But their apologies to one another is a step in the right direction. Also, now they know they both like soccer, so there's that. 
Jane found herself in a position unknown to her. She disappointed Alba in a way she never has before. After reading the letters Alba's sister had sent over the years, Jane connected with her cousin, Catalina.
She will always be a people pleaser, and Jane hates fighting with her family. Jane's personal growth is a huge part of the show, and accepting that she can't always make everyone happy is an important step. 
Unfortunately, Catalina's arrival will surely create an even larger divide between Alba and Jane. If we've learned anything from the telenovela format, newly discovered cousins are a recipe for drama. 
Catalina is probably going to hook up with Rafael, and if she becomes his new girlfriend, that will cause major problems between Jane and her baby daddy.
Also, now that Catalina showed up, it won't take long for Cecilia to make her grand entrance.
Stray Thoughts and Questions
Xo deciding to open up her own dance school is a brilliant idea, and I can't wait to watch her go on this journey.
The "Beauty School Dropout" tribute was really cute. I only wish it had been a longer sequence.
Rogelio is about to appear on the big screen, but it will definitely be eye-opening.
Rogelio: Well, Michael and Xiomara already have seen my penis. So will you be comfortable seeing it 40 feet high?
Jane: I'm not even comfortable having this conversation.
What favor will Rogelio owe his bosses in exchange for them letting him appear nude on screen?
This week's title had the words The Virgin crossed out and replaced with The Happy Mom. What will the title be next week?
Everything going on with Rafael's mother's coded message is just not captivating me yet.
So over to you! Will Petra be on the warpath from here on out? Will she try to take the babies away in addition to the hotel? Are you on board with a Rafael-Michael bromance? What are your predictions for Jane the Virgin Season 3 Episode 6?
Sound off below, and don't forget you can catch up on any missed episodes when you watch Jane the Virgin online via TV Fanatic!
Amanda Steinmetz was a staff writer for TV Fanatic. She went into retirement in June of 2027. Follow her on Twitter.