Pitch Season 1 Episode 8 Review: Unstoppable Forces & Immovable Objects

Jasmine Blu at . Updated at .
Holy Crap! 
Pitch is nearing its finale and is in no way losing momentum!
Between the tug-of-war between Amelia and Will over Ginny, and the wicked game of chess between Charlie, Oscar, and Mike, the only shortage of games being played on Pitch Season 1 Episode 8 was the actual delayed baseball game!
Then it all came crashing down with a single word.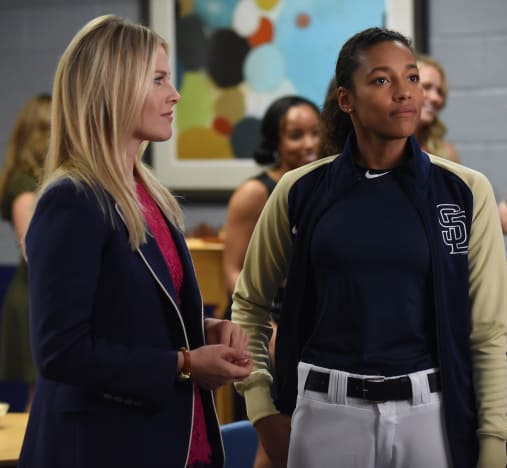 I'm really bummed about Will Baker. He was such a supportive and sweet brother when we first saw him on Pitch Season 1 Episode 2. He did the responsible thing and handed the reigns over to Amelia, for the sake of his sister's career. 
What the hell happened?
I welcome seeing B.J. Britt on my screen any chance I get, but was so disappointed to see how Will turned out. I just wanted her to have one family member she could really count on. Jeebus, her father's dead, and she and her mother have a strained relationship!
I'm grateful that they finally addressed why he hadn't been there during her games. Another week where they aptly used the flashbacks. They're really starting to find their stride with those, not that I was someone who had an issue with them like others have.
Now we know that Will is irresponsible, reckless, and a bit exploitive. Can Ginny have anyone that she can fully trust. love, and depend on? Because it's a pretty small list.
It's a wonder she gravitates to the Sanders clan, or she connects so well with Mike. She has to make her own family wherever and however she can.
Will: I'm sorry are you her agent or her business manager? Because I don't think you can be both.
Amelia: I'm whatever Ginny needs me to be.
Amelia is so fiercely protective of Ginny!  I'm talking full blown "Mama Bear" protective of her, and I love that given the little we know about her past, the show subtly and consistently hints at why that is. I just, sometimes would like if it were a bit more overt. 
I also tend to be torn on Amelia's methods of protecting Ginny. Unfortunately, a lot of the time it consists of keeping things from her, and while I can guess why the boundaries are blurred for Amelia, I don't always care that she oversteps them. 
Am I the only one who felt like she should have told Ginny upfront about her brother? Maybe not before a game, but Ginny deserved to know. I fully understand Amelia wanting to protect Ginny from Will's influence, but the way she inserted herself into their family affairs so forcefully without Ginny's knowledge bugged me.
I also wasn't fond of the way Amelia kept taking shots at him and calling him out in front of Evelyn and any and everyone within listening distance. Maybe she didn't owe Will privacy, but for Ginny's sake maybe don't bare your teeth at her sheisty brother in front of mixed company!
Amelia: Ginny's schedule is impossible. I spend more time canceling appearances than booking.
Evelyn: It's called asset protection.[Amelia looks surprised] Two years of business classes at USC.
Evelyn was really into Will's sports bar idea. Now that we know that Will isn't a good businessman and trouble seems to follow him wherever he goes, I'm concerned that he might rope Evelyn into all of  this.
There is a storm a coming and I'm not ready to see it.
Speaking of storms, the biggest one was Tropical Storm Mike.
There are no words to properly describe how badly I feel for Mike right now. It was one thing coming to grips with the fact that his body is giving out on him. But not being able to play as many games, or having to sit out, or seeing the chances of winning a ring slowly slip away? Ugh.
Then this trade business! Having his hand pretty much being forced. I just, honestly, I wanted to reach through the screen and hug him. With all the grandpa jokes, and old timer quips, I still can't fathom that at 36 someone could feel like their entire world is coming to an end!
At 36 years old for any other person, you're just hitting your stride in life, maybe just settling down, or at your peak at your job, or maybe your life is just really beginning. In baseball it's an entirely different story. 
Oscar: Are you happy here?
Mike: Why does everyone ask me that? I'm elated. I'm euphoric.
The stress of the day was a lot for anyone, so I couldn't even hold it against him when he blew up at Ginny. It has been about her, and he's mostly been okay with the fact that things have been about her. He just needed a day and a moment.
Unfortunately with Ginny not knowing what he was going through, she didn't realize just how much she was setting him off. Her friendly bantering and joking around with Livan, for example. Or the fact that she challenged him and didn't take Kangaroo Court as seriously as he would have liked. 
I hereby declare this a mistrial due to a well hung jury.

Blip
I LOVED Kangaroo court. For one, Blip was on a roll with the one liners the entire episode, especially during court. I just thought that was a really fun way to wait out the rain delay while still keeping the camaraderie. 
It also gave us more scenes with the other Padres, which is something I can never have enough of. The more we learn about the other Padres, the more it feels like we're fully immersed in the clubhouse. 
Omar: Am I really the only one who's noticed? It's like we're playing with a supermodel?
Mike: You get used to it!
For example, bless poor Omar's heart, I laughed the entire time he was talking about his crush on Ginny. He has it bad if he can't even look her in the eye! But just like Mike said, he couldn't possibly be in love with the girl if he doesn't even know her.
But Mike sure does. 
One of the things I love about Mike is how perfect he is as the captain. The entire episode he was lost in his head and dealing with the possibility of leaving a place and a team he dedicated 15 years of his life to. Yet, no matter what he was struggling with internally, and despite his lashing out a few times, not once did he take off the captain hat.
The way he handled Omar was perfect. But listening to him run down all the little things he knows about Ginny, just through observation said so much about who he is as a leader, person, and bestie. He jokes around and he's arrogant at times and occasionally grouchy, but he's the person that notices the little things. 
He reads people almost as well as he reads plays. It has been so satisfying getting to peel back layers on his character the past couple of episodes. And I love how everything we have learned about him led up to that final moment when he agreed to go to Chicago. 
I don't know what to think about Mike leaving. The Padres is all Mike has ever known. To borrow from Evelyn, Mike is the Beyonce of the Padres. I don't care what he said to Ginny; I don't know how the team would survive and thrive without him, dammit! 
Additional Notes:
My love/hate relationship with Oscar continues. But two things should go without saying, Mark Consuelos plays the hell out of the part and I love that. Also, Oscar is damn good at his job. No one can manipulate people the way Oscar can. He knows people and knows how to handle them, and even though I don't always enjoy why he's doing, I'm always impressed at how he manages to pull things off.
The way they drop little tidbits about the relationship between Oscar and Al gets me. I want to know more. If I'm not mistaken Al has nothing but girls, so it sounds like he viewed Oscar as a son. Then Oscar's promotion sort of hampered things. Understandably so. But messing around with Al's daughter? No bueno, Oscar. No me gusta. I mean, it IS Sarah Shahi, but still.
Was I supposed to be interested in learning more about Charlie? Because I wasn't. My love/hate relationship with him, was in the hate zone this week. 
I could watch an entire episode of the Blip and Mike bromance.
Even though they don't give us as many Bawson scenes as I'd like, every moment between those two is so damn good that I never mind.
I'm not saying I ship Bawson, but I am saying people probably wouldn't ship it so much if Mike didn't look at Ginny like she hung the damn moon. I'm just saying. That final lingering look was so precious, and then he went and ripped our hearts out with "Chicago." 
So, um, those previews for the next episode look interesting, huh? Bawson shippers everywhere collectively swooned. 
So what did you think? Did you enjoy Will Baker's return? Do you think that Mike will actually leave the Padres? Hit up the comments and let us know what you think.
We're coming down to the last episodes of the season. If you want to catch up, relive, or have something to talk about in the #RenewPitch tag on Twitter, than don't forget you can watch Pitch online right here at TV Fanatic!
Jasmine Blu is a senior staff writer for TV Fanatic. Follow her on Twitter.