Rosewood Season 2 Episode 6 Review: Tree Toxins & Three Stories

Rachel Miller at .
What happens when Rosewood and Villa put on their teacher hats and join forces with a group of promising medical students? Well for starters, they get closer to solving an emotional and complicated cold case.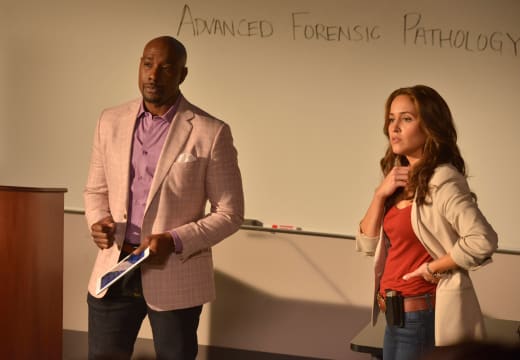 When a victim on my case is a child, it keeps me up at night.

Rosewood
On Rosewood Season 2 Episode 6 Rosewood and Villa reopened a cold case of two high schoolers who were mysteriously found dead. Villa and Rosie decided to ask a group of medical students for their assistance in helping with the case.
Rosewood: I don't know if you've noticed, but me and Villa have a thing.
Nip Tuck: Oh, we noticed. There are memes about you two now.
At first, it was easy to feel like a group of medical students wouldn't be able to handle the pressure of working with Team Rosilla. Many of the students were snarky and often made interesting comments towards both Villa and Rosie. But our dynamic duo needed this group to help see things in the cold case they initially missed.
Elena and Misty were teammates whose bodies were found deep in the woods. Those close to Elena and Misty painted a picture of the two having a love/hate relationship with one another. 
Rosewood: Did you know about her pregnancy?
Vaz: Yeah, I knew. Elena miscarried. She later dumped me for another guy.
Villa: What did you know about him?
Vaz: Not much. But Misty had a thing for him too.
Elena was the mean girl that had everyone afraid of her. Misty, on the other hand, wanted in on the whole being popular thing and didn't let anything or anyone one stop her from being the newest "it" girl.
Misty even had a crush on the new guy Elena was seeing. Which led me to believe there was a fight between the two which ultimately cause their deaths.
Did these girls hate one another so much to the point where it led to their deaths? Possibly. Or did someone else cause harm to the two soccer players? That's possible too.
The fact that two girls, that were the same age, and went to the same school, lifeless bodies were found in the middle of nowhere gave the idea there was a serial killer responsible.
Thanks to the medical students, my theory of the girls fighting each other till their deaths was ultimately debunked.
Lil' Kim: Did Gerald have an alibi?
Rosewood: No. He said he was at home.
The biggest twist of the night was that Rosie and Villa actually called on the group of students to help work on Gerald Kelly's case. Yes, Donna's inmate friend Gerald.
Gerald Kelly coached Misty and Elena before their deaths. Gerald also has a history of domestic violence which made it easy to pin the girls' murder on him. Gerald's only child, Michelle had run away a few months before Misty and Elena's deaths. Many people, including Gerald's own family, thinks his history of violence is what caused Michelle to run away.
Gerald was in the midst of trying to find Michelle's whereabouts when he received a mysterious call that she was spotted in the woods. Unbeknownst to Gerald, those were also the same woods Misty and Elena's bodies were discovered. 
Someone killed Misty and Elena in the woods, called Gerald up to find his daughter, then called the police to say they saw a suspicious man in the woods. Gerald was set up to be charged for murders of two girls he deeply cared about.
Misty understood Elena's pain because they were both in pain.

Lynn
But who would kill Misty and Elena, then set up an innocent man to take the fall? Most likely Elena's dad. There's something eerie about that man. Even Rosie felt he was hiding something when he didn't want Elena's body exhumed.
What could he be hiding?
Poor Gerald though. He's been stuck in prison all those years for a crime he didn't commit. With his history, Gerald knew the chances of him being found innocent were pretty slim. Hopefully, Rosie and Villa will help solve this cold case and give Gerald the freedom he desperately deserves.
Finding out what exactly Elena's dad is hiding as well as proving Gerald's innocence will be exciting and interesting. 
Don't forget, you can watch Rosewood online right here at TV Fanatic!