Is a witch still a "witch" even if she has no powers? That's a question I, and maybe even the mother witch, wants answered.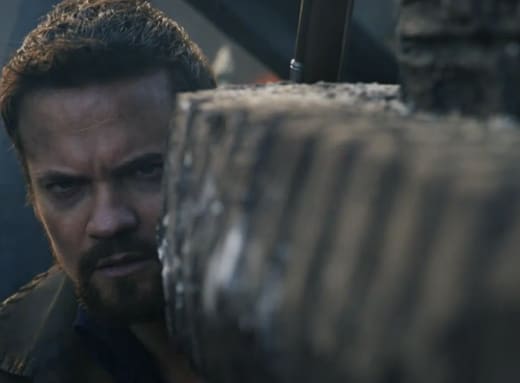 The Mary Sibley we know and love is no more. On Salem Season 3 Episode 3, we watched as she paid the ultimate price for defying the dark lord: he stripped her of all her powers. She's barely back from the dead and already she's changed.
Dark Lord: I have killed the elemental powers within you. I have killed the witch in you and left...nothing.
The Sentinel: Nothing but a woman. Weep woman, weep. For tears are all we have left you.
This is an interesting development for Mary and the main plot as a whole. The previous episode, Salem Season 3 Episode 2, set up the groundwork that she and Tituba are the ones who must stop the dark lord. With Mary now without her powers, is she even a match for him?
Dare I say, the outlook looks grim, except for maybe one possibly saving grace.
I have a feeling the theme of "motherly love" will continue to play a part this season. The writers have continued to highlight the dark lord's love for Mary and they've excellently positioned this relationship still as one of mother and son.
Janet Montgomery and Oliver Bell have great chemistry together, so I don't think it's over yet. Him taking away her powers won't stop this love.
The Sentinel: Is this the mighty Angel of Death? When did you EVER spare a life?
Dark Lord: This life is precious to me.
The Sentinel: Has that tiny meat suit corrupted you? The human body is a pitiful sack of blood, piss and water. I fear in your case, mostly piss.
Speaking of the powers, does anyone think she's lost her magic completely? The contract being null and void throws a wrench in the plans. But I have a sneaking suspicion she'll get them back eventually. Actually, this would be the perfect opening for Countess von Marburg to return!
The highlight of the episode has to be when Mary's powers are removed. Everything from the music to the lighting to the special effects brought out the seriousness of the dark lord's reckoning. The scene matched the moment perfectly.
It was visually appealing to watch the triggers as she lost each one of her elemental powers. My favorite is the dust cloud explosion during the earth removal! The effects looked like the magic was ripped from her body.
I know what you are...you're nothing! Nothing but common thieves. Liars. Traitors. Rapists. Murderers. But worse than that, you're cry-babies. Poor, proud, pitiful things. I've seen you, and the best and worst men can be, and I assure you, even the lowest of human has more heart, more soul, than you two. Take what you will; I want nothing of you or yours. Get your hands off me!

Mary
In addition to this scene, the set design and effects for the mysterious box also deserve some compliments. The dark confined space, the bright lights for the symbols and changing tone – it felt creepy. That torture could've driven anyone mad; though, some of the characters are nearly there.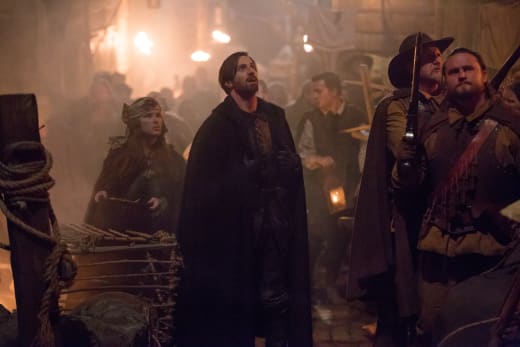 There's no way Magistrate Hathorne is going to survive being poisoned by Mercy. She may have given him the antidote for now, but eventually it seems like he will suffer from it.
His death certificate should already be signed. And the people of Salem are slowly going insane from the apocalyptic signs. First witches, demons, and now a red flaming sky, these townsfolk need to get out now.
Mr. Putnam: Is it the end of the world?
Cotton: No doubt the end of someone's world.
What is the purpose of the angels' tears? The Sentinel gave it Sebastian, who in turn delivered it to the French and the zombified Native Americans. It looks important, but at this point, that side storyline needs a few more layers to it.
Cotton and Anne may have found some closure this episode. She thought they were working things out, but he merely wanted to get out. Let's face it: he doesn't love her anymore. My heart broke a little; I wanted them to work out.
Now that he is freed of Brown Jenkins, what does that mean for their future? He can say and do anything now without his wife's witchy control. I have a feeling they'll still team up somehow. The dark lord is willing to kill him if he doesn't fall in line -- that's not an enemy you walk away without a scratch. Just ask Tituba...
What did you think of "The Reckoning"? Will Mary get her powers back? Will Mercy ever cure Magistrate Hathorne of the poison? Is Cotton finally free of Anne?
If you need to catchup on the latest episode of Salem, go watch Salem online via TV Fanatic. Come back here to let us know what you think!
Justin Carreiro is a staff writer for TV Fanatic. Follow him on Twitter.