Vanderpump Rules Season 5 Episode 2 Review: What Went Down

Sarah Hearon at .
It's World Dog Day on Vanderpump Rules Season 5 Episode 2, but not even puppies can stop the drama at SUR.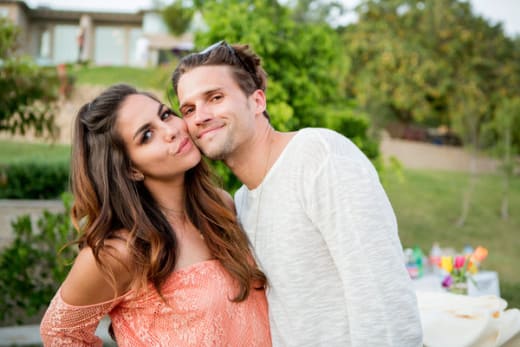 After five seasons, we finally saw a new part of SUR... the upstairs office! I'm surprised they didn't have the World Dog Day meeting in the back alley.
I'm not surprised, however, that Lisa has a new dog.
I worship the ground that he never walks on.

Lisa
Or that Tom and Tom have an annual spa day.
Or that in the battle of beer vs "summer body," Stassi chose beer. She's a girl after my own heart, and personally, I think she would be a great maid of honor.
I hope it doesn't turn into the Hunger Games of bridesmaids.

Katie
It's time for another trip on the SUR apology tour, and DJ James Kennedy is about as genuine as Jax when he gets a girlfriend's name tattooed on him. At least Lala cried (and admits that she isn't classy... losing your virginity to Lollipop by Lil Wayne says it all).
And only can someone on Pump Rules not see the irony of talking about their drinking problem over a glass of Pinot Grigio.
While serving crispy chicken and goat cheese balls, the rumors about Brittany and Kristen continued to run wild at SUR. 
I heard exactly what went down. It was Kristen.

Lisa
Even the chefs (the same ones who celebrated Kristen getting fired #neverforget) discussed the hookup.
Kristen does have a habit of getting in the middle of things... I just never thought it would be Brittany's legs.

Lisa
Brittany, who is (obviously) mad at Jax for starting the rumor, spent the night at Scheana's and all I have to say is thank god the cast finally got new apartments (and couches for people to crash on that multiple people did not have sex on).
I'm not sure what happened between Kristen and Brittany, but there's never been a season of Pump Rules that didn't end with Jax apologizing at the reunion for lying all season.
Tom suggests that he and Katie get a prenup, and while she doesn't object, there is a zero percent chance that he has anything to worry about money wise. I mean, when was the last time we saw him model? Or work as a bartender? Or work... at all? 
I was doing my mantra the whole time... 'don't complain, don't be cheap.'

Tom Schwartz
DJ James Kennedy answering the door on a hoverboard is why no one likes him. His bizarre music video with blue glitter and paint is the other reason.
It was only a matter of time before the infamous DJ got into another fight at Pump, and Lisa is not happy to hear about it at World Dog Day.
I don't want to sound cocky, but I'm young, I'm good looking, I'm a DJ in Los Angeles. I'm fuckng killing the game.

James
An episode highlight was definitely James bragging about his life as a DJ and then stopping his set to announce he found a pair of car keys. Next stop Coachella.
Stassi and Kristen make (another) uninvited appearance at a Lisa Vanderpump event, but much to my dismay and Lisa's surprise, it goes well. Sigh.
I love dogs, and I think everybody knows how I feel about bitches. And here comes a couple more.

Lisa
Jax finally says he will stop talking about Kristen and Brittany, but knowing Jax, there's no way this is the last we will hear about it. 
Do you wish you could have attended Lisa Vanderpump's World Dog Day? Will DJ James Kennedy ever grow up? And most importantly, why wasn't there more Stassi?
If you missed this episode, or just want to rewatch the drama unfold, watch Vanderpump Rules online via TV Fanatic.
Sarah Hearon is a staff writer for TV Fanatic. Follow her on Twitter.