Empire Season 3 Episode 9 Review: A Furnace for Your Foe

Lee Jutton at . Updated at .
Well, Empire's midseason final did not shy away from dropping some big bombshells – but, because this is Empire, I think we would have all been more shocked if there weren't any earth-shattering revelations. (And in Cookie's case, much happier.)
I almost wish the episode had just involved Jamal and Philip staying in to watch romantic comedies and eat pizza, or Andre lifting weights at the gym (Mmm, yes.)
Wouldn't watching the Lyons act like normal people for a change be more shocking at this point?
On Empire Season 3 Episode 9, an unlikely alliance was formed when old school society dame Diana Dubois teamed up with her polar opposite, gold-plated street rat Lucious Lyon.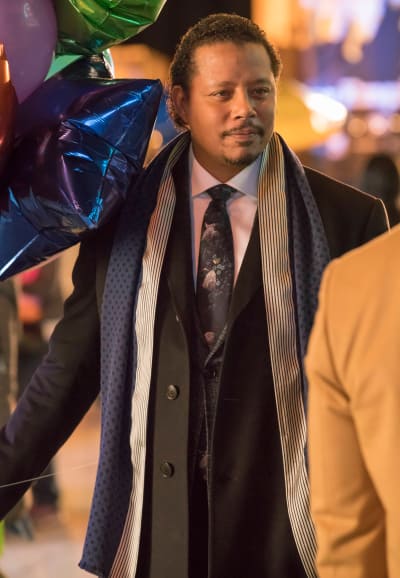 Lucious and Diana's secretive, scenic Ferris wheel meet-up was like something straight out of a Hitchcock movie, while their verbal sparring was reminiscent of the work of Howard Hawks. It was all so delightfully film noir. 
Unfortunately, it didn't last, because Diana – as smart as she may be when it comes to managing her son's political career – made a really stupid choice. She decided to back out on a deal with Lucious!
Lucious: Don't you ever try to read me.
Diana: I would never. I read books, not graffiti
Diana asked Lucious to get rid of a pesky reporter who was threatening to reveal skeletons in Angelo's closet that could have sabotaged his mayoral campaign. In exchange, she offered to split up Angelo and Cookie.
However, after Angelo's poll numbers spiked thanks to Cookie's street cred, Diana decided she'd rather keep Cookie around. Too bad for her, as that's just not the way this Cookie is going to crumble if Lucious has anything to say about it. 
There's always a droplet of truth, but once it hits the water, it becomes a tidal wave. I'd rather see it evaporate before that happens.

Diana
Diana offered to give Lucious anything else he wanted in exchange for his help, but a man like Lucious, who has pretty much everything he could possibly desire, only wants the one thing he can't have. And as we know, he'll do anything to get it.
Clearly, Diana thought she could match Lucious for deviousness. For someone who should be used to underhanded tactics, she underestimated what he is capable of, and in a big way. 
Lucious ended up bringing the reporter to the People's Ball so that he could spill Angelo's big secret in front of Cookie: a DUI that resulted in a girl's death. As far as secrets go, that one is a doozy.
Cookie and Angelo clearly care for each other a great deal, but this feels like the kind of reveal that could kill their relationship. At the same time, with everything the Lyon family has done, can any of them really throw stones? 
For instance, enabling your son's drug addiction to get him onstage for your boyfriend's political fundraiser is a pretty sketchy move.
I get that Jamal needed to perform again, or his career would have continued to dissolve into nothingness. I also get that he wanted to prove Lucious wrong and show that he was strong enough to get onstage again.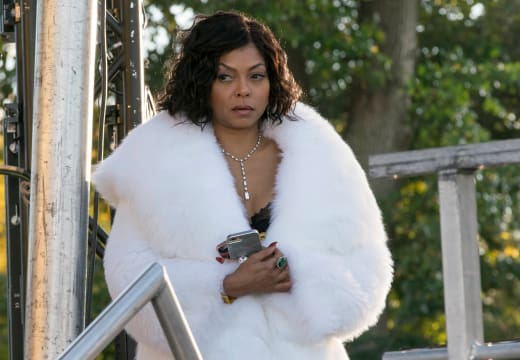 But, ripping the kitchen sink pipes open to get Jamal's pills out of them was a pretty insane move on Cookie's part. Even if it was pretty badass that Cookie is capable of handling plumbing, and in a tiny sequined dress to boot. 
Cookie's brief moment of bad mothering was redeemed when she and the rest of the Lyon clan (well, except for Andre, but we'll talk about that later) came together to host an intervention for Jamal as soon as he came offstage at the fundraiser.
I really hope that rehab works for him, and that he comes out of it with even more material for amazing music.
You send fools in there with their calculators to take food out of the mouths of my employees' children.

Lucious [to Tariq]
Speaking of music: I loved Jamal's big comeback number, "Born to Win." Jussie Smollett's performance was absolutely electric.
The juxtaposition of Jamal at his lowest, curled up on the couch in withdrawals, with the confident, sexy young man strutting around the stage at the People's Ball was just heartwrenching. 
What were the other Lyon brothers up to? Well, Hakeem also performed at the People's Ball, alongside ex-girlfriend Tiana. The two of them ended their performance with a kiss, signaling to the world that "Takeem" (cue eye-roll) are back in action.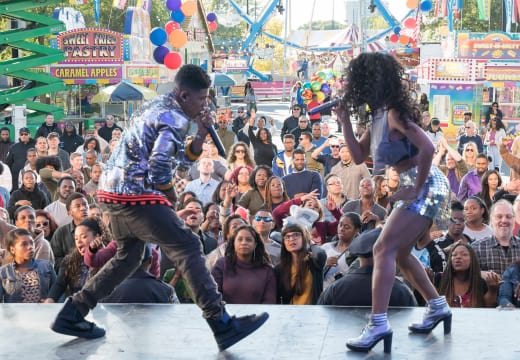 As for Andre: he had a few more chats with his dead wife, who urged him to turn Nessa into a big star, seize control of Empire, and avenge her death by destroying Anika. You know, just a few simple requests. 
Look, I've got 99 problems, Shine. What's up?

Lucious [to Shine]
The scenes with Ghost Rhonda have always been silly, but Andre bidding her a tearful farewell as she waded into the waves in that white dress was just ridiculous.
I hope this is truly the last we see of Ghost Rhonda, because while I'm all to willing to suspend my disbelief for a lot of Empire's shenanigans, this was one subplot that I could never really stomach.
However, I will forgive Empire for every minute we've spent with Ghost Rhonda if Andre wreaks unholy havoc on Lucious.
My father respects his opponents, Shine. But he hates a snitch.

Andre [to Shine]
I don't necessarily want to see Andre fulfill his professed desire to kill the man, because Empire thrives on Lucious and his pantomime villainy. But, I am always in favor of seeing Lucious' life be made miserable, and if anyone is capable of doing it, it's the son that inherited none of his musical talent, but all of his evil.
Well, what did you think of the midseason finale of Empire? Do you think Andre really has it in him to kill Lucious? Which one of Cookie's killer ensembles was your favorite?
My personal top pick was that gigantic white fur coat over that teeny-tiny sequined number for the People's Ball – so fierce! And on a scale of one to Beyonce, how much did Phylicia Rashad slay? 
Remember, you can watch Empire online via TV Fanatic.
Lee Jutton was a staff writer for TV Fanatic. She went into retirement in July of 2017. Follow her on Twitter.