Hawaii Five-0 Season 7 Episode 10 Review: Ka Luhi (The Burden)
Dale McGarrigle at . Updated at .
You can choose your friends but you can't choose your family.
That's the message at the heart of Hawaii Five-0 Season 7 Episode 10, as a teen boy's repressed memories reopen a decade-old murder while team members struggle with their own family issues.
Five-0 family members from the mainland always add to any episode (none more than Carol Burnett's Aunt Deb).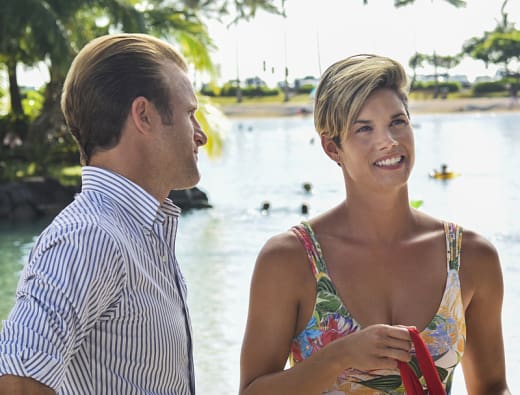 And that's certainly the case with Danny's family. After an extended visit from his vivacious mom during Hawaii Five-0 Season 4, now we get to meet his sister Bridget, in town for a company retreat.
The first meeting between Bridget and McGarrett is hilarious, since her impression of him is largely based on Danny's reports.
Bridget: You know, I've heard a lot about you.
McGarrett: And some of it was good.
Bridget: Mostly.
McGarrett: What's that mean?
Bridget: My mother called you a catch.
McGarrett: I love your mother.
Missy Peregrym's Bridget is a woman who feels trapped, raising a family with an absentee husband, whose only friend is a handsome single man at her work.
Thanks to his cop instincts, Danny naturally fears the worst.
You think I'm over-reacting, that I'm being ridiculous about this thing with Bridget. I know these things, just like I knew Grace had a boyfriend.

Danny
It's good to see Danny open up to McGarrett, explaining how he almost pursued an affair with his female partner during a rough patch with his ex-wife Rachel.
Of course, older brother Danny badly handles discussing the issue with Bridget, and soon the two are tearing into each other,as only siblings can do.
This pairing was a lot more believable than Melanie Griffith and Scott Caan as mother and son, 
Bridget: I'm sorry. Unlike you, I just can't walk away from my children.
Danny: My children can look me in the eye and know that I never lie to them.
It was fun to see them make up, over Smokey and the Bandit of all films and French fries.
But the main psychological damage caused by family happens in the case of the week.
It made sense that a child would be traumatized by witnessing a murder. 
But to blot it out of mind such as Reese Holland had done, there had to be a more personal component than just seeing one stranger kill another stranger.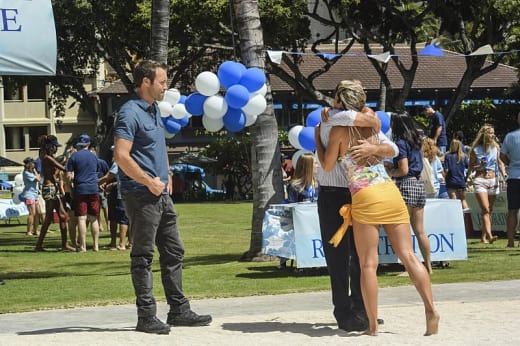 Now there were precious few suspects in this case. The ex-boyfriend was too obvious a choice, and it made no sense that Travis had asked Maggie to meet him just to murder her. 
It was sad that young Reese was in the woods where the murder occurred just to escape his parents' arguing.
But it was tragic when an innocent girl gets run down by Reese's mother driving drunk, with him in the back seat, trying to get away from her problems.
That certainly didn't work, as he ends up with years of therapy and she has to live with years of guilt.
When it was revealed that a car caused the damage to Maggie, even if it wasn't the murder weapon exactly, the mother became the lead suspect in my mind.
She should have been as indignant as Reese's father, but she seemed to be trying to slip into the background, unnoticed, like she had something to hide.
Then there's Chin's absentee daughter.
It makes sense that Sarah's adopted family is shielding her from Chin, especially after Kono dressed him down in the sweetest way possible.
Kono [to Chin]: I think you might have taken things too far. Multiple background checks, having a judge delay the adoption, you even used Sarah to recon their house. If I was them, I wouldn't want you in Sarah's life. Cuz, I love you, but you're going to have to make things right with that family if you want any kind of relationship with Sarah.
Chin: You know what? You're right.
Fortunately this doesn't seem to be a storyline that will drag on further, as the preview for Hawaii Five-0 Season 7 Episode 11 promises some closure.
It appears the team will become Mexico Five-0, with the preview trotting out every cliche but lucha libre masks.
Hopefully, Chin will be bringing Sarah back to Oahu because Mexico isn't a safe place for her to live.
Shouldn't someone have figured out that an attorney in Mexico just might be a gang target?
While that subplot promises to be tied out next Friday in the fall finale, that will mean psycho whisperer Dr. Madison Gray will remain on the lam until 2017.
It really doesn't seem like that interesting a storyline that let it linger this long.
To catch up before the fall finale, watch Hawaii Five-0 online.
How did you like Bridget? Will you be happy to be the Sarah subplot resolved? Isn't a time for a little more Kono-Adam screen time? Comment below.
Dale McGarrigle is a staff writer for TV Fanatic. Follow him on Twitter.