MacGyver Season 1 Episode 11 Review: Scissors

Megan King at . Updated at .
'Tis the season for a holiday drama on MacGyver Season 1 Episode 11.
Even people in Los Angeles are dreaming of a white Christmas – especially Riley – who confides in Bozer that she doesn't have good memories of the most wonderful time of the year.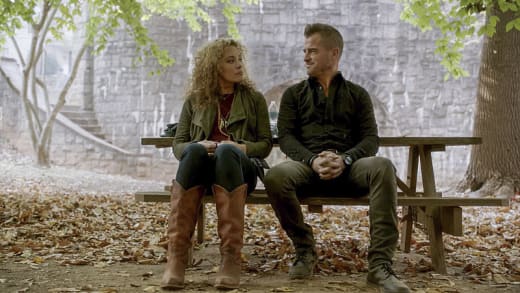 As Bozer is trying to get her into the holiday spirit, she receives a text and disappears.
Something in that text made her run.

Bozer
Thornton calls the team to the Phoenix Foundation, where she tells them that someone has hacked into NSA and leaked a fake intel memo outlining a planned attack on the Chinese.
Their main suspect? Yes, it's that Scrooge Riley, who was already sent to prison once for trying to hack into the NSA.
Thornton orders the team to find Riley before the feds do.
Bozer talks his way into the mission to find Riley. And he's actually useful. Finally! Well, for half an episode, anyway.
His intel leads the team to Vancouver, where they witness Riley exchange a laptop in order to save her Mom, who was being held captive in the back of a van.
I'd tell you what was around her neck and how exactly Mac removed it, but I still have no idea.
What's important is that she's safe, which sparked emotions for both Riley and Jack.
Riley has daddy issues with Jack (he dated her mom once upon a time) and she's still pissed at him for leaving them.
Jack's mad that Riley didn't come to him as soon as she received that text threatening her mother.
In this job, trust is everything.

Jack
Thornton orders Riley, her mom and Bozer back to LA.
'I did it for my Mommy' is not an excuse for treason.

Thornton
However, Riley takes off for Shanghai with Jack and Mac.
I guess they didn't have any time on the plane to talk, because they only seem to be able to engage in heart-to-heart conversations at the worst possible moments.
Are you in the middle of hacking into the Chinese Army's surveillance cameras? Great, so now is a great time to talk about our relationship!
I guess this is going to be a hallmark of this series? Or do other shows do this?
Anyway, they get inside the building posing as tourists and then MacGyver their way to the control room. But not before the cyber weapon has taken control of nuclear subs that are headed to the United States.
Luckily, super hacker Riley is able to stop all the missiles...except for one.
The show is not named after her.
So Mac hacks together a satellite dish (with some shocking help from Jack) that will trick the missile's GPS into thinking California is much further away.
Jack: We're gonna fix this together.
Mac: We just gotta move the Earth.
Does it work?
Of course. This team saves the world on a weekly basis.
Did we just pull off a Christmas miracle?

Jack
Back in LA, Mac gives Riley her white Christmas by creating a snow machine on the back deck.
But it was Bozer who received the best gift: The final three digits of Riley's phone number. Although I'm sure she'll regret that at some point.
Well, we're at the midpoint of this freshman reboot. What do you think so far?
Will you stick with it when it comes back after the holidays?
You now have plenty of time to catch up on any missed episodes so go ahead and watch MacGyver online now!
Megan King is a staff writer for TV Fanatic.