A dead rat, a dead aide, and an uncooperative congresswoman all took part in NCIS Season 14 Episode 9, "Pay to Play."
With pretty much the entire main cast fawning all over Congresswoman Flemming, I couldn't help but feel that they were just trying way, way too hard to set up a relationship between her and Vance.
The fact that this episode was clearly aired out of order did nothing to help, either.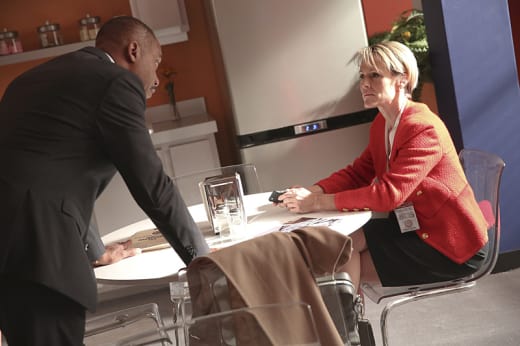 The out-of-order airing was made pretty apparent when Clayton Reeves showed up at the beginning of the episode, having just arrived from England to join the NCIS International Desk.
Something he had already done in NCIS Season 14 Episode 8, "Enemy Combatant."
In fact, in my review of that episode I even questioned if I'd missed Reeves joining NCIS! Turns out, I had! It just hadn't aired yet. While not a huge problem, it was noticeable and, indeed, distracting.
Clayton Reeves's arrival set up the rivalry-to-bromance with Torres, which definitely adds a layer to their interactions in the previous episode.
Their conversation about having to fight at some point did have me giggling, though I am left wondering why they switched the airing order in the first place.
I also had some trouble with the way everyone seemed to be practically tripping over themselves to say how wonderful and fantastic a person Congresswoman Flemming was, despite the fact that she was pretty well hindering their investigation.
Over the course of the episode, I was actually in a measure of disbelief at how thick they were laying it on. Was this simply to set up for a possible Flemming-Vance romance, as hinted at the end of the episode? I don't know, but the heavy-handedness did little to endear her to me as a viewer.
Do we even need to have a Vance romance? The question is worth asking.
While I definitely think it's nice having Rocky Carroll on our screens, I can't help but wonder if there are better potential stories out there for our dear Director Vance.
Flemming: Director, it's *my* life.
Vance: And we're gonna protect it. [beat] You're welcome!
The topic of military base closures is definitely a heated one; this episode briefly touched on the social and economic repercussions on the surrounding communities, but a drunk mayor and an idiot 16-year-old really don't do the issue justice.
In this episode, the only people show to be opposed to the base closure were the aforementioned drunk mayor, idiot 16-year-old, and the murderer. And the congresswoman was praised for wanting to shut it down, as if that was somehow a good (even heroic) thing.
As someone who lives within proximity of two military facilities, I am well aware of the massive (if often hidden) reach such installations have on the area around them.
And yes, there have been worries that these bases might be forced to close, and that concerns a lot of members of the local community.
In short, it's far, far more complex than it was portrayed to be here.
Also a bit of a headscratcher? The murder. I just found it rather hard to fathom that Ms. Real Estate Agent would be so desperate for her big payday that she actually walloped her boyfriend hard enough to daze him into falling into a pool and drowning.
It's not like Max's death would somehow save the base from closure and preserve her payday, after all. That ship had sailed. Weirdly enough, I'm not even sure that counts as murder, so why did she lie about it to the agents later?
The final nail (or first, depending on your perspective) in her coffin was the pointed reference to the girlfriend's profession early on in the episode. Time is money, so why waste time saying that the girlfriend was a real estate agent if that somehow didn't come into play later in the episode?
There were several bright spots throughout the episode (Clayton/Torres bonding, the 16-year-old's aborted escape, and Flemming's complaint about being tired of sitting in orange rooms, to name several), but it really would have gone over better aired in the proper order.
A few final notes before I turn the discussion over to you:
Flemming figured out on her own that the girlfriend was the one who killed the aide, and instead of sharing the information with the people investigating the case she decided to confront the woman. The woman, I remind you, who she believed murdered her aide.
Did the title of this episode, "Pay to Play," actually have anything to do with the episode?
What is this mysterious and ominous "Operation Willoughby" thing, anyway?
Check out our NCIS quotes page for a rundown of some of the notable lines from this episode.
If you missed this episode, or if you want to view it all over again, you can always watch NCIS online!
Be sure to tune in on Tuesday, December 13, 2016 for NCIS Season 14 Episode 10, "The Ties That Bind."
So, what did you think of "Pay to Play"? Did you find the episode enjoyable or a drag? Would you be in favor of a Vance-Flemming romance? Who would win in a Reeves-Torres throwdown?
Let us know in the the comments section below!