Liza's world only needed to start crumbling for her to see the damage that was being done by her lies.
Or to be abandoned by all of the men in her life. Honestly, I'm not really sure. For once.
On Younger Season 3 Episode 11, it seemed like she was still on top of the world, even if her secret might have been a little easier to suss out than she earlier imagined. By Younger Season 3 Episode 12, she was sharing the truth with her closest friend outside of Maggie.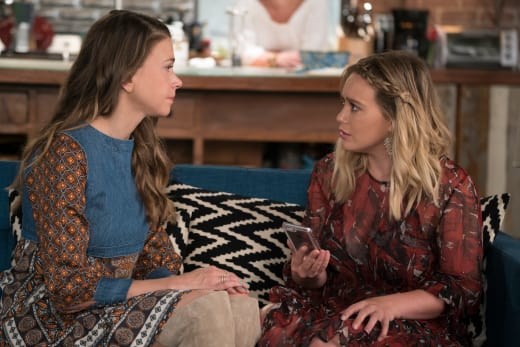 Either episode alone could have stood as a season finale, but sharing with Kelsey promises to shake the foundation of the series going forward.
There is simply no telling what awaits Liza as a result of coming clean with the information on her age.
With that big bombshell opening as the finale closed, it kind of took the spotlight off of all the developments with Liza's love life, and they were plentiful.
"A Book Fair to Remember" really got the ball rolling. Liza was still reeling after her discussion with Josh about having kids. She was pretty sure she would break things off as a result.
To be honest, she hardly seemed that broken up about the possibility, so it was kind of surprising she was so certain Josh was the one so soon afterward. 
Maybe it's just an indication she's really not ready for any man at this point in her life. What Josh said about her lies hurting people? They've been hurting Liza the most. 
By being untrue to herself, she's been living in a fantasy world. Nothing has been real. 
When she chose to sign Emily and her labradoodle book to cover her secret, I wondered why we never heard any of the fallout from Kelsey. In that moment, Liza was putting the career for which she put everything on the line, her entire life, on the chopping block.
While it was understandable why she did what she did, because that's how blackmail works, it also made no sense at all, because she was jeopardizing the one thing that forced her to lie in the first place.
And it was only her friendship with Kelsey that would have gotten her out of whatever hot water she found herself as a result of going forward on that deal and making a public announcement when Kelsey made it clear Millennial had no interest.
Was it her weird frame of mind as a result of what happened with Emily that made her melt into that kiss with Charles, or was it Berlin?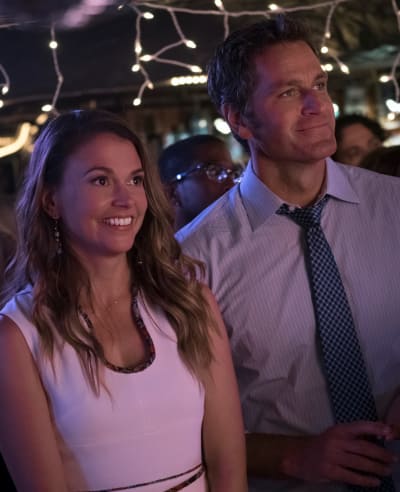 After all, there is nothing like a little walk down memory lane to get the juices flowing.
Liza: Oh my God. This song. It was my babysitter's prom song.
Charles: You were really close with that babysitter.
Liza was having a difficult time keeping to her fake life story. If there's anything that makes #TeamJosh an easier choice for Liza, it's the ease of living at the moment. 
How can she even make a decision about a relationship when all things are not equal? If she was able to spend real time with Charles and truly see how much they have in common, "this feels really good," might feel even better.
So while I'm still having a hard time with my #TeamCharles feels, it might just have to come down to what Nico said in the mini interview after the airing...#TeamNobody.
Liza is just not in her right mind when it comes to men. 
And after being with a man like David, who can blame her? That whole scene was kind of useless. I wish Liza could have gotten more from visiting the Get Real guru.
I'm really shocked Colin misread the Kelsey situation so badly. He seemed like a genuinely good guy all the way to the point when he thought she was moving in.
Of all things to throw him, it was the duffel? He would have been more at ease with more luggage, not less. That's certainly not something I would have guessed, but in hindsight, if she can live that lightly, maybe he had a point.
Has Kelsey been living out of the bag since Thad died? I don't think I even realized.
Also a surprise is that I was, apparently, wrong about Richard. Whether he's going to be a great love for Diana or not, he's great for right now.
They're in that super happy sex phase, and it was adorable. 
Richard is pushing Diana out of her shell, and she's interested in doing new things. Of course, it's to our benefit as much as hers, because you knew a nude photo shoot on a public beach wouldn't go well.
Amy: You look gorgeous. Have you modeled before?
Diana: Well, as a child I was in an advertisement for a local hospital, so.
My favorite moment between Diana and Richard so far has been when they were on the bed and didn't want to hang up. That made me feel wonderful. That's what Diana has deserved. That's when you know it's more than sex.
Diana is happy. Kelsey is in limbo. Liza is exposing herself, at least to Kelsey. She's lost Josh, for now. Will she focus on herself? We'll have to wait for Younger Season 4 to find out. It's going to be a long wait!!
In the meantime, watch Younger online to relive all of the amazing moments from this season.
Carissa Pavlica is the managing editor and a staff writer for TV Fanatic. She's a member of the Critic's Choice Association, enjoys mentoring writers, cats, and passionately discussing the nuances of television and film. Follow her on Twitter and email her here at TV Fanatic.