Arrow Round Table: Should Black Siren Stick Around?
Paul Dailly at .
Are you on board for Black Siren sticking around Star City?
That was one of the more intriguing questions on Arrow Season 5 Episode 10 as Black Siren posed as Laurel Lance.
TV Fanatics Steve Ford, Jim Garner and Robin Harry discuss Black Siren's appearance, Felicity not following orders and whether Adrian is really helping Diggle. 
What did you think of Black Siren showing up as Laurel?
Steve: (sigh) Ahhh, the convenience of the multiverse. I'm actually glad it wasn't the Earth 1 Laurel. When she said she was resurrected on the Wave Rider, my eyes rolled so far into the back of my head that I thought they would remain there permanently. That said, I am glad to see Black Siren return. I love "dark" Laurel.
Jim: I knew from the outset it wasn't the real Laurel. I think Katie Cassidy does a great job of playing "bad," so I like her as Black Siren. Though I would love to see her embark on a redemption story; it worked for Sarah after all.  
Robin: Like Jim, I figured it wasn't the real Laurel, but I didn't quite know who she would end up being. As everyone else, I enjoy Katie Cassidy's work as a villain much more than I did as Black Canary, so I was quite happy to see her return as Black Siren.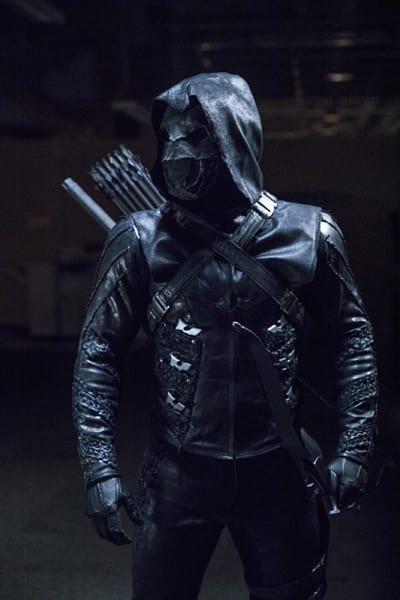 Will Adrian be able to save Diggle?
Steve: I'm still 75% convinced that Adrian is in fact Prometheus. However, if he isn't then I'm sure he's more than capable of helping Diggle out.
Jim: I'm glad I'm not the only one who thinks he Prometheus Steve. However, given that he spent so much time with Diggle, I'm not sure when he would have time to fight Oliver and free Black Siren, so I'm dropping down to 50/50 – And if anyone can save Diggle, I think Adrian can.  
Robin: I think Adrian will save Diggle, one way or another. He seems to want to do the right thing, and only gets jaded when the justice system doesn't work as it should. I still think Adrian is the ski-masked villain from Arrow Season 5 Episode 7. It's way too easy/obvious for him to be Prometheus.
What did you think of Felicity not following orders?
Steve: If Wild Dog has begun following orders, then "somebody" has to stop following them right? It's just the way this show works. Seriously, can no one EVER be on the same page for just one episode? It's frustrating to say the least.
Jim: She's overwatch, she should be able to bypass Oliver's commands as she has the bigger picture. I think it was great that she was helping Ollie get past his blind spot of Laurel.  
Robin: The constant undermining of Oliver's orders is a sore spot with me this season. Is Oliver the team's leader or not? Oliver was surrounded by the team, and would have been more than capable of defending himself at that moment, had there even been a threat.
While I get Felicity's point this week, I was not convinced that Oliver's so-called "blind spot" with faux-Laurel was a great enough obstacle to warrant her overriding his commands.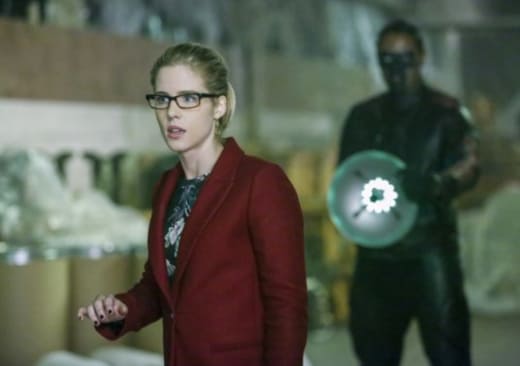 Are you over Curtis whining about how bad the world is?
Steve: Curtis needs to nut up or shut up. Nobody ASKED Curtis to leave his old life behind and become a crime fighter, it was HIS choice. He knows where the door is.
Jim: OMG Would he please shut up about how rough the world is to him. As Steve said, he chose to be a crime fighter, he chose to go out into the streets, he could choose to do it differently (and probably should). 
Robin: I didn't have a problem with his laments. Making the choice to be a crime fighter doesn't mean he's not allowed to feel heartbroken. Besides, his meltdown was partially egged on by Wild Dog being a pain.
What do you think of the potential new canary?
Steve: I'm glad Oliver intends to "honor" Laurel by recruiting a new Canary, but I don't know how I feel about a new character playing the role. Then again, it's along the same lines of Laurel taking over for Sarah as the Black Canary. Sometimes I forget that Laurel wasn't the first Canary.
Jim: So is she meta? She seems to us a canary scream to blast those guys out of the bar. Or did she end up with Cisco's tech? I'm glad they are finally adding a new Canary, lets hope they replace the statue too.  
Robin: I am PSYCHED. I feel like they've done all they can with Laurel Lance. That character and her relationships with everyone are too messy to unravel at this point.
So I'm super excited about an entirely new character coming on board, bringing a completely fresh take on the character. I like the glimpse we got of her, and I feel that this is gonna be good.
Remember you can watch Arrow online to get caught up on all the drama! 
Over to you, Arrow fanatics. Hit the comments with your take on the questions!
Note: Arrow Season 5 Episode 11 airs February 1 on The CW.
Have a look at the teaser:
Paul Dailly is the Associate Editor for TV Fanatic. Follow him on Twitter.