Arrow Season 5 Episode 10 Review: Who Are You?
Paul Dailly at .
Our Laurel Lance is not in the land of the living, after all. 
Despite the slim glimmer of hope, Arrow Season 5 Episode 10 revealed that the woman in question was none other than the Earth-2 version of the character aka Black Siren.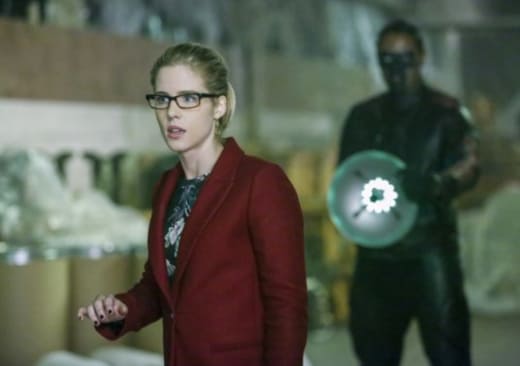 It was hardly surprising considering the group already dealt with the loss of Laurel at the conclusion of Arrow Season 4. It would have been fantastic if Laurel returned, but it would have been too easy. 
Bringing a character back from the dead is always polarizing. Some people like the dead to remain dead on TV, but others want their favorite characters back... even if it means all logic is thrown out the window. 
Oliver's new-found optimism was not something that sat well with me. Yes, he's in a position of power, but that doesn't mean he needs to see the good in everyone. 
Deep down, he felt bad for the way Laurel was murdered and was grasping at straws for Black Siren to have at least one redeeming quality. But she really doesn't. 
Renee: Weird man, she was dead and now she's not.
Oliver: That's time travel for you.
You could tell she was petrified of Prometheus, but she's probably one of those characters who will go wherever the power is. Oliver is being so gullible to think that there's a way he can turn this version of Laurel into a hero, and that's going to cause some severe ramifications down the line. 
I really don't know how to feel about the addition of a new Black Canary. Although I wouldn't be opposed to another female Lance family member popping up to take on the role.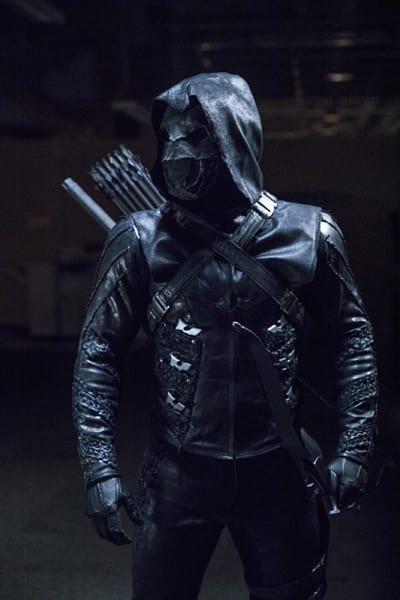 The chick in Hub City, however, is just going to be part of the show to help Oliver feel at ease for following through on Laurel's wish that she would not be the last of the canaries. 
It's difficult to get attached to any of the new characters on this show because of people like Evelyn Sharp. Anybody could be working with Prometheus. 
The villain is so deadly that I don't think anyone will be able to rest easy until he is brought to justice. With that in mind, I have no clue how Felicity will react when the villain is unmasked. 
Felicity starting to grieve the loss of Malone was heartbreaking. Her tenacity to find Prometheus was kicked into overdrive the moment Malone was found dead.
She was hurting and did not want any more perilous situations for Team Arrow. That's sort of why she was pushing to find out whether Laurel was really back or if something else going on. 
Props to Felicity for not accepting this near impossible situation. 
It's hard to be angry with her for ordering the team to attack Black Siren. It was a betrayal of trust, but Felicity kind of had a free pass when you consider that Oliver had just killed Malone in grisly fashion.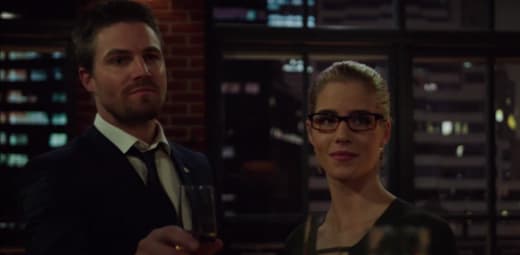 Felicity saw a different side to Oliver by the end of the episode with him being positive about things. Perhaps the Prometheus plot will be what drives them back together. 
With that in mind, the show has really flourished this season with them apart. It would be best to keep them apart until they can actually be together without worrying that one of them is going to be murdered by the latest villain in Star City. 
With all of the drama elsewhere, it was surprising that Adrian and Diggle got some interesting scenes in the episode. Oliver turning to Adrian was a good move. 
Diggle is between a rock and a hard place, and without a miracle, he's pretty much dead. Adrian going up against the General seemed like something any sane person would back out of. 
Maybe he did not like the way the General threatened him. Getting Diggle to attack him made a lot of sense. It managed to stall things to keep Diggle safe for at least a little longer. 
"Who Are You?" was a decent return for this CW drama. There was a perfect amount of drama, jokes and fighting. Arrow Season 5 is continuing to be a cut above the previous two seasons. 
Other tidbits from the episode:
Does anybody even care about Curtis complaining about everything? If he really wanted Paul back, he would have ditched his superhero days. It's not like he feels like he's doing anything good. 
Renee is continuing to go from strength-to-strength. His exchanges with Curtis were pretty great. 
It sucked that there was no interaction between Thea and faux Laurel. However, I'm glad Quentin did not get to lay eyes on her. It would destroy him. 
Talia Al Ghul is BACK! That was a fantastic twist, but can she please, somehow, make her way to the present? 
Felicity should really punch the villains more often. 
Thank god that awful Black Canary monument was destroyed. It was horrid. 
It sure looked like Adrian picked up on the way Oliver was acting when he told him about the circumstances surrounding Malone's death. 
Remember you can watch Arrow online right here via TV Fanatic! Get caught up on the latest drama for the characters. 
Note: Arrow Season 5 Episode 11 airs February 1, on The CW!
Have a look at the official preview below: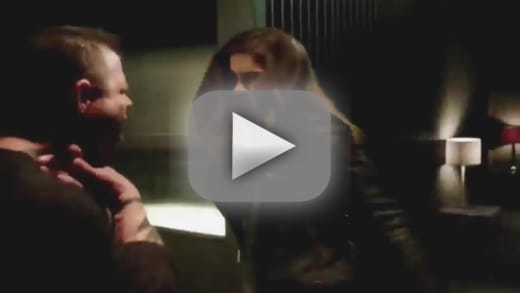 Paul Dailly is the Associate Editor for TV Fanatic. Follow him on Twitter.